Six weeks after taking gold at the European Championship, UK vegan athlete Lisa Gawthorne has added Duathlon World Champion to her roster of achievements.
The race saw Gawthorne fly to Ibiza to compete in her age group at the World Triathlon Duathlon Championships. Along with 26 other athletes, she completed a 4.8km run, followed by a 19km bike ride, with a further 3km run to finish.
Gawthorne crossed the line with a time of 1:15:17. She finished one minute and six seconds ahead of the second-place competitor and was crowned World Age Group Champion (category 40-44 Female AG Sprint). Conversely, in 2022, Gawthorne took bronze at the same event.
"I am so happy; I really didn't expect this one," Gawthorne said in a statement. "It was amazing to become European Champion, but this is a dream of dreams to go one step further, taking a world champion title in my age group amongst the best of the best in the world."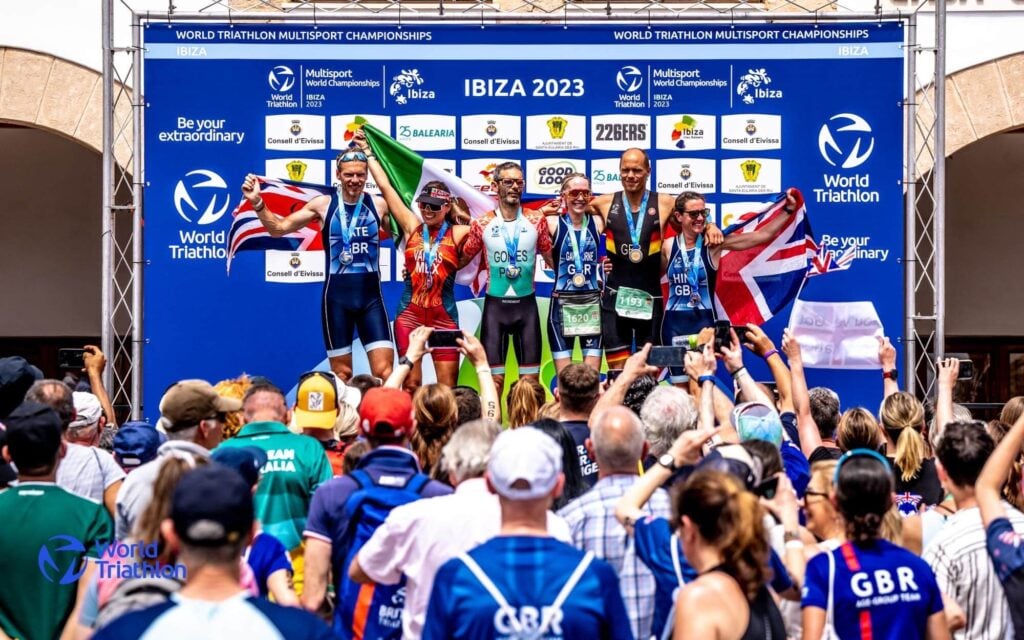 A recipe for success
Alongside two major career highlights, Gawthorne is also celebrating 20 years as a vegan in 2023.
Crediting her cruelty-free lifestyle as having a hugely positive impact on her athleticism, the world champion always competes in clothing with pro-vegan messaging emblazoned on it. PETA UK and "Go Vegan" logos feature prominently, as do images from Veganuary and the Vegan Society.
Speaking exclusively with Plant Based News, Gawthorne revealed that her dietary race prep ahead of the World Championships included whole foods and a vegan pizza.
"I normally opt for pasta but all the restaurants were so busy that pizza was all I could get," she explained. "But the pizza gives a similar carb boost as pasta or rice the night before a race."
Gawthorne says that she turned vegan for animal welfare reasons and that improved sporting performance was simply a nice benefit. In addition, her advocacy and prowess have also inspired many GB teammates, plus overseas competitors, to go vegan.
Chasing more vegan athletic victories
With two victories in the bag, Gawthorne plans to enjoy a period of softer training before going on to focus on running. She intends to chase new personal bests across 5k and 10k races.