A dairy cow who seemingly "faked sleep" to avoid being milked has gone viral on social media.
Known in the video as "Doris," the cow is part of a 200-strong dairy herd on a farm in the Isle of Wight, UK. There, the farm sells milk to local stores, including Co-op.
A farmhand named John Brodie recently posted a video of him trying to coax the cow to get up on a cold morning. The clip has now amassed almost two million views on TikTok.
The viral video of 'Doris'
The video starts with the caption: "POV (which stands for 'point of view'): You don't like early mornings."
Brodie introduces it by saying: "This is what a stubborn dairy cow looks like." He then goes on to say: "Everyone's out. Everyone's getting ready for milking. Except for Doris. Doris is actually pretending to be asleep. Doris, come on. See your ears moving. Come on, I can see your eye."
At this point in the video, the cow, who is lying on the floor, lifts her head up to look at the farmhand.
The farmhand then appears to put on a babyish voice, and asks the cow what she's got "all over her face."
He finishes by saying: "Right, come on. Time to earn your crust."
'Positive exposure' for dairy
The video has proved a social media hit, with many making jokes about how they "relate" to "Doris." Some also expressed sympathy for her apparent unwillingness to get up early.
In an interview with CNN, Brodie said the media attention was "a really good thing." He explained: "I think any positive exposure for the dairy industry, particularly at the moment, is probably a good thing."
Indeed, more people are becoming aware of the darker side of the dairy industry in recent times, thanks in part to exposés and documentaries. This reality could explain why the cow was unwilling – or possibly unable – to get up.
While that particular farm's situation is unclear, the video doesn't represent the dairy industry as a whole. For example, it's unlikely that a typical farmed cow would be given a name. The idea that dairy farmers are humanizing their cows and referring to them by cute monikers like "Doris" offers a wholesome portrayal of the sector that does not align with standard industry processes.
The reality of milk production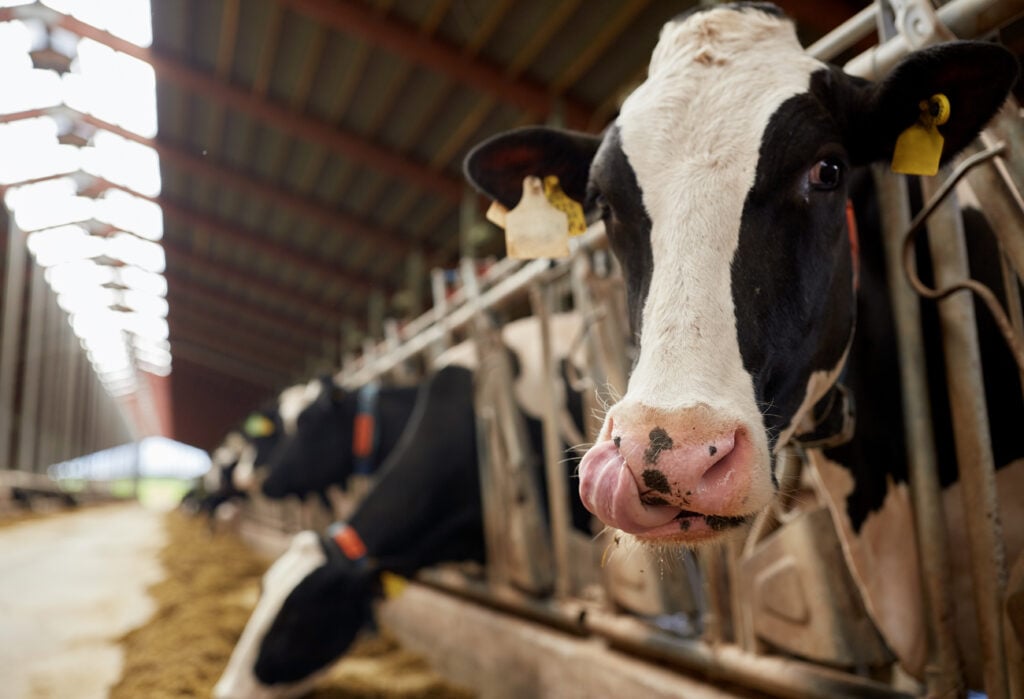 Cows used for their milk suffer immensely. They have been selectively bred to produce significantly more milk than they naturally would, meaning "modern" cows often develop a painful udder condition called mastitis.
Further, almost a third of dairy cows suffer from lameness. This is often brought on as a result of being forced to stand on hard surfaces for long periods of time. It also arises due to disease, injury, or ineffective hoof trimming.
When a cow's milk dries up and her body finally wears out, she is sent to the slaughterhouse for meat.
Cows in the dairy industry experience more than physical trauma, too. They are forcibly made pregnant via artificial insemination, and each time, farmers remove their babies from them so that humans can consume their milk. Cows form powerful bonds with their calves, and often bellow and cry out for days after they're gone. Meanwhile, their calves can suffer the effects of early maternal deprivation.