Billie Eilish is set to bring her climate event OVERHEATED back to London on August 30.
The event is organized by the vegan singer and her mom Maggie Baird's organization Support + Feed, a plant-based non-profit. OVERHEATED sees prominent figures in the environmental movement, as well as musicians and designers, get together to discuss the climate crisis. There will be sessions on the importance of plant-based diets, methods of sustainable fashion, as well as actions we can take to reduce our impact on the planet. 
OVERHEATED 2023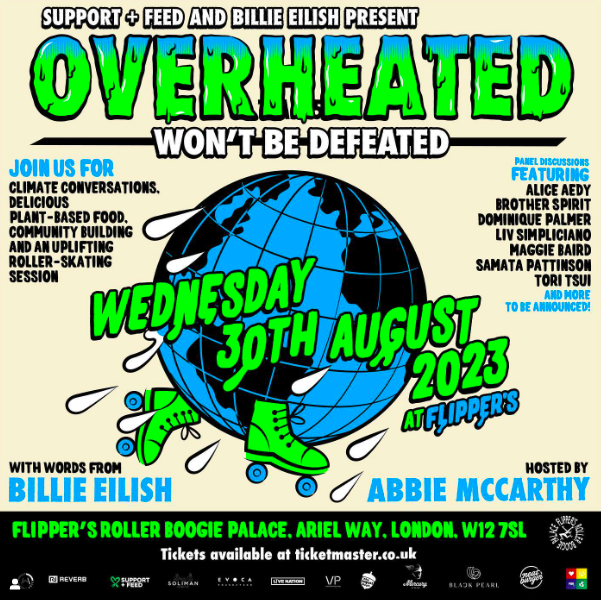 The event will be held at Flipper's Roller Boogie Palace in West London from 10am to 5pm on August 30.
Plant Based News (PBN) cofounder Robbie Lockie will appear in a panel. "We are living in a critical moment of history, where our choices and actions will determine the future of life on Earth," they said in a statement. "The climate is changing faster than ever before, driven by human activities that emit greenhouse gasses and disrupt natural systems. The consequences are already devastating for millions of people and countless species, and they will only get worse if we continue to do nothing."
They added that events like OVERHEATED are "essential to inspire, educate, and empower us to take action for a more sustainable and resilient world."
The event will be hosted by the BBC's Abbie McCarthy. Other figures appearing include climate activists Dominique Palmer and Tori Tsui, Earthrise CEO Alice Aedy, and fashion entrepreneur Samata Pattinson.
The importance of plant-based diets
This is the second time Lockie has appeared at the event. Last year, they hosted a panel featuring Baird and Isaias Hernandez (also known as Queer Brown Vegan). Together, they discussed the importance of a shift towards a more plant-based food system in mitigating the climate crisis.
Animal agriculture is responsible for at least 14.5 percent of global greenhouse gas emissions. Arguably the most pressing of these is methane, which is 80 times more warming than carbon dioxide (CO2) in its first 20 years in the atmosphere. Farmed animals (mostly cattle) are responsible for around a third of human-caused methane. Livestock farming is also driving deforestation and biodiversity loss, as well as contributing to water pollution. 
The planet has warmed by 1.1C since pre industrial times. Countries across the world have pledged to limit global heating to 1.5C, but the UN has stated that they are not on track to do so. A recent study found that our food system alone, mostly meat and dairy production, would heat the world beyond this limit – even if fossil fuels were entirely eliminated.
How can I attend OVERHEATED Live?
Tickets to the event are now sold out, but the event will be live-streamed on Eilish's YouTube channel.