SeaWorld just opened its first orca-free aquatic life park nearly a decade after the documentary Blackfish brought global attention to the fate of its captive sea animals. Since then, the amusement park has been embroiled in controversy about its treatment of all animals, but especially the killer whale, leading the company to announce that the orcas in its care currently will be the last generation.
The new theme park, located in Abu Dhabi in the United Arab Emirates (UAE), is the first international spot for the US-based chain. Despite excluding an orca enclosure, the $1.2 billion venture houses other animals whose captivity is criticized as unethical by animal rights groups worldwide, such as seals, sharks, and dolphins. SeaWorld Abu Dhabi previously said it would be keeping more than 68,000 marine animals at the new location.
'Blackfish' controversy
The new facility, which reportedly features the world's largest aquarium, follows longstanding allegations of animal cruelty. After the 2013 documentary Blackfish showed how orcas were treated at the park, SeaWorld halted its orca breeding program and live performances in 2016. That same year, the company announced the Abu Dhabi location.
"In the wild, if there is aggression between two animals, they can simply swim away into the open ocean," said John Jett, a former orca trainer at SeaWorld Orlando who spoke out against it in Blackfish. "But in captivity, the animals are trapped, and what you find is dolphin-on-dolphin aggression that is manifested quite often in broken teeth and rakes up and down their bodies."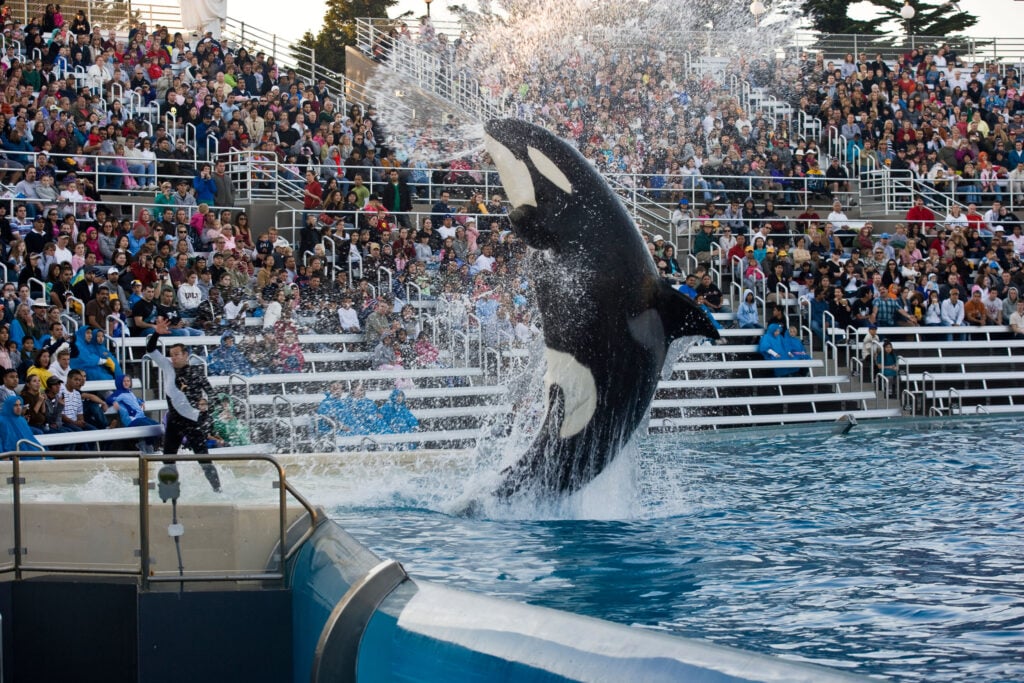 The company upholds that it's committed to rehabilitating and conserving marine animals. For instance, its Orlando park claims to help save Florida manatees from dying of starvation in their natural habitat.
"By leveraging a fundamental SeaWorld design principle of putting animal well-being and care at the core of the design, SeaWorld Abu Dhabi is set to redefine the standards of excellence for marine life theme parks across the world," Scott Ross, the company's chairman, said in a statement.
But several issues or violations have been spotted over the last decade. Last December, the U.S. Department of Agriculture discovered a dolphin "actively bleeding" and excessive chlorine levels in their tanks. Although the Association of Zoos and Aquariums (AZA) has certified all of SeaWorld's parks, the chain has yet to submit an application for accreditation for its Abu Dhabi location, according to Jennifer DiNenna, director of accreditation at the AZA.
SeaWorld critics speak out
SeaWorld Abu Dhabi Park houses more than 150 species of marine life, and several will be forced to put on shows. These performances often include dolphins, which continue to draw skepticism and criticism from animal advocacy groups. Last year, a former SeaWorld trainer revealed that animals are routinely deprived of food before shows and kept in unnaturally small enclosures.
"SeaWorld is part of an industry built on the suffering of intelligent, social beings who are denied everything that's natural and important to them," Jason Baker, senior vice president of international campaigns at PETA, said. "In nature, dolphins live in large, complex social groups and swim vast distances every day. In captivity, they can only swim in endless circles inside tanks that, to them, are the equivalent of bathtubs."
Last December, SeaWorld reportedly shipped 24 dolphins, including two "rescued" animals, to the Abu Dhabi location. This decision incited PETA and several other groups to call for the release of the dolphins before the park opened, but they received no response from the amusement park company.