US animal breeding operation Marshall Farms stands accused of violating the Animal Welfare Act (AWA) after it was uncovered that 250,000 of its baby ferrets — most destined for pet stores and laboratories — had become sick with canine distemper.
Animal rights group PETA is levelling the accusation and now calls on the US Department of Agriculture to formally investigate the disease epidemic. The incident appears to have occurred in late 2022.
Having obtained a December 2022 report from the Association of Exotic Mammal Veterinarians, PETA has deduced that "acutely sick and dying" ferrets were sent to a number of US-wide locations. These included popular chain pet stores such as Petco, with untreated animals commonly dying within 72 hours.
"Marshall Farms' apparently sloppy practices put a quarter million animals at risk. And it reportedly shipped dying ferrets to pet stores and laboratories," PETA vice president Dr. Alka Chandna said in a statement. "PETA is calling on federal officials to take action against the company before any more animals are sickened or neglected."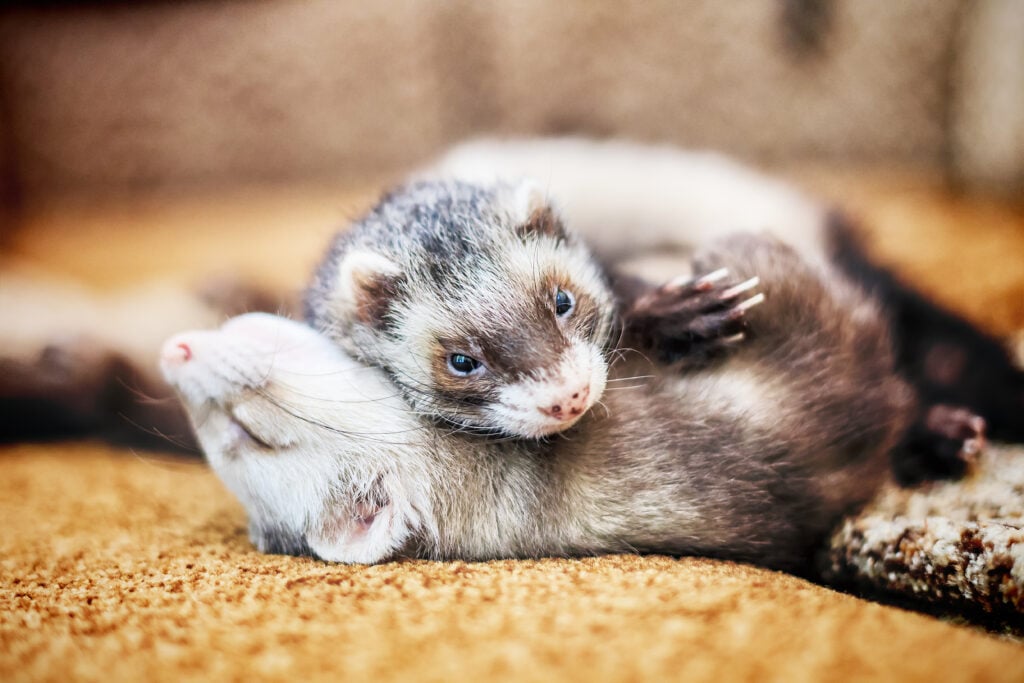 PETA sets its sights on Marshall Farms
Marshall Farms rears millions of small and medium-sized animals each year. These include Beagle dogs, cats, miniature pigs, and ferrets. They are supplied not only to pet shops but also laboratories including those at Cornell University in New York.
Ferrets infected with canine distemper suffer immensely, with fever, dehydration, and diarrhoea all common symptoms, before death. The disease is highly contagious and can be spread easily through the air or shared food and water bowls. This makes the cramped conditions of animal breeding facilities ideal for a large outbreak to take hold and then spread further afield when sick animals are transported.
However, it's not only sick ferrets in the US that PETA is concerned about. In reports prepared by Marshall Farms itself, figures state that up to 92.2 percent of cats bred by the company and 60.4 percent of pigs also tested positive for harmful and potentially deadly bacteria.
When combined with the large canine distemper outbreak, such incidents raise concerns that the AWA is being continuously violated.
The US ignoring links to zoonotic outbreaks
Connections between cramped commercial animal breeding conditions and disease outbreaks have been made multiple times. However, despite such locations providing ample opportunity for serious diseases to spread, the US is yet to take action.
Elswehere, countries have sought to prevent farming and breeding facilities from becoming hotbeds of infection. Setting the example, Italy and Hungary have both banned fur farming to stem zoonotic disease risk.