A new book is aiming to educate vegan children about common misconceptions about the lifestyle, while giving them the tools to respond to criticism.
Titled 50 Comebacks For Vegan Kids, the book explores 50 common myths about the plant-based diet in terms of health, the planet, and animals. Solomon Tadlock, the 12-year-old son of renowned plant-based physician Brooke Goldner, wrote the book.
Goldner is a best-selling author who says that she reversed lupus on a plant-based diet. She has written two books endorsing the benefits of animal-free eating, Goodbye Autoimmune Disease and Goodbye Lupus.
Taking to Instagram to post about her son's recent TV appearance on Houston channel KPRC-TV, she said she was "so proud" of his achievement. She explained that he wrote it to "help empower kids against bullies and also as a resource for information about the science that backs up the benefits of eating plants for health, animals, and the planet."
'Handing it to the bullies'
Tadlock appeared on TV to mark bully awareness month. He previously said that he decided to write the book because of his love of "compassionately handing it to bullies who try to talk smack on veganism."
The book is aimed at both vegan kids and their parents to help equip them with the tools to cope with criticism. "If you are a vegan kid who gets bullied for being vegan, or a vegan parent who wants your child to be prepared to defend their lifestyle with confidence and an arsenal of facts, then this book is the ultimate armory of comebacks," Tadlock states on his website.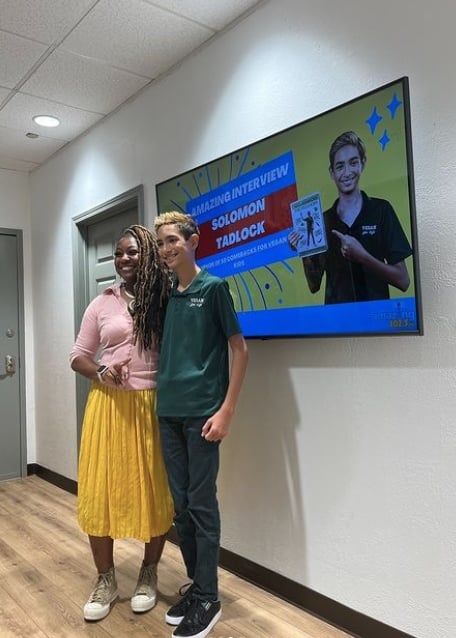 Robert Cheeke, the New York Times bestselling author of The Plant-Based Athlete, has praised Tadlock for the book. "Thank you, Solomon, for having the courage to write a book that will no doubt help others feel more comfortable in conversations and confrontations about veganism, empowering readers to stand up for their beliefs, which is one of the greatest demonstrations of strength anyone can showcase," he said in a statement.
Those interested can purchase 50 Comebacks For Vegan Kids online.
Vegan diets and children
A growing number of parents are opting to raise their children on animal-free diets and lifestyles. While there is a common myth that plant-based diets are unsafe for children, experts from bodies like the NHS and the American Academy of Pediatrics have stated that well-planned vegan diets are appropriate for all ages.
"The health risks of a vegan diet for children only occur if someone fails to plan it appropriately," BANT registered nutritionist and health writer Louisa Richards previously wrote for Plant Based News. "One must ensure that kids – and pregnant people – get the essential nutrients they need."
Find out more about feeding kids vegan diets here. Always consult your doctor for personalized advice about diets. 
If you purchase something through a link on our site, Plant Based News may earn a commission, which helps us provide our free services to millions of people each week.
More like this: