Is it chicken or is it tofu? OK, it's obviously tofu. We're not trying to kid anyone here. But it's absolutely delicious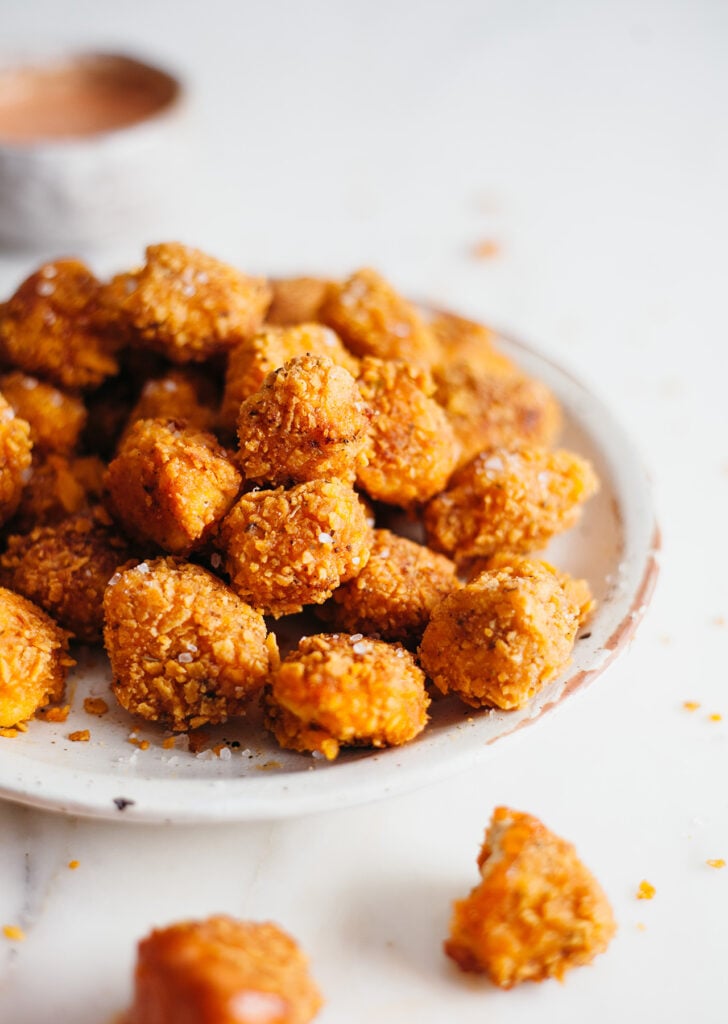 Ingredients
300

g

extra

firm tofu

salt & pepper

1/2

cup

plain flour

vegetable oil
Dry Ingredients
100

g

/ 3.5oz paprika

flavoured crisps

4

tbsp

plain flour

2

tsp

dried oregano

1

tsp

smoked paprika

1/2

tsp

onion powder

1/2

tsp

garlic powder
Wet Ingredients
1/2

cup

plant

based milk

1/2

tbsp

apple cider vinegar

2

tbsp

hot sauce
To Serve
tomato ketchup

vegan mayonnaise
Instructions
Crush the paprika crisps between a clean tea towel using a rolling pin until no big pieces remain. Transfer to a bowl along with the remaining dry ingredients, and a pinch of salt and pepper. Use a spoon to mix everything together, then leave the bowl to one side.

Combine the plant-based milk and apple cider vinegar in a separate bowl. Leave to sit for a minute or two until the milk curdles and turns into a 'buttermilk'. Then add the hot sauce and use a spoon to mix everything together until the ingredients are well combined. Leave the bowl to one side.

Meanwhile add the flour to a small plate and leave the plate to one side.

Press the tofu if required (the extra-firm tofu we use contains very little moisture so this step isn't always necessary). Then slice the block in half and use your hands to break the tofu into bite-sized pieces.

Season the tofu on both sides well salt and pepper, then pick up a piece of tofu and dip it into the flour, followed by the milk mixture, then finally the crisp mixture. Repeat until all the tofu pieces have been coated.

Add the vegetable oil to a pan until it's 0.5cm (1/4 inch) deep. Tip: we use a wok so we don't have to use too much oil. Heat the oil on a medium-high heat. Drop a tiny amount of the dry mixture into the oil to test if it's hot enough. If it starts sizzling as soon as it hits the oil, you'll know it's ready. Carefully add half a dozen or so tofu pieces to the hot oil and fry for approx. 2 minutes on each side or until the tofu begins to brown and is extra crispy. It's important you don't overcrowd the pan as it can lower the temperature of the oil.

When the tofu is ready, carefully remove the tofu from the pan and transfer it to a plate lined with kitchen paper, then immediately season it with some extra salt, which will help make it even crispier.

Repeat until you've cooked all the tofu pieces.

Serve with your favourite dip. We love to dip these in a homemade burger sauce by combining equal amounts of tomato ketchup and vegan mayo.