The Foodie Takes flight takes her childhood favourite and turns it into a plant-based masterpiece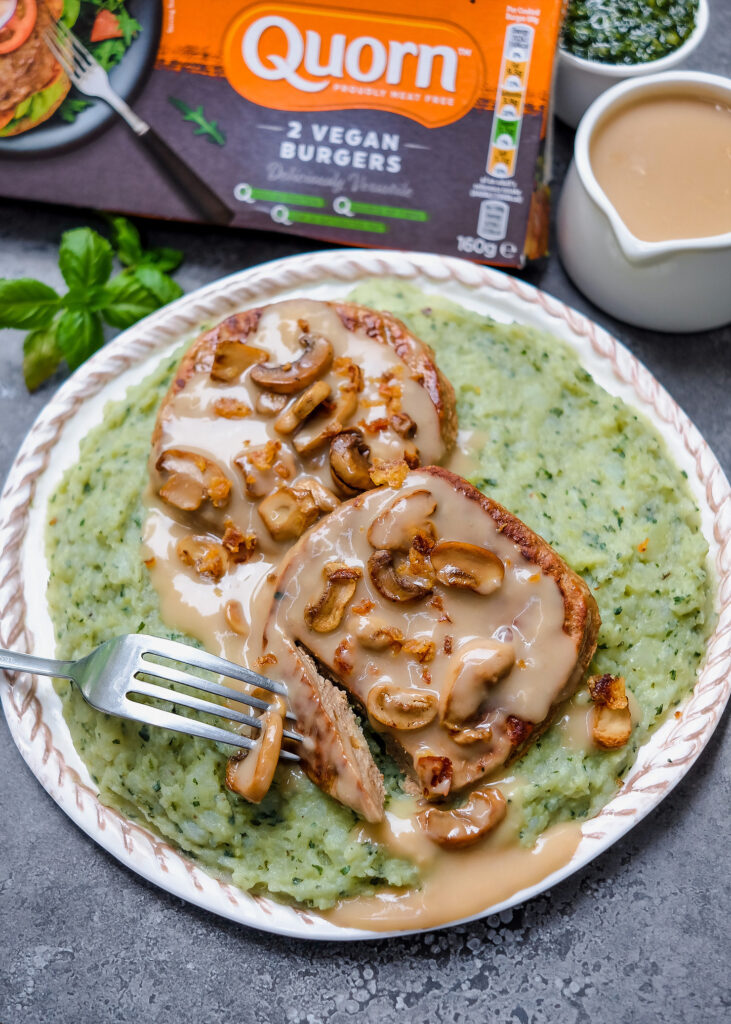 Ingredients
Pesto Mashed Potatoes
2

cups

cooked and mashed potatoes

1/2

tsp

salt or to taste

2

tbsp

basil pesto

I made my own

1/2

cup

unsweetened plant milk
Burger With Vegan Gravy
2

Quorn Vegan Burger Steaks

(feel free to use any burger patties)

Sliced mushrooms

optional

¼

cup

flour

1

tbsp

vegan butter or oil

3

cups

water

½

veggie cube

1/2

tbsp

soy sauce

1

tsp

garlic powder

1

tsp

salt

(feel free to adjust)

dash

pepper
Instructions
Vegan Gravy
In a pan, heat the oil. Add in the flour and mix until a paste is formed.

Add in the rest of the ingredients.

Mix well and simmer for 5-10 minutes until thick and smooth.*

Add in salt to taste then mix well. Best enjoyed hot! You can also store this in the refrigerator once cool, then heat up again when ready to use. It can last up to 3 days in the refrigerator. Note that it will thicken up when cold, but will return to its regular consistency when heated.

*You can opt to use an immersion blender to easily dissolve the lumps of flour that can form.
Constructing the meal
In a bowl, mix all mashed potato ingredients together until smooth.

Cook burger steak according to package instructions. For the Quorn patties I simply many fried them until brown. I also sautéed some sliced button mushrooms with the burgers.

Heat a sauce a pan. Add in the oil. Place the veggie cube (if using)

Over low heat, add in the water. Then slowly add in the flour while mixing. Keep stirring until smooth.

Add in the soy sauce, garlic powder, and salt.

Let boil for 5-8 minutes on medium heat until thick. Season to taste.

On a plate, place the mashed potatoes burger patties, mushrooms, and then add in the gravy! Enjoy!