These homemade coconut chocolate bars (vegan Bounty bars) are the perfect dessert if you love coconut and chocolate.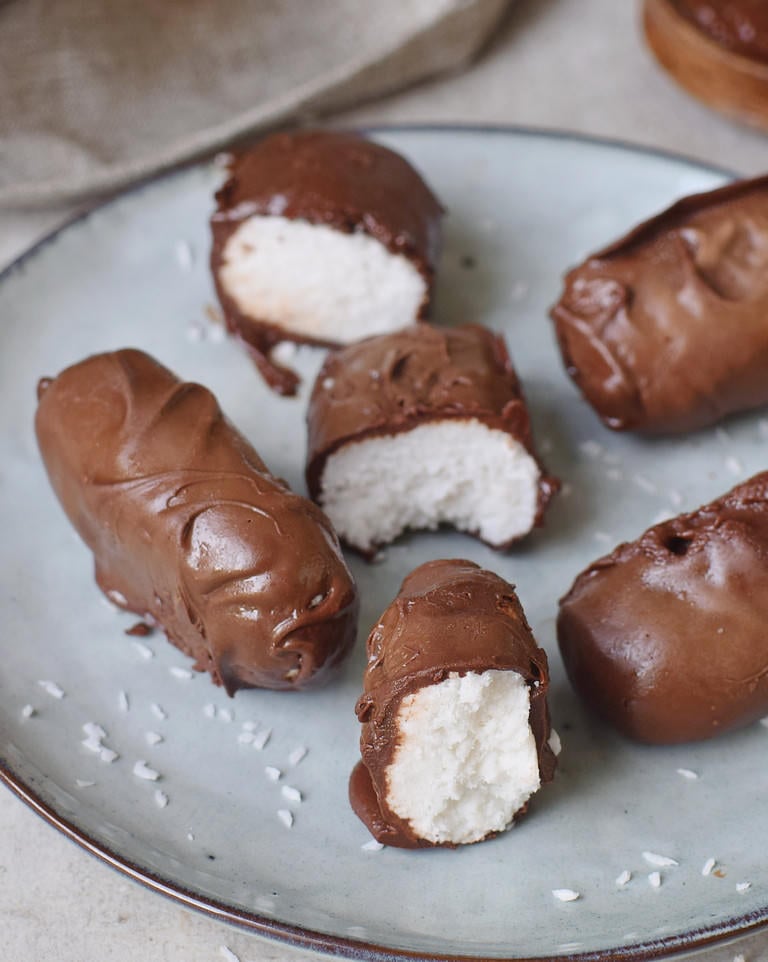 Ingredients
1 1/4

cup

shredded unsweetened coconut

100 g

1/3

cup

+ 1 tbsp coconut yogurt or cashew yogurt

100 g

1/3

cup

powdered Erythritol or Xylitol

60 g

1

tsp

vanilla extract

Pinch

of salt

1/2

cup

dairy

free chocolate chips (or chocolate of choice (90 g))

1

tsp

coconut oil
Instructions
Watch the video (scroll down a bit) to see all instruction steps.

Process the shredded unsweetened coconut, the Erythritol (or Xylitol or powdered sugar), and salt in a food processor. Blend for some seconds, then add the coconut yogurt and vanilla extract. Blend again.

Scrape down the sides with a spatula or spoon and blend again until all the ingredients are well combined. If the mixture is too wet, add more shredded unsweetened coconut. If it's too dry, add more coconut yogurt.

Take out about 1 heaped tbsp of the mixture and form it into a rounded bar (similar to the shape of bounty bars) with your hands. Do this until no coconut dough is left.

Place all coconut bars onto a plate and freeze for at least 45 minutes or until firm (longer is better).

Melt chocolate with coconut oil in a double boiler (or in the microwave).

Dip each coconut bar into the chocolate sauce and freeze again for about 15 minutes.

Store leftovers in the fridge or in the freezer! Enjoy!