This cake is light, fluffy and dreamy. The fresh lemon zest cuts through the sweetness and the subtle hints of thyme brings an earthy aroma to this dessert.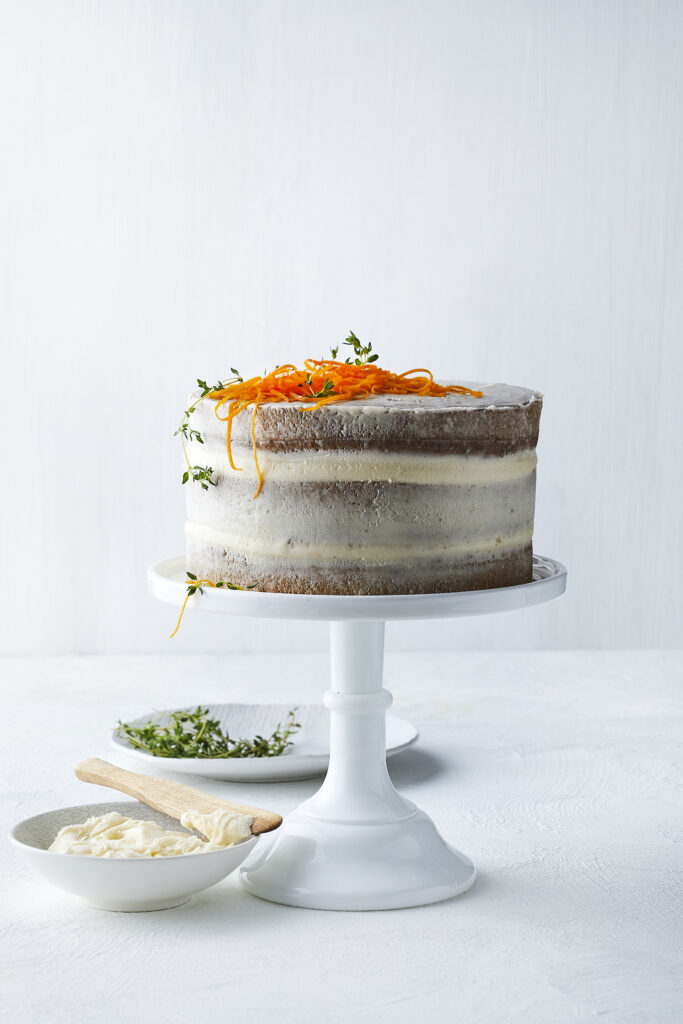 Ingredients
For the cake:
1 ¾

cups

cake wheat flour

1

cup

white sugar

1

teaspoon

bicarbonate of soda

½

teaspoon

salt

1

teaspoon

ground cinnamon

1

teaspoon

dried thyme

2

cups

almond milk

2

tsp

orange extract

? cup olive oil

1

tablespoon

white wine vinegar
For the frosting:
2 1/2

cups

Icing Sugar

3

tablespoons

vegan margarine

canola

4

tablespoons

almond milk

3

teaspoon

orange extract

Zest of one orange
Instructions
Turn oven on 180 degrees Celsius.

Spray a round cake tin with Cook & Spray.

Place 2 cup/ Almond milk in a pot along with 2 cinnamon sticks and a few fresh springs of thyme. Bring Almond milk to a boil and then turn down the heat. Let the Almond milk simmer for 15 minutes to infuse the flavours.

Sift together dry ingredients in a mixing bowl.

Remove infused almond milk from stove and mix 1 1/3 cups of the milk with the rest of the wet ingredients in another mixing bowl.

Whisk the wet ingredients into the dry ingredients until well-combined.

Pour the cake mixture into the tin and tap the tin on the kitchen counter to remove any air bubbles.

Bake cake for 30 minutes.

Remove the cake from the oven and insert a cake pin or toothpick into the center of the cake. If it comes out clean, the cake is done.

Move to a cooling rack to cool completely. While cake is cooking, prepare the frosting: Add the icing sugar, vegan butter, vanilla and soy milk into a mixing bowl. Use an electrical mixer to mix the icing until smooth and creamy (start mixing in the lowest speed possible and slowly increase).

The consistency of the frosting must be thin enough to spread evenly over the cake but thick enough for it not to slide off the cake. If it is too thin, add more icing sugar. If it is too think, add more almond milk.

When the cake is completely cool, spread the frosting over the cake.

Decorate with lemon zest and fresh thyme.