Need an easy plant-based appetizer that is sure to wow your guests? Then look no further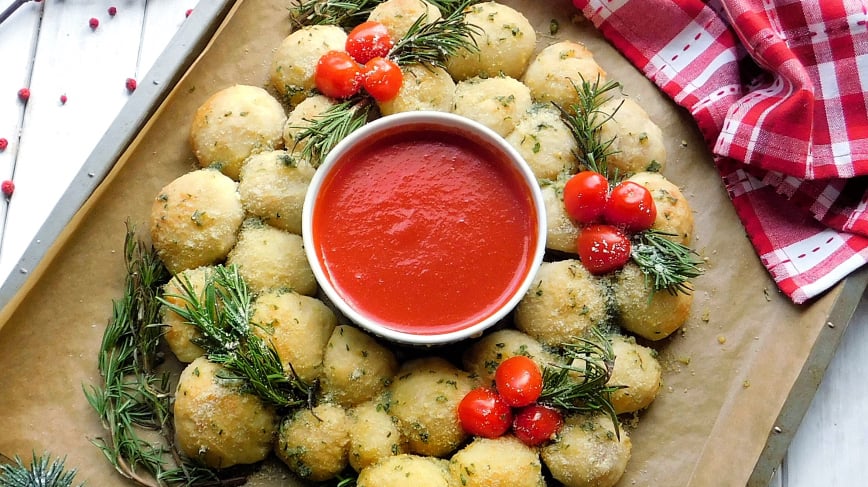 Ingredients
1 1/2

packages of pizza dough

Flour

About 25

30 small pieces of vegan cheese

Vegan butter or olive oil

Parsley

Garlic powder

Vegan parm

Rosemary

Grape tomatoes
Instructions
Preheat the oven to 450F. Cut your pieces of vegan cheese into small little cubes.

Take some flour and roll out your pizza dough a bit. Then it cut into quarters and work with one quarter at a time. Take that quarter roll it out and cut it into about 4 pieces. Then spread out a little piece and put a piece of cheese in there. Roll it up into a ball make sure to pinch the seams. You want this to be a secure little ball so the cheese doesn't ooze out everywhere.

Once you have made about 20 balls figure out it is time to place them on the baking sheet to see how many more balls you need. I placed a 10 oz ramekin in the middle so the dough doesn't expand into the middle and keeps it circular shape.

Begin by making one small ring around the ramekin. Then add another ring and see if you need more dough balls. Depending on what you place in the middle it will vary. I needed to make about 10 more balls.

Once your wreath is assembled place it in the oven at 450F for about 15-20 mins depending on your oven. Make sure whatever you placed in the middle is oven safe.

While that is in the oven make some garlic butter by using melted butter, garlic powder, vegan parm and parsley. You don't really need to measure this just eyeball it. Once the dough balls are nice and golden take them out of the oven. Rub on the garlic butter. Add your tomato sauce to the ramekin. Then add a few little clusters of grape tomatoes and throw in some rosemary if you'd like. Add some additional vegan parm to make it look like snow!