Cookies for breakfast? Absolutely. Anything goes during the festive period, right?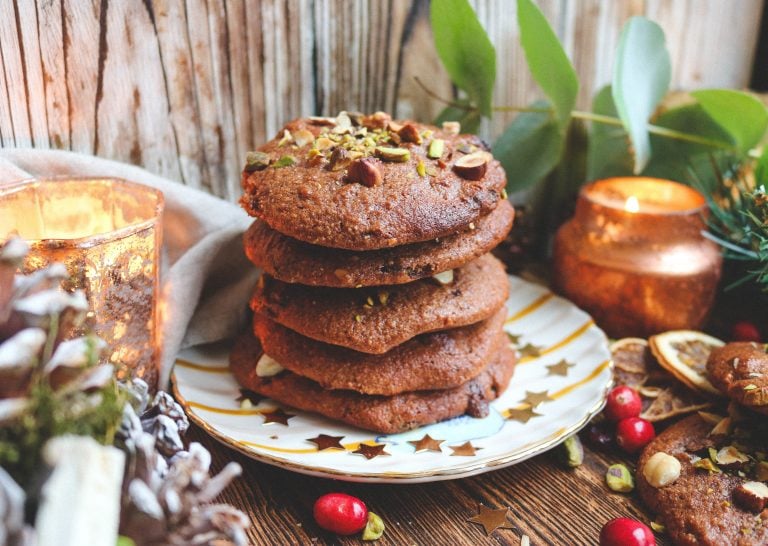 Ingredients
1

cup

of almond flour

3/4

cup

of white spelt flour

1

teaspoon

of baking powder

1

very ripe banana

1/2

cup

of date syrup – you can use another liquid sweetener too but date syrup will give the cookies a dark and rich flavor

1/2

cup

of peanut butter

1/3

cup

of melted coconut oil

2

tablespoons

of coconut sugar

the juice of and the zest of 1/2 orange

1

tablespoon

of cinnamon powder

1

teaspoon

of ground ginger

1/4

teaspoon

of ground nutmeg

1/4

teaspoon

of ground clove

1/4

cup

of dried cranberries

1/4

cup

of dried sultanas
Instructions
Start by preheating the oven at 180 degrees Celsius.

Place the ground almond, the spelt flour, baking powder, and all the spices into a bowl and give it good mix.

In a separate bowl with a fork mush down the banana really well. Add in the date syrup, peanut butter, coconut oil and sugar, the zest and liquid of one orange, cranberries and sultanas. Whisk everything together until you have a glossy mixture. Pour the wet mixture into the dry ingredients and mix well. The mixture should be quite wet and sticky.

Line a baking tray with some parchment paper. Use about 1 heaped tablespoon of the mixture for each cookie. Wit the spoon try to create a round shape, don't worry if they don't look perfect they will still taste delicious.

Bake the cookies for about 10-15 minutes. I like my cookies soft and chewy in the middle so I wouldn't recommend to bake them for longer.

Let them cool in the tray for 10 minutes and enjoy!