Grilled asparagus with vegan miso lime mayo is a perfect Japanese fusion side dish to savor in spring, when asparagus is in season. Lightly charred asparagus is accompanied by a savory and tangy mayo dip with a hint of Japanese element, miso.
Many izakayas (Japanese-style dining bars) offer raw veggie sticks with miso mayo dip. A staple accompaniment, the dip is frequently served with cooked protein (usually animal-based). However, because of its moreish quality, it works just as well with seasonal vegetables and vegan ingredients such as tofu.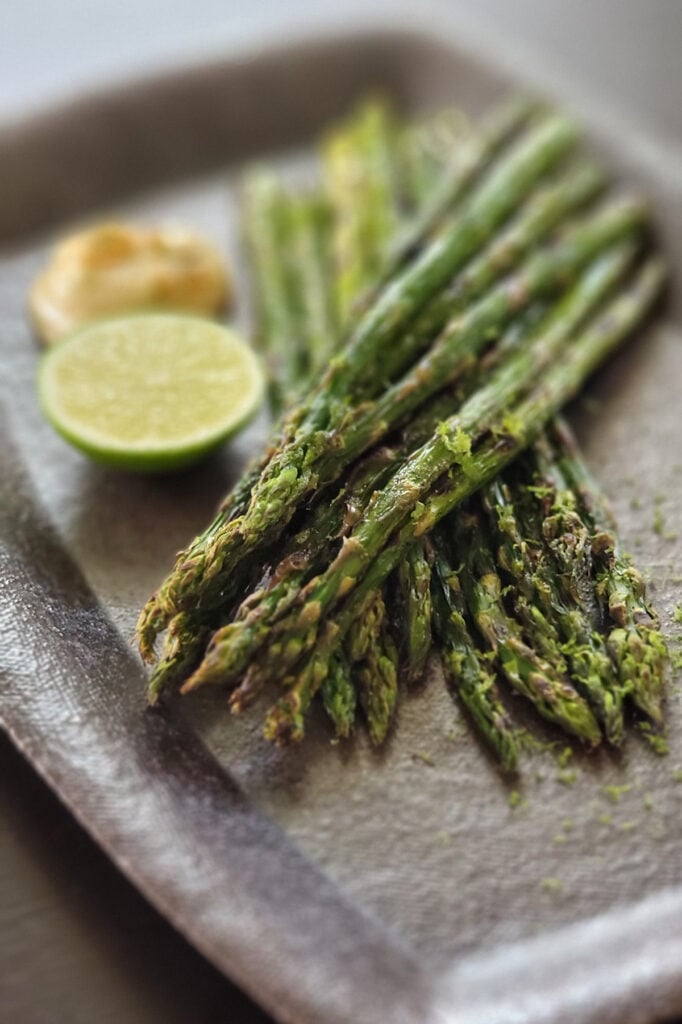 Ingredients
Vegan Miso Lime Mayo
1/4

cup

vegan mayo

2

tsp

miso paste of your choice preferably authentic Japanese miso

lime zest from a half lime

1/2

tbsp

freshly squeezed lime juice from 1/2 to 1 lime

1/4

tsp

toasted sesame oil
Grilled Asparagus
1

lb

green asparagus

1/2

tbsp

extra virgin olive oil

1/4

tsp

salt

1/4

tsp

black pepper
Suggested Condiment
Shichimi togarashi pepper Japanese 7-spice hot pepper blend
Instructions
In a small bowl, combine vegan mayo, miso paste, lime juice, lime zest and toasted sesame oil. Mix well and set it aside.

Next, prepare the asparagus. Rinse the asparagus under running water to clean. Pat dry them with a towel to remove excess water.

Snap off the bottom (tough part) of asparagus where it naturally breaks. Then, trim off the end to have a clean cut (optional.) For thick asparagus, you may partially shave the peel using a vegetable peeler. Tips: the cut-off bottoms can be perfect for making asparagus soup. Save and freeze them!

Coat the asparagus with extra virgin olive oil then season with salt and black pepper. Give a quick toss to coat evenly.

Heat up a grill pan at medium high heat. Cook the asparagus in a single layer (don't overcrowd the grill pan. Leave them on one side to get a good char and turn to cook the other side. It should take about 5 to 10 minutes to cook and get charred depending on the thickness. Repeat the process, if you cook in a few batches.

Serve immediately with the miso mayo dip on the side with a sprinkle of shichimi pepper for the spice and aroma.
Tips for the best asparagus with miso lime mayo
You can use any vegan mayo of your choice. Many large brands now offer an egg-free mayo option, as do supermarkets' own labels.
Similarly, you can use any miso paste of your choice (white, red, blended etc.) Japanese soybean koji miso, which is slightly sweeter, is yellow-brownish in color and works well. Soybean koji miso is the most standard miso used in Japanese home cooking.
Asparagus may vary in thickness. Both thin and thick spears will work for this recipe. If you use thick asparagus, you may want to use a vegetable peeler to partially shave off the peel (about 2/3 from the bottom) a this can be tough. After cutting the bottom parts, don't throw them away! You can save them in the freezer as they are perfect for making creamy asparagus soup!
If you don't have a grill pan, roast in the oven at 375˚F / 190˚C for about 15 minutes, checking regularly. You can also pan-fry them until tender (note: oven-roasting and pan-frying will not give a charred flavor to this recipe).
—
This recipe was republished with permission from Plant-Based Matters. Find the original recipe here.