This vegan kimchi miso ramen recipe, a Japanese and Korean fusion dish, is surprisingly easy to make. The fish-free ramen features a spicy, rich, and aromatic miso broth. Say goodbye to flavorless instant noodles and make this delicious home-cooked vegan kimchi miso ramen instead!
Vegan kimchi miso ramen recipe
If you ever travel to Japan, you will notice that ramen shops are on almost every corner. Each shop offers their own original recipes and takes pride in making their bowls of ramen a work of art.
There are so many different flavors to choose from and kimchi miso ramen is just one of them.
Ramen has always been a great comfort food and the rich and savory miso ramen broth is very much consoling, when you slurp it with chewy noodles.
In Japan, miso ramen comes with a variety of toppings and flavor variations such as butter corn and vegetable. Here, the kimchi adds an extra spice punch that is moreish.
Is kimchi vegan?
Good vegan kimchi miso ramen needs good kimchi.
There are many kimchi-esque types of pickles sold in stores but they're far from the real deal. Besides that, when you find promising-looking authentic kimchi, oftentimes it contains fish ingredients, and therefore isn't vegan.
While making kimchi is not a quick process, it's fairly easy to make. And best of all, you can customize to your desired taste and ensure that it is vegan.
Vegan-friendly kimchi broth
What makes good ramen is the broth. With the combination of savory miso and gochujang (red chili paste), this one is so rich and irresistible!
If you have old (longer fermented) kimchi in the fridge, it's the best for making kimchi soup and the ramen soups as well. They're a bit tangier than the younger (newly made) kimchi. But the acidity and the umami taste from the fully fermented kimchi contribute to the more complexly flavored broth.
To counterbalance the acidity of kimchi, you can use sugar. It doesn't make it sweet (unless you put in a lot) but the tanginess gets milder. Extra gochugaru (Korean chili powder) can also be added to make the broth extra spicy.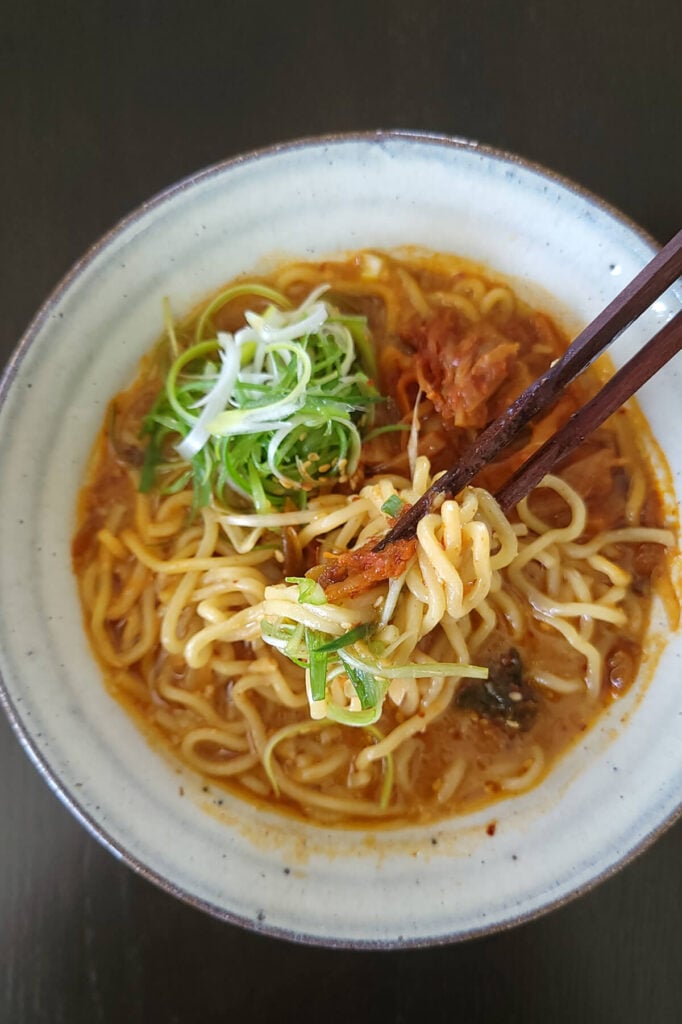 Ingredients
1

tbsp

neutral oil

3

cloves

garlic

1

inch

ginger knob

1/2-3/4

cup

vegan kimchi

2

tsp

gochujang

3

cups

purified water

1/4

cup

miso paste

1 1/2

tsp

cane sugar

pinch

sea salt

(optional)

1/2

tsp

gochugaru

(adjust to taste)

1

servings

uncooked ramen noodles

2

whole

scallions/spring onions

(thinly sliced)

2

tsp

toasted sesame oil

toasted sesame seeds

(optional)

extra kimchi

(optional)
Instructions
Start boiling water in a large saucepan for cooking ramen noodles.

Meanwhile, prepare the ramen broth. Heat up a medium saucepan at medium to medium-high heat. Pour neutral oil and add garlic and ginger. Cook for about 1-2 minutes until aromatic and the garlic is slightly crispy.

Next, add kimchi and gochujang. Cook for about 2 minutes. Then, add water and turn up the stove on high heat to bring it to a boil. Once it's boiling, reduce the heat to medium-low and let it simmer for 2-3 minutes.

Reduce the heat to low. Add miso paste and dissolve into the soup. To do so, place the miso on a ladle and partially submerge it in the broth to slowly incorporate the broth into the ladle. Use long cooking chopsticks (or a small whisk) to stir the miso gently in the ladle to let it dissolve. Stir well.

Add sugar then adjust the seasonings with sea salt if necessary. Turn up the heat to medium-high to reheat the broth.

Start cooking your choice of ramen noodles according to the instruction on the package. Right before the ramen noodles are done, pour the hot broth into a serving bowl.

Once the noodles are done, drain well and add to the broth. Let the noodles gently swim in the broth to prevent the noodles from sticking together.

To serve, top it with scallions, toasted sesame oil (1 tsp per serving), toasted sesame seeds (optional), and extra kimchi (optional.)
Be sure to look for vegan kimchi (made with napa cabbage).
Every kimchi tastes different in saltiness, spiciness and sourness depending on the level of fermentation. Adjust the amount to your preference.
'Sauerkraut type' imitation kimchi isn't recommended.
Any miso would work for this recipe.
—
This miso ramen recipe was republished with permission from Plant Based Matters. Find the original recipe here.