Made with cashews, coconut and almonds this vegan eggnog is the perfect blend of rich and creamy. It's naturally sweetened using dates and is sure to get you in the festive spirit!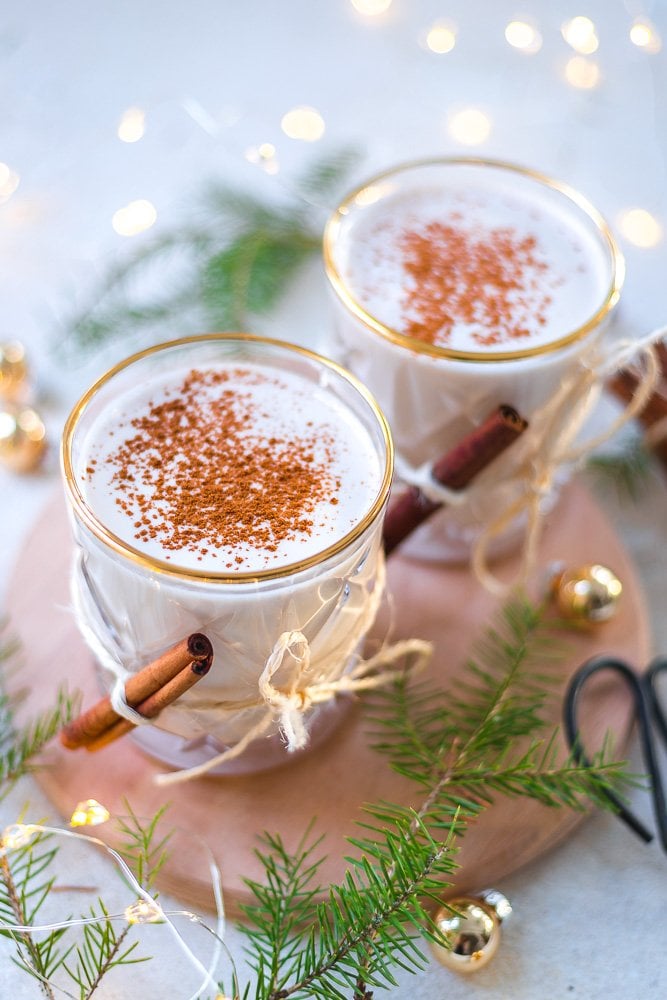 Ingredients
1/2

cup

almonds

soaked overnight

1/4

cup

cashews

soaked overnight

1/4

cup

coconut flakes

soaked overnight

3

cups

water

1/2

tsp

cinnamon

1/4

tsp

nutmeg

1/4

tsp

sea salt

2

madjool dates

pits removed

splash

bourbon

(optional)
Instructions
Soak almonds, raw cashews and coconut flakes overnight. Or to speed up time, pour boiling water over bowl of mixed nuts and let soak for 1-2 hours. Strain and rise. Add soaked nut mix to blender with water, cinnamon, nutmeg, sea salt and dates. Blend on high for 1 minute.

Pour mixture into a nut milk bag and squeeze to strain the milk. (Alternatively you can use a thin tea towel, old t-shirt or pair of tights). Continue to squeeze, moving your hands around the bag to allow new areas to be milked, until you can no longer milk anymore liquid.

Pour the freshly squeezed egg nog from your bowl back into your blender (this allows for easy transfer into a bottle). Transfer the egg nog into an air tight bottle and store in the fridge. Serve chilled, or warm for a latte style drink. Optional to add a splash of dark liquor (bourbon, brandy or cognac) for a spiked version.

Vegan eggnog will keep in fridge for up to 5 days. Warm in a saucepan for a latte style version. Or serve chilled.