Gluten-free and protein-packed mini pancakes with homemade hummus and roasted red pepper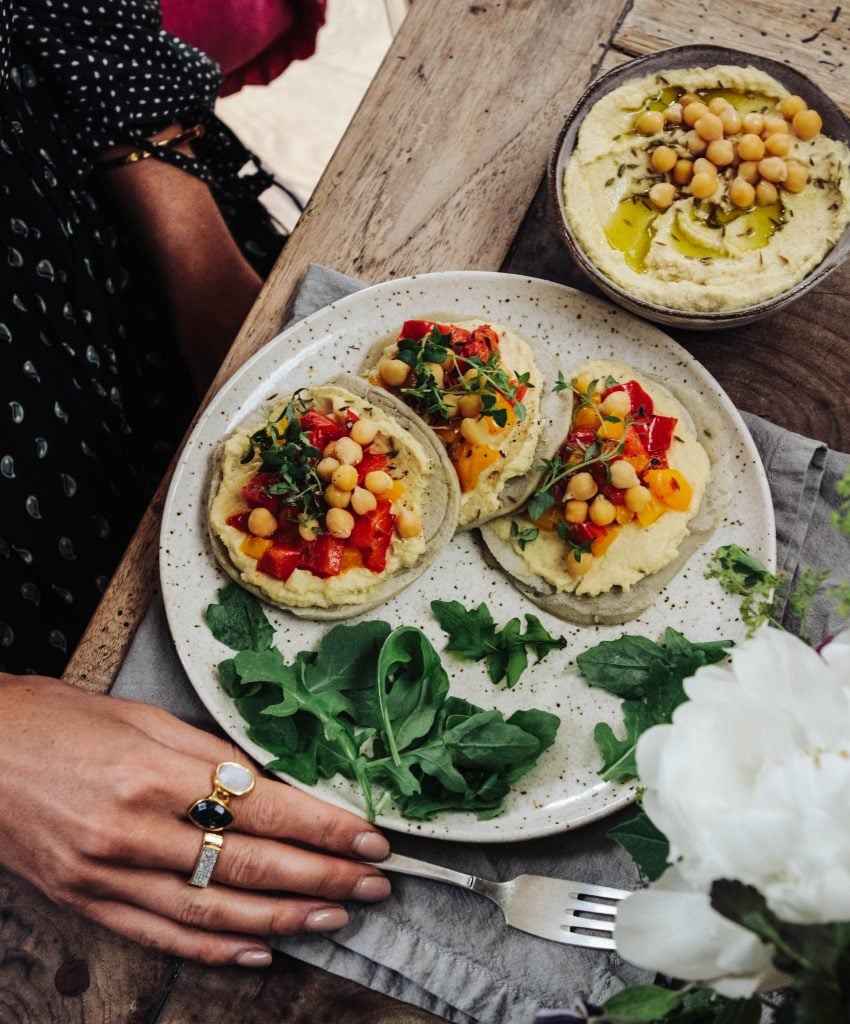 Ingredients
Hummus
3

cups

cooked chickpeas

reserve 3 tbsp of cooked chickpeas

2

cloves

garlic

1/4

cup

good quality tahini

1/4

cup

extra virgin olive oil

1/2

tsp

cumin

4

tbsp

water

Juice 2 lemon

1

Tsp

sea Salt

Paprika

Extra virgin olive oil
Mini Pancakes
1

cup

buckwheat flour

1

cup

water

1

tsp

Apple cider vinegar

1

tsp

Olive oil

Pinch

sea Salt

Twist black Pepper
Roast Peppers
2

peppers chopped

Splash olive oil
Instructions
For the hummus:
Add the chickpeas to a bowl with the baking soda and cover with cold water. Allow to sit overnight

Rinse the chickpeas again and add to a large pan with cold water. Bring to the boil and simmer for 30-40 minutes or until tender. Skim off any froth that rises to the surface.

When the chickpeas are tender, drain and rinse under cold water.
To blend the hummus:
Add all the ingredients to a food processor or high speed blender and blitz until very smooth and creamy (2-3 minutes).

Top with extra virgin olive oil and paprika.
To make the pancakes:
Preheat a non stick frying pan with a little olive oil.Add the ingredients to large bowl and mix until you get a think batter. Spoon the mixture a 1/4 cup ladle full at a time into the pan and fry for 1-2 minutes until the underside is firm.

Carefully flip the pancakes and then cook for another minute or so until the pancakes are cooked through and slightly golden.
To roast the peppers:
Add the peppers to a large baking tray and toss them in 1 tbsp of olive oil. Bake on a medium heat for 30 minutes or until soft and browning a little.
To blend the hummus:To make the pancakes:To roast the peppers:
This recipe was republished with permission from Rebel Recipes. Find the original recipe here.