Don't forget the pan-griddled bread to dip in when you're done!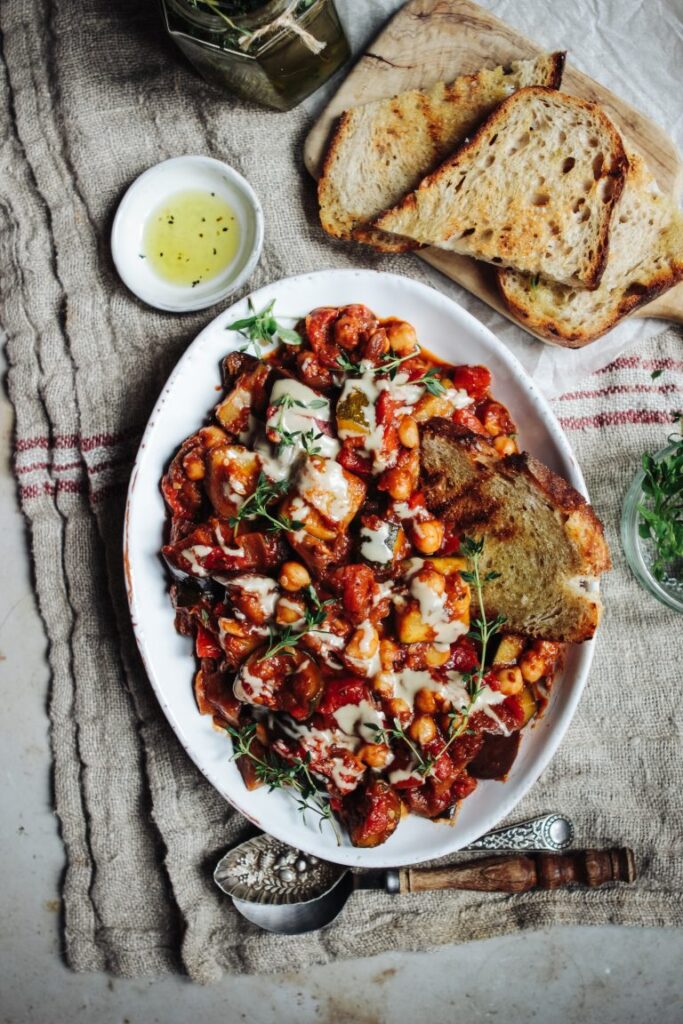 Ingredients
1

red onion sliced

2

tbsp

olive oil

4

cloves

garlic sliced

1

courgette sliced into medium cubes

1

aubergine chopped into medium cubes

1

tbsp

smoked paprika

2

tbsp

fresh thyme

1

tsp

cumin seeds

1

tbsp

tomato purée

1

jar 450g roast red peppers drained and chopped up

1

can crushed tomatoes or tomatoes

1

tsp

balmamic glaze

1

tsp

sea salt flakes

Pinch

black pepper

Pinch

chill flakes – optional

1

can chickpeas drained

1

tbsp

extra virgin olive oil
Instructions
In a large pan, add the oil and then fry the onion for 10 minutes until soft.

Add the chopped veg and fry for a further 5- 7 minutes until the veg softens.

Now add in the smoked paprika, thyme, cumin and tomato purée, stir to combine.

Add the tomatoes and roast peppers, cover and cook for 15 minutes until everything softens.

You can now add the balsamic, seasonings and chickpeas. Stir to combine and check the seasoning.

Turn off the heat and add the extra virgin olive oil.
Pan griddled bread;
Heat a griddle pan to medium.

Brush some extra virgin olive oil onto all both sides of the bread. Sprinkle with sea salt

Add to the pan and toast on one side the flip until toasted on the other side.
Tahini dressing;
Add all the ingredients to a jar and mix to combine.
Pan griddled bread;Tahini dressing;
This recipe was republished with permission from Rebel Recipes. Find the original recipe here.