This recipe won't leave you wanting for anything. Classic in its southwestern undertones, this chili features a sweet and tangy bbq quality which pairs nicely with the sweet potato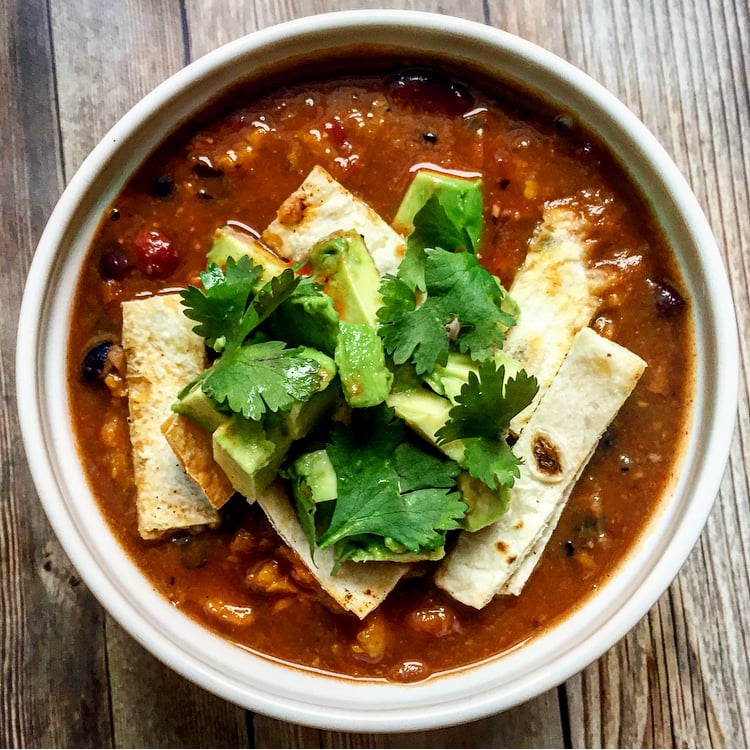 Ingredients
Sweet Potato Chili
1

sm. yellow onion diced

2

3 garlic cloves, minced minced

3

tbsp

olive oil

1

tbsp

cumin

1

tbsp

chili powder

1/4

cup

tomato paste

1

tbsp

chipotle paste

4

cups

sweet potato peeled and cubed

25

oz

can black beans rinsed and drained

14

oz

can kidney beans rinsed and drained

14

oz

can pinto beans rinsed and drained

14

oz

can diced tomatoes

4

cups

water

2

tbsp

dark brown sugar

1

tbsp

apple cider vinegar

1/2

tbsp

brown mustard

1/2

tbsp

agave

1

tbsp

Worcestershire sauce
Toppings
1

avocado diced

2

3 tortillas cut into strips

1

tsp

olive oil

1

tsp

chili powder

1

tsp

salt

1

bunch cilantro
Instructions
Heat 3 T. of olive oil in your multi-cooker (if using) or in a large soup pan. When shimmering, add the diced onion and cook on a low heat to soften for approximately 8 minutes. Add the garlic with 4 minutes remaining.

Add the chili powder and cumin and continue to cook over low heat until fragrant. About 1-2 minutes. Add the tomato paste and chipotle paste. If you don't have a pre-made chipotle paste, you can purchase a can of chipotle peppers in adobo sauce in the ethnic foods section of your grocery store. For a recipe like this, I will chop 1-2 chipotle peppers. These do sometimes have quite a bit of heat, so the smaller you cut them, the more distributed the heat will be. You can freeze the remaining contents of the can in a small bag for later use. Cook for 1-2 minutes more.

Add the sweet potato and stir to coat. Allow the sweet potato to cook with the onion, garlic and spices for 1-2 minutes.

Add the diced tomatoes, black beans, kidney beans and pinto beans along with 4 c. of water.

In a small bowl, combine the brown sugar, apple cider vinegar, mustard, agave and Worcestershire sauce. Mix well and pour into the chili.

If cooking in a soup pan, bring to a boil. Once boiling, reduce the heat to a simmer and allow the chili to simmer for 40 minutes or until the sweet potato and beans are softened. If cooking in a crockpot or multi-cooker, although the chili to cook for 4-8 hours on a low setting.

While the chili is cooking, preheat your oven to 400 degrees. Slice your tortilla into thin strips. I like to stack the tortillas and use a pizza cutter. Either toss the strips in 1 t. of olive oil, or spread them out on a oven tray and spray lightly with olive oil. Sprinkle salt and chili powder over the tortilla strips and bake in the oven for 10 minutes, turning the tray halfway through. Allow to cool before serving.

Dice the avocado and wash and strip the cilantro. ;Before serving the chili, use a potato masher to lightly mash the beans and the sweet potatoes in the chili. This will better blend the flavors and thicken the chili.

Serve the chili topped with tortilla strips, diced avocado and cilantro.