Beautiful fresh summery flavours–this is such a simple vegan ratatouille dish, but it's incredibly delicious and packed with chickpeas too.
Courgettes, aubergines, lots of tomatoes and one of my favourite spice/herb combinations–smoked paprika, thyme and cumin–all come together here to make a satisfying but healthy vegan dinner. And let's talk about the pan-griddled bread!
I use some slightly stale but good-quality sourdough. Brushed on some extra virgin olive oil, sprinkled with sea salt flakes, and griddled on each side. Oh my goodness–just so delicious. Dipped in the veggie-rich ratatouille and chickpeas, it's my idea of heaven.
As an extra bonus, the tahini dressing adds both creaminess and earthiness to counter the zingy tomato sauce. What you end up with is a balanced vegan-friendly dish that has all the traditional notes of ratatouille but with a little extra protein (thanks chickpeas!) and some decadence too.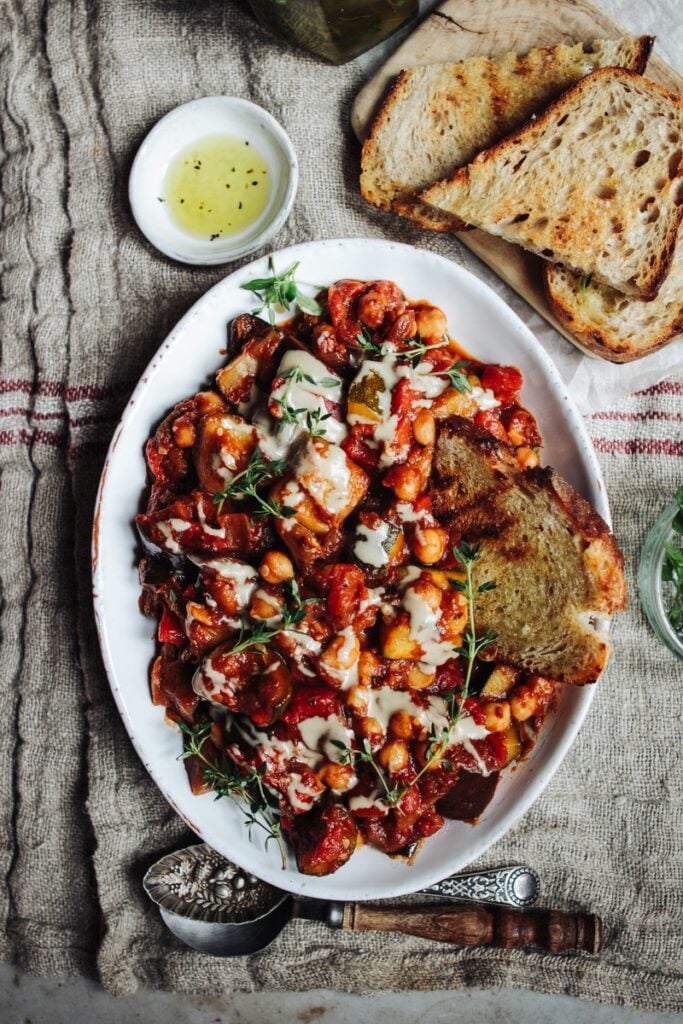 Ingredients
1

red onion sliced

2

tbsp

olive oil

4

cloves

garlic sliced

1

courgette sliced into medium cubes

1

aubergine chopped into medium cubes

1

tbsp

smoked paprika

2

tbsp

fresh thyme

1

tsp

cumin seeds

1

tbsp

tomato purée

1

450g jar roast red peppers drained and chopped up

1

can crushed tomatoes or tomatoes

1

tsp

balmamic glaze

1

tsp

sea salt flakes

Pinch

black pepper

Pinch

chill flakes – optional

1

can chickpeas drained

1

tbsp

extra virgin olive oil
Instructions
In a large pan, add the oil and then fry the onion for 10 minutes until soft.

Add the chopped veg and fry for a further 5- 7 minutes until the veg softens.

Now add in the smoked paprika, thyme, cumin and tomato purée, stir to combine.

Add the tomatoes and roast peppers, cover and cook for 15 minutes until everything softens.

You can now add the balsamic, seasonings and chickpeas. Stir to combine and check the seasoning.

Turn off the heat and add the extra virgin olive oil.
For the pan-griddled bread
Heat a griddle pan to medium.

Brush some extra virgin olive oil onto all both sides of the bread. Sprinkle with sea salt

Add to the pan and toast on one side the flip until toasted on the other side.
For the tahini dressing
Add all the ingredients to a jar and mix to combine.
Top tips for a perfect vegan ratatouille
The chickpeas, though not essential, are a delicious and sustaining addition. You can add butter beans as well.
If you have time, feel free to use fresh tomatoes and peppers instead of canned. The convenience of prepared ingredients simply makes this an ultra-fast recipe.
Do make sure to treat yourself to some accompanying pan-griddled bread. It definitely adds an extra level of deliciousness and a pleasing textural change too.
—
This vegan ratatouille with chickpeas recipe was republished with permission from Rebel Recipes. Find the original here.