The perfect lunch on-the-go sandwich: ideal for packed lunches or lazy days at home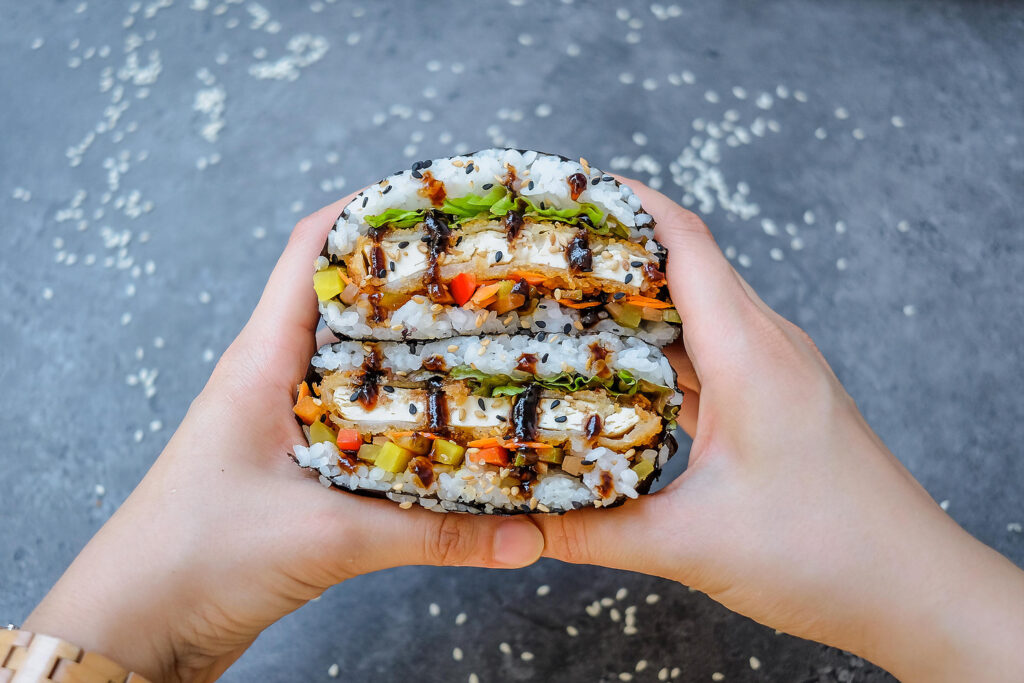 Ingredients
Japanese Sushi Rice
1 1/2

cups

uncooked Japanese rice

1/4

cup

rice wine vinegar

this type of vinegar is essential

1 1/2

tbsp

white sugar

3/4

tsp

sea salt
Tofu 'Katsu'
2 240

g

blocks fresh extra firm tofu

Canola oil

for frying

1/2

tsp

salt

or to taste*

½

cup

flour

1

tbsp

+ 2 tsp cornstarch

1

tsp

baking powder

1

tsp

salt

1

tsp

sweet paprika powder

optional

½

cup

water

1

cup

Japanese breadcrumbs
The sandwich
4

whole nori sheets

Prepared Japanese sushi rice

4

Tofu 'Katsu' slices

Thinly sliced carrots

Lettuce

Pickled radish

Pickled burdock root

Teriyaki sauce

or sauce of choice

Sesame seeds
Instructions
Japanese Sushi Rice
Wash the Japanese rice 2-3 times with water.

Cook in a rice cooker. (1 cup rice = 1 cup water)

While the rice is cooking, pour rice vinegar, sugar and salt into a large wooden or ceramic bowl. Mix well.

Once rice is cooked, add into the vinegar mixture and mix well. The hot rice will easily absorb the mixture.

Cover the rice with a damp towel. Refrigerate for at least 1 hour. Cover with a towel or cling wrap then refrigerate.
Tofu 'Katsu'
Drain water from the tofu by wrapping them in paper towels and then placing a heavy flat surface (a board or plate) on top of each. Leave for 15 minutes until water has been absorbed by the towels.

Slice each tofu into 1/2 inch thick square slabs. You may be able to slice one tofu into 3 slabs, depending on the thickness of your tofu. Season with salt as needed. If you end up with extra tofu, you can always enjoy it as is!

Prepare the batter by mixing all the ingredients until smooth. In another plate or tray, add the breadcrumbs.

Place each tofu in the batter then coat into the breadcrumbs. Repeat this step for the rest of the tofu.

Heat the oil in a frying pan. Once hot (you can test this by putting a little bread crumbs), add in the tofu. Fry for around 6-8 minutes over medium heat until golden brown. Take them out of the oil then turn off the heat.

Let cool for 10-15 minutes to maintain the crispness.
Constructing the sandwich
In a flat surface, place the nori sheet.

Add a generous amount of the sushi rice to make a square shape the same size as the tofu katsu.

Add the lettuce and then the tofu.

Add other toppings of choice, all the same size as the tofu and rice.

Add another layer of rice and press down.

Fold each side of the nori sheet to the center while holding together the filling to ensure the sandwich will be held together well.

Fold the sheet up while tucking in the sides.

Flip over then slice with a sharp knife. Feel free to add some sesame seeds and teriyaki sauce to your liking! If you intend to store these in the refrigerator, you can wrap them in some cling wrap or place them in an air tight container to avoid them drying out.