Cold soup might be unsual in some cultures but don't let one bad borscht put you off trying other recipes! Especially when this authentic vegan salmorejo is so simple to whip up and so delicious to eat.
What is salmojero?
Also known as ardoria or ardorío, salmorejo is a cold tomato soup made with bread. Yes, you read that right. Comparable to gazpacho, though thicker and creamier, it originates from the Andalusia region of Spain. And pleasingly, the base ingredients have always been vegan.
Though now, many people choose to garnish their salmorejo with toppings such as chopped ham or eggs, the soup recipe itself remains as vegan as ever, containing just tomatoes, bread, olive oil and garlic. For a plant-based protein twist, you could add vegan bacon lardons or perhaps fried tofu or tempeh. However, the dish is delicious enough to be consumed without extra accoutrement.
Ready in just 20 minutes, this cold soup makes an ideal starter or, with some extra bread and a side salad, a heartier main dish.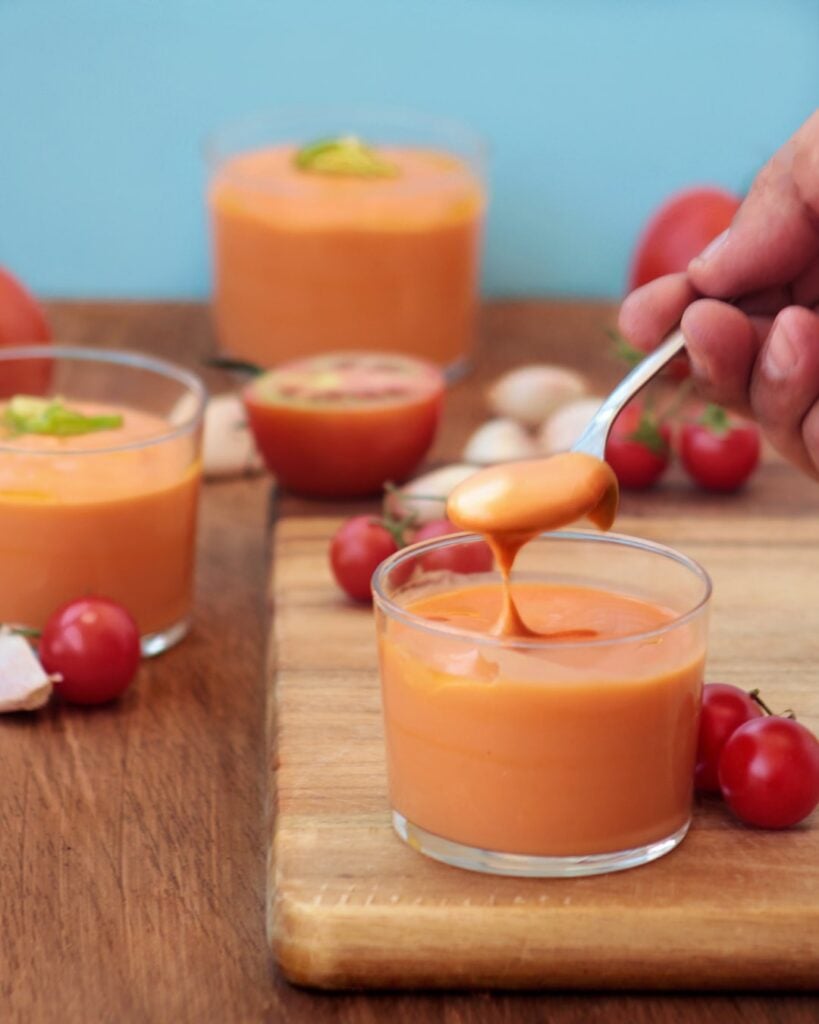 Ingredients
1

kg

ripe tomatoes

200

g

bread

150

ml

extra virgin olive oil

1

clove

garlic

salt to taste
Instructions
ATTENTION: mix ingredients in the order specified!
Start by washing the tomatoes, removing the green from the stem and crushing them. It is not necessary to peel or remove the seeds because a strainer is used afterwards.

Place the bread in a bowl and cover it with the tomato puree, leaving it to soak for about 15 minutes.

After soaking the bread, add a clove of garlic and blitz completely with the blender. While blending, add the oil and salt, a little at a time. Don't rush, the wait will be worth it!
Top tips for an authentic vegan salmorejo
The key here is in the oil, which must be gently incorporated into the other ingredients, while the mixer is still working.
The bread ratio used here is great for ta hearty and thick texture, but it can vary based on how much water is in the tomatoes you use and the thickness of the bread itself. Don't be afraid to experiment.
—
This vegan salmorejo recipe was republished with permission from Moisés Jiménez. Find the original recipe here.