Stuffed bell peppers with a lentil meatball filling and some mashed potato makes a really comforting dinner for the lead up to Thanksgiving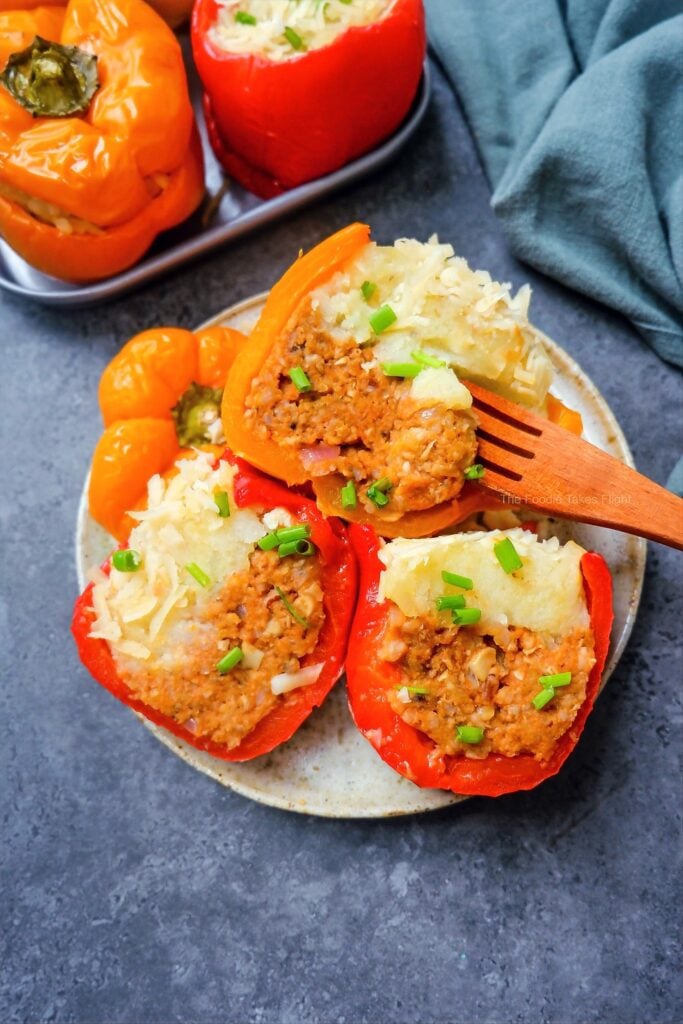 Ingredients
6

large bell peppers

1/2

tbsp

olive oil

1

cup

vegan cheese shreds

optional
Mashed Potatoes
Pot of water

2

tsp

salt

2

medium sized

650g total yukon gold potatoes, makes 2 cups cooked mashed potatoes

2

tbsp

olive oil or vegan butter

3

cloves

garlic

minced

1 1/4

tsp

salt

or to taste

1/4

tsp

ground pepper

1

tbsp

chopped spring onions or chives

optional
Lentil Meatball
1/2

cup

raw lentils

I used the orange variety, makes 1 1/4 cup cooked lentils*

1

tbsp

olive oil

1/2

red onion

diced

1

can

150g sliced button mushrooms or sliced fresh button mushrooms

1

tbsp

soy sauce

1/2

cup

cooked red

brown, or black rice

1

tbsp

tomato paste

1/2

cup

breadcrumbs

feel free to sub with ground rolled oats

1/2

tsp

salt

or to taste

*You can opt to use cooked canned lentils. Just make sure to rinse them well.
Instructions
Cooking the potatoes and lentils:
Prepare a pot. Add water and salt. Leave to boil.

Wash the potatoes well. You can opt to peel or keep the skin on. You can also opt to slice them into smaller piece for faster cooking. But I prefer leaving them whole.

When the water boils, add in the potatoes. When the potatoes are around halfway cooked, add in the lentils.* If your pot has a division, that's even better. I kept my potatoes whole so it's easier to separate the potatoes and lentils. Boil until potatoes are cooked through and lentils are tender.

Remove them from the water. Separate lentils and potatoes. Leave to cool and set aside.
*Note: I used the orange split lentils that cook faster than other type of lentils you'll need to adjust cooking time accordingly.Preparing the peppers:*Note: Don't wash the pan yet since you can use the same one for the lentil filling!Lentil Meatball filling:Stuffing the peppers:This recipe was republished with permission from The Foodie Takes Flight. Find the original recipe here.