Vegan meringues? Yes! We love a 5 ingredient recipe and these quirky halloween ghost meringues are no exception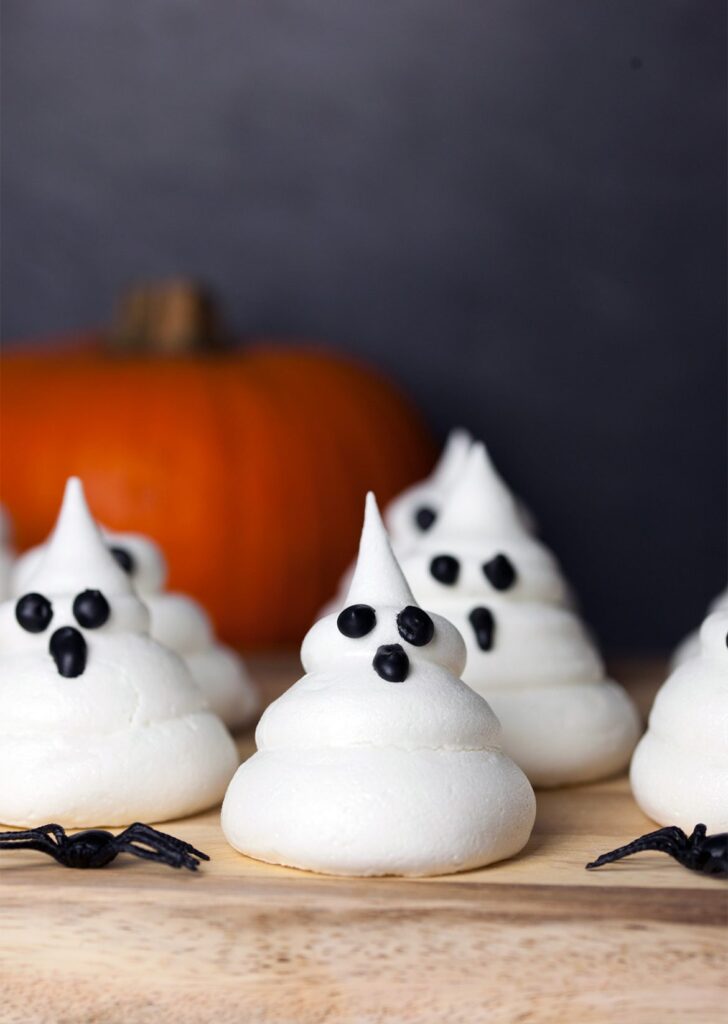 Ingredients
80

ml

or 1/3 cup aquafaba

1/4

tsp

apple cider vinegar

50

g

or 1/4 cup white caster sugar

5

tbsp

icing sugar

1/2

tsp

activated charcoal

1/2

tbsp

water
Instructions
Transfer the aquafaba and apple cider vinegar to a large mixing bowl, then use a hand-held electric whisk to whisk the liquid for around 8 minutes, or until it has doubled in size and holds its peaks.

Next add the sugar 1 tbsp at a time, whisking as you go for around 3 minutes until the aquafaba is glossy and stiff.

Preheat the oven to 100°C (210°F) fan and line a large baking tray with baking paper.

Transfer the meringue mixture to a piping bag with a large round tip (around 1cm wide). Hold the piping bag vertically upright and pipe the ghosts by creating three circles on top of each other. Make sure the base circle is at least 7cm wide and you pipe straight so the meringues don't fall over when they bake. Repeat until all of the meringues has been used up (you should have around 10 ghosts).

Bake the meringues in the oven for 2 hours then turn the oven off and leave the meringues inside for a further 1 hour so they are completely firm and dry. Avoid opening the oven, otherwise the meringues might not remain firm.

To prepare the icing, combine the icing sugar, activated charcoal and 1/2 tbsp of water in a small mixing bowl until smooth. Then transfer to a piping bag with a small tip (a few millimetres).

Use the black icing to pipe eyes and a mouth onto each ghost.

Serve immediately or keep in an airtight container for up to 24 hours.