Looking to eat some more green foods on St.Patrick's Day? Then look no further than this gorgeous kiwi cheesecake.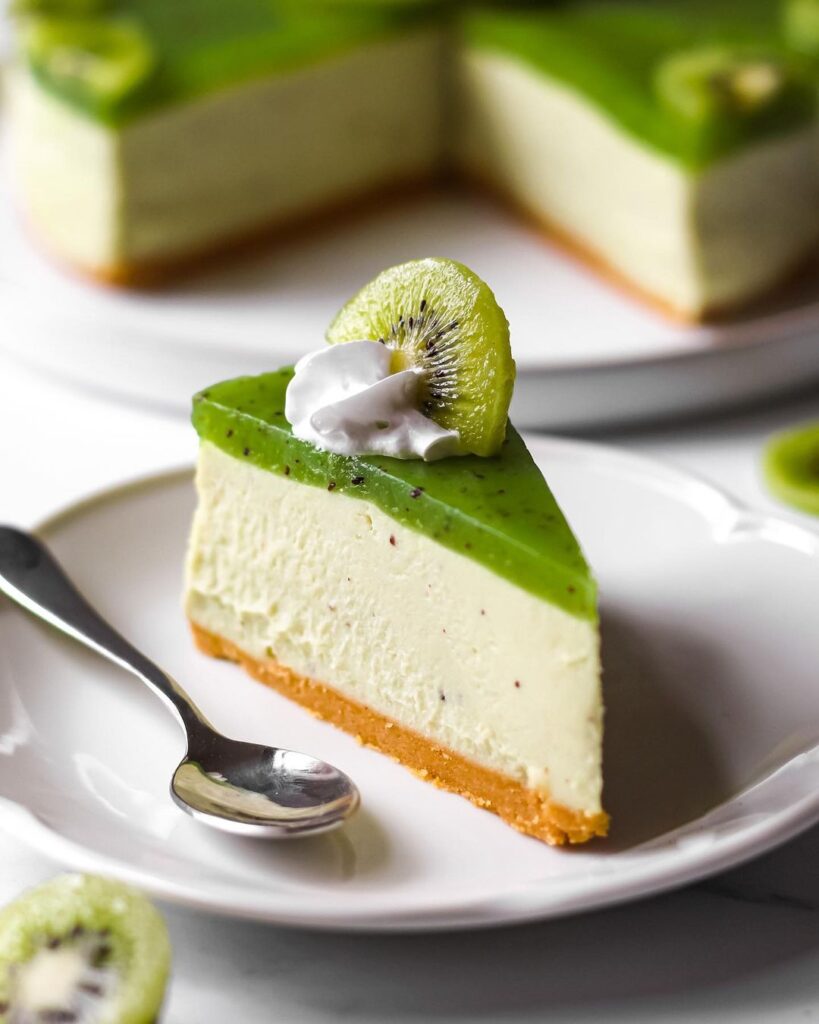 Ingredients
Crust
160

g

digestive biscuits

70

g

vegan butter

melted

pinch

salt
Filling
400

g

vegan cream cheese

300

g

cashews

150

g

coconut cream

80

g

kiwi

pulp

120

g

icing sugar

2

tsp

vanilla extract

pinch

salt
Jelly
160

g

kiwi

pulp

100

ml

water

45

ml

lemon juice

60

g

caster sugar

2/3

tsp

agar agar powder

pinch

matcha powder
Instructions
Crust: Pulse the biscuits in a food processor until they are completely crushed. Add the melted butter and process until well combined.

Place a circular disk of parchment in the bottom of the cake tin to help get the cheesecake out later. Place the crust mix into the cake tin and spread evenly. Use a cup and baking parchment to flatten it down. Chill in the freezer for 30 minutes.

Cheesecake filling: Peel and cut up 5-6 kiwis and weigh them out. We need at least 280g for the filling and jelly (and some extra to account for some lost weight when we remove any pulp later).

Place the kiwis in a food processor and blend until smooth. Remove any white pieces of kiwi flesh. Reserve 80g for the filling and 160g for the jelly.

Bring half a saucepan of water to a boil and boil the 300g cashews for 20 minutes to soften them (you can also soak them in hot water overnight). Discard the soaking water, dry off the cashews and place them into the food processor with the coconut cream. Blitz until smooth.

Add the vegan cream cheese to the food processor with the vanilla extract, icing sugar, kiwi pulp and salt then blitz again until smooth. It will be very thick so you may have to scrape down the sides to get it to blend completely smooth.

Pour this filling into the cake tin on top of the frozen crust and leave it in the fridge to set for at least 3 hours.

Jelly Layer: Mix together the sugar and the agar powder in a small bowl. Add a few tablespoons of the 100ml water until the sugar and agar are dissolved.

Pour this into a pan with the rest of the water and the kiwi juice. Turn the heat up to medium-low and bring to a simmer. Allow to simmer for 1 minute until the agar is fully dissolved.

Take it off the heat and allow to cool slightly for 10 minutes. Then gently pour onto the cheesecake layer.

Chill for at least 1 hour then serve!