Oozing with juicy cranberries and drizzled with melted dark chocolate, these are the perfect festive treat to get you in the Christmas spirit!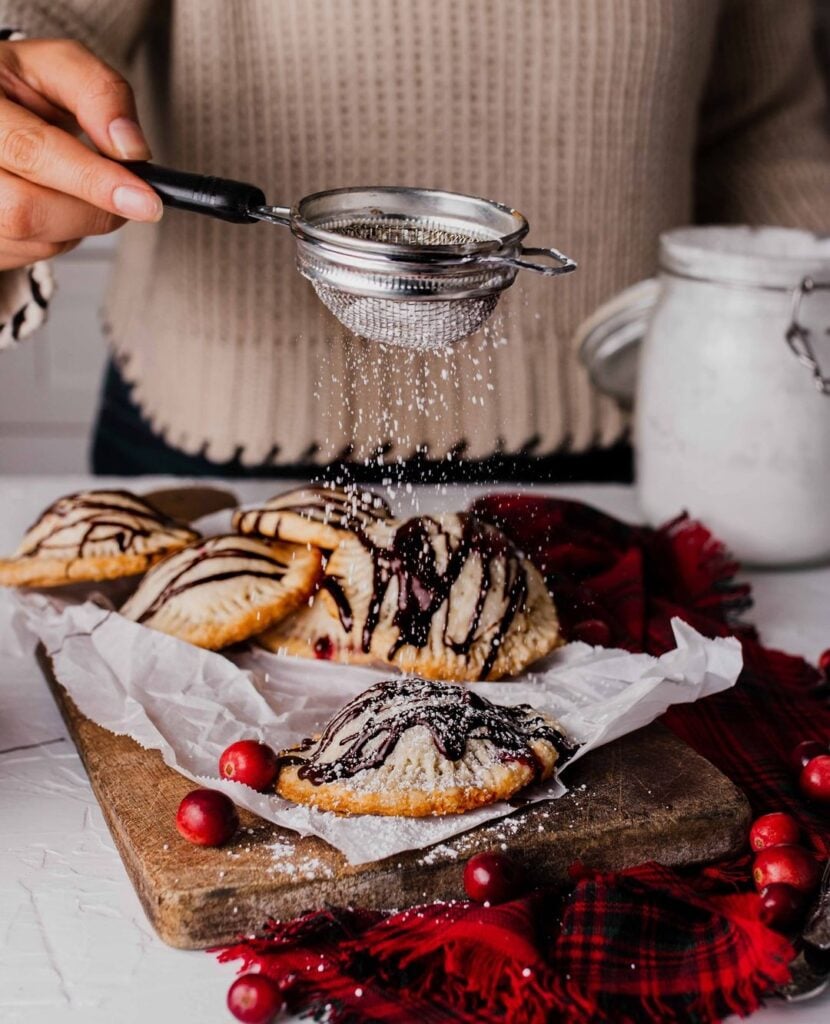 Ingredients
Pie Dough
2 1/2

cups

all purpose flour

1

tsp

salt

1

cup

coconut oil

cold

3-6

tbsp

ice water

1/4

cup

brown sugar
FIlling
2

cups

cranberries

1

tbsp

orange

zest

1

tbsp

orange

juice

1

tsp

cornstarch

1/3

cup

brown sugar

1

tsp

vanilla extract
Toppings
melted dark chocolate

(optional)

icing sugar

(optional)
Instructions
In a food processor add your flour, salt and brown sugar and process until a grainy combined.

Add in your coconut oil in chunks, it is important the the coconut oil is cold because that is what gives your dough the flaky consistency. Process until you get a texture that is like wet sand.

Add in your ice cold water while the process is on, one tablespoon at a time. Start with three tables spoons and add the remaining slowly as you may not need as many as we did. We ended up needing all six tablespoons. You want to add wanted until your dough just comes together or when you can grab some dough and form a ball that holds together. Pro Tip: The water needs to be ice cold.

Turn out your dough onto a layer of cling wrap and using the wrap help form it into a ball. Then wrap your dough and store it in the fridge for 1-2 hours.

Remove your dough from the fridge and let it sit at room temperature for 10-15 minutes before rolling it out. Preheat your oven to 375 F.

To complete the cranberry filling add your cranberries, orange zest, fresh orange juice, cornstarch, brown sugar and vanilla to a medium saucepan over medium heat. Mix it all together consistently over the heat until your cranberries burst and the filling thickens. You want a good mix of burst cranberries to whole cranberries still in your mixture.

Set the filling aside to cool for about 5-10 minutes.

On a well floured surface roll out your dough to about a 1/8 inch thickness. If you are finding your dough is a little crumbly, wet your hands and knead for a minute then roll it out.

Using a crimped circle cookie cutter(you can buy here) use that to cut out as many shapes as you can from your dough. These are going to be the tops and bottoms to your handpies.

Place about 1 teaspoon of cranberry filling into the center of all your bottom pie cut outs. Trace cold water around the edge of the pastry to help the dough seal together and not leak.

Before placing your dough on top, roll out your cut outs just a bit extra so they can comfortable go over the mound of cranberry. Place them over and using your finger lightly press all the edges together. Then using a fork press down around the edges to ensure no leakage happens.

Using a sharp knife, create a slit in the top of your handpie to allow a place for steam to escape while baking, without this your pies would burst.

Bake for  20 in your preheated oven and then turn off the oven but don't them them out for another 2-3 minutes so that they can finish baking in the heat of the stove. Remove from the oven and let cook on baking sheet for about 2 minutes then transfer to a wire rack.

We topped our with a little melted chocolate and some icing sugar, which of course is all optional.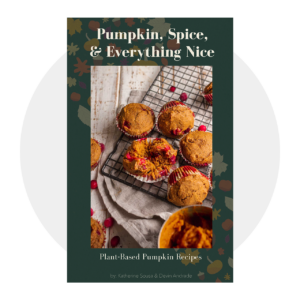 Click here to buy one of the Two Market Girls Cookbooks!