Potato can do no wrong, and it's not about to start now! These savory bites are crazy delicious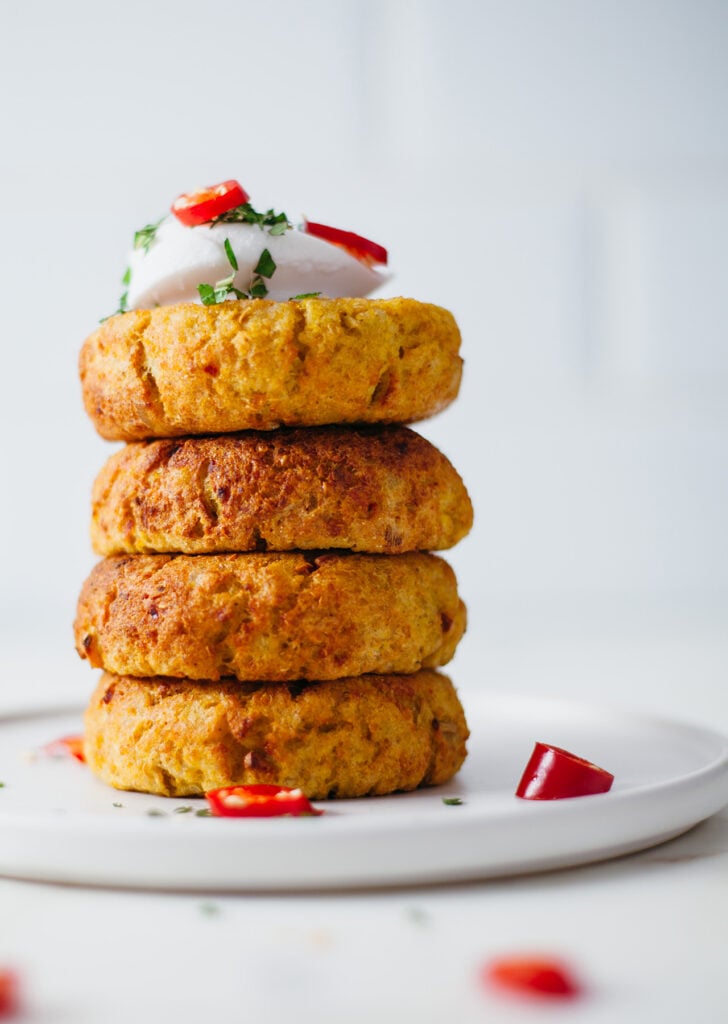 Ingredients
800

g

/ 28.2oz white potatoes

50

g

/ 1.7oz quinoa

4

garlic cloves

thumb of ginger

15g / 0.5oz

1

tsp

onion granules

1

red chilli

1

tbsp

medium curry powder

4

tbsp

polenta

corn meal

1/2

tsp

salt

2

tbsp

olive oil

coconut cream for serving

small handful of fresh mint or coriander

10g / 0.35oz
Instructions
Slice the potatoes into quarters. Transfer to a large saucepan and cover with cold water. Bring them to a boil, then boil for 15-20 minutes or until the potatoes are completely soft. Drain, then leave to cool completely.

Meanwhile, transfer the quinoa to a saucepan and cover with 150ml (5.2 fl.oz) of hot water from a kettle. Bring it to a boil, then cover and simmer for 12-15 minutes or until the quinoa has cooked and there's no moisture remaining. Then leave to cool completely.

As soon as the potato and quinoa has cooled, preheat the oven to 200C / 392F fan-assisted and line a large baking tray with baking paper. Peel and dice the garlic and ginger, and finely chop half of the red chili (keep the seeds if you like it spicy).

Transfer the potato to a large mixing bowl and mash until completely smooth. Add the cooked quinoa, garlic, ginger, chopped red chili, onion granules, curry powder, polenta and salt. Mix until everything is well combined, then separate the mixture into 6 evenly-sized pieces. Shape each piece into a large patty the shape of a hockey pick and transfer them to the baking tray. Brush them with olive oil, then bake them in the oven for 40-50 minutes or until golden brown and crispy. Turn the tray around halfway through to make sure they bake evenly.

Slice the remaining half of red chili. Pick the mint leaves from their stalks and roughly chop them. Serve the potato cakes with the coconut cream, chopped chili and fresh mint.