Just as good as the ones you'd find at a night market, but better because you can add even more scallions!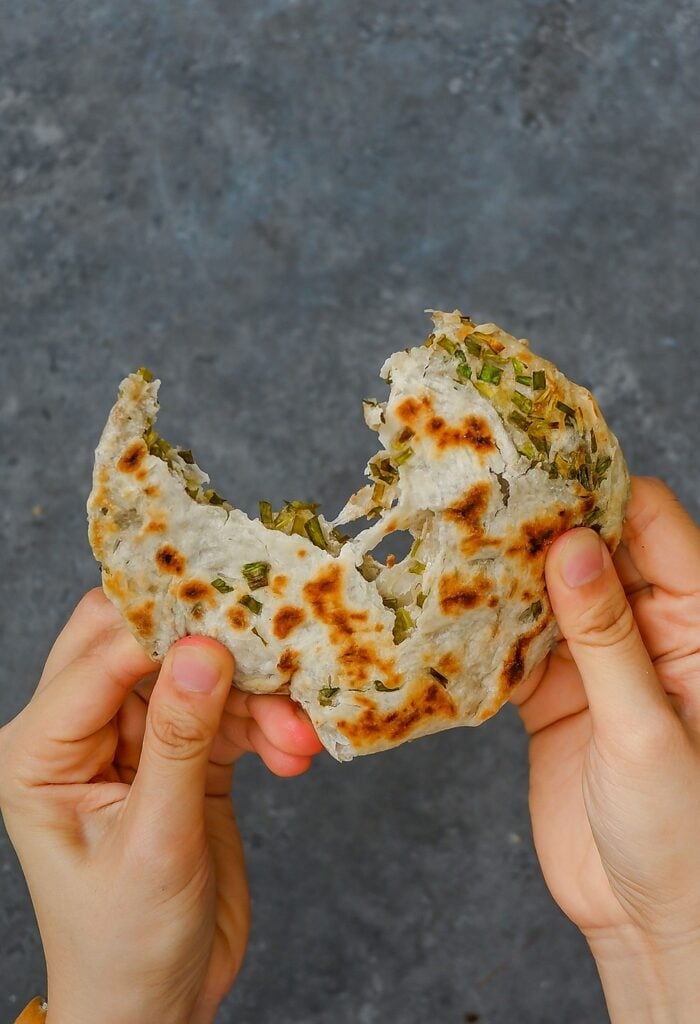 Ingredients
Pancakes
2 1/4

cups

315g all (purpose flour)

1

tsp

salt

1

cup

room temperature water

Canola or other neutral oil

for preparing and cooking

1 1/2

cup

85g chopped scallions

1 1/2

tsp

1 1/2

tsp

salt
Dipping Sauce
Soy sauce

White distilled vinegar or

Sesame oil

Chili oil

Chopped scallions
Instructions
Preparing the dough:
In a large bowl, mix the all-purpose flour and salt. Using chopsticks or spatula, slowly pour in the water into the four while mixing continuously. Then use your hands to mix the flour and water until there are no traces of the flour and a dough has formed.

Flour your work surface. I have a marble surface but you can also opt to use a wooden surface or large board. Knead the dough together for 5-6 minutes until stretchy. Shape into a ball. Brush the mixing bowl with a little oil then place the ball of dough. Cover with a towel and leave to sit for at least 1 hour.
Shaping the pancakes:
Take out the dough from the bowl. Divide it into 8 pieces of around 65-70g each, and then roll each piece into a ball. Transfer the balls back into the bowl and cover the rest while you work on one piece at a time. Lightly brush your work surface with a little oil.

Roll out 1 ball of dough into a thin rectangular shape. If your rolling pin tends to stick to the dough, you can sprinkle a little flour on to the dough and flour your rolling pin as well.

You'll be able to almost see your work surface through the dough. Don't worry about creating a perfect rectangular shape, a long oblong/rectangle shape is fine. Also, don't worry about ripped parts when rolling.

Lightly sprinkle a pinch of salt and Chinese five spice powder on the rolled out dough. Then spread some of the chopped scallions. The amount of scallions is totally up to you. Also, don't worry about ripped edges upon folding, this is okay.

Fold the dough by carefully holding the top left and right edges of the dough. Fold it hallway towards you. Grab the bottom edges and fold it away from you. Do not fold them too tightly—air bubbles are totally fine. It's also okay if part of the dough tears upon folding. Afterward, grab the end of the folded dough and carefully roll it towards the other end, until you have what looks like a cinnamon roll. Again, do not roll it too tightly and leave some air bubbles. Repeat this for the rest of the dough until you have 8 rolls.

Grease your work surface, if needed. Grease your work surface. Take one of the rolls and then lightly press down. Roll out into a thin circle, around 6" thick. It's okay if you don't create a perfect circle shape.
Cooking the pancakes:
Heat a non-stick pan. Add around 1/2-1 tbsp canola or neutral oil. Once hot, place one rolled out pancake. Cook for 3-4 minutes until lightly browned. Flip over and then cook the other side. Place the pancakes on a cooling rack so they can stay crisp longer.

Repeat the cooking step for the rest of the pancakes. Enjoy while hot!
Shaping the pancakes:Cooking the pancakes:
This recipe was republished with permission from The Foodie Takes Flight. Find the original recipe here.