The ultimate festive chocolatey brownie studded with vibrant sugar candy canes and minty chocolate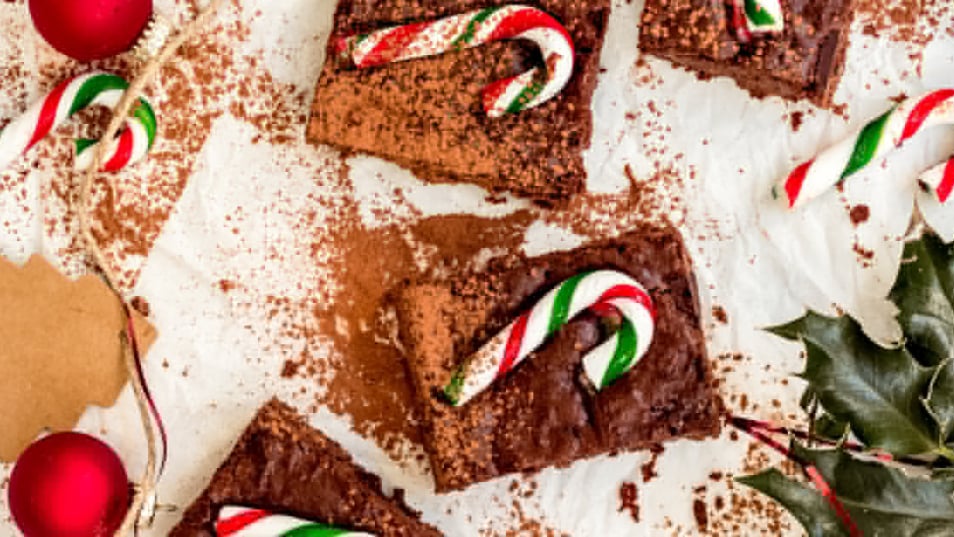 Ingredients
150

g

+ 30g Mint Dark chocolate

or other dark chocolate

2

tbsp

chia seeds

110

g

¾ cup self (raising flour)

2

tbsp

cacao powder

50

g

1/2 cup coconut sugar

Pinch

of salt

250

ml

1 cup almond milk (room temperature)

50

g

5 tbsp oil (e.g. sunflower, olive, cooled melted coconut)

12

candy canes
Instructions
1. Preheat the oven to 160Fan/180*C and line a baking tray with parchment paper.
2. Melt 150g of chocolate over a bain-marie until smooth. Set aside to cool slightly.
3. Stir together the chia seeds with 6 tbsp water and leave to set for 10 minutes. Add in the milk, oil and vanilla and stir well.
4. Add the flour, cacao powder, coconut sugar and a pinch of salt to a large mixing bowl and pour over the flaxseed mixture and then the melted chocolate. Stir until thick and combined.
5. Chop 30g chocolate and stir into the brownie batter. Pour into the lined tray and press the candy canes into the top. *
6. Bake for 20 minutes until firm on top but still slightly squidgy. Allow to cool before slicing.
*to make sure the candy canes look "perfect" still, bake the brownies without the candy canes and press them into the baked brownie once out of the oven.
This recipe was republished with permission from Nourishing Amy. Find the original recipe here