A delicious, vegan, easy-to-make treat that finally fuses banana bread and chocolate brownies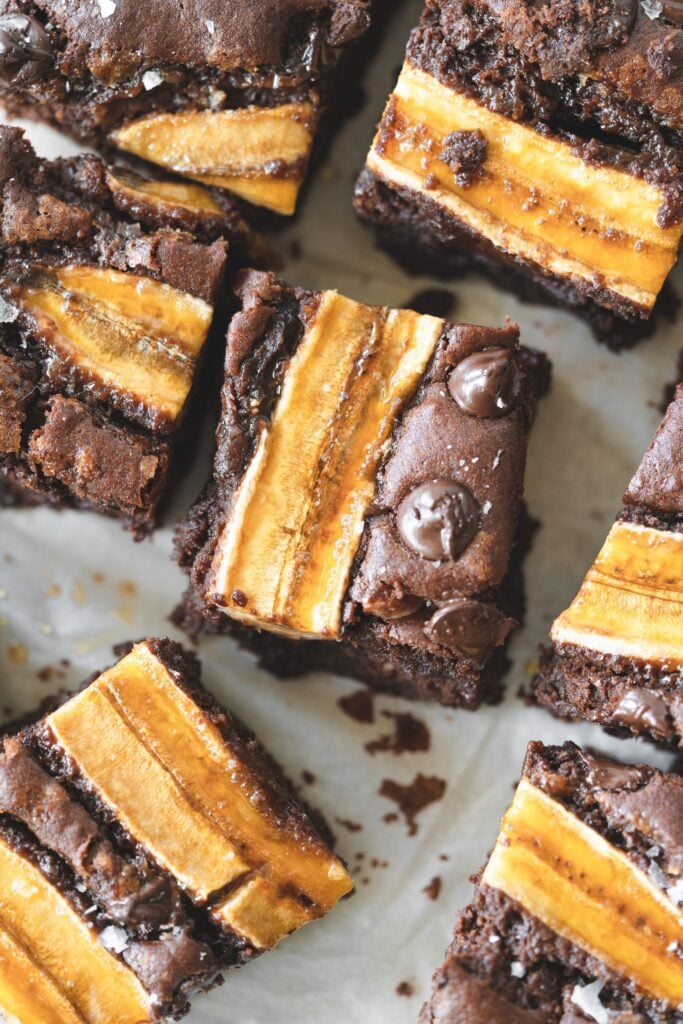 Ingredients
1

? cup

200 g vegan (friendly chocolate chips)

½

cup

115 ml rapeseed oil or other flavourless oil

¼

cup

60 ml coconut milk or other plant (based milk)

1

tsp

5 ml apple cider vinegar

½

cup

120 ml aquafaba * see notes

5

ripe bananas

2

tbsp

24 g instant coffee mixed with 2 tbsp (30 ml) boiling water

1

cup

180 g coconut sugar or dark muscavado sugar

1

tsp

5 ml vanilla extract

2

cups

250 g plain flour

½

cup

50 g cacao powder

½

tsp

2.5 g baking soda

¼

tsp

1.5 g sea salt

1

tbsp

coconut sugar or dark muscovado sugar for garnish
Instructions
Preheat your oven to 170°C.

Line a baking tin 11′ x 7′ (or similar size) with parchment paper.

Add half of the chocolate chips to a heat proof bowl and melt over a double boiler.

Remove from the heat, whisk in the rapeseed oil and set aside.

In a small bowl or cup, mix together the coconut milk and apple cider vinegar and set aside.

Add the aquafaba to a separate large bowl and beat using an electric whisk for 5 minutes until the mixture is light and fluffy. Set aside.

Mash 2 of the bananas with a fork and add them to a bowl with the coffee, coconut sugar and vanilla extract. Whisk the mixture for a minute to combine.

Add the coconut milk with apple cider vinegar to the coconut sugar mixture and whisk for another few seconds.. Then add in the melted chocolate and rapeseed oil and whisk for another 30 seconds to combine.

In a separate large bowl, combine the flour, cacao powder, baking soda and salt.

Next carefully fold the wet ingredients into the bowl with the dry ingredients using a spatula.

Gently fold the whipped aquafaba into the mixture, do not over-mix.

Lastly fold in the remaining chocolate chips (you can reserve a couple to scatter on top of the brownies before baking if desired).

Pour the batter into the baking tin.

Slice the remaining bananas lengthways and arrange them on top of the batter.

Sprinkle the top of the bananas with coconut sugar and place in the oven to bake for 25-30 minutes. Check the brownies are done by stabbing the brownies with a clean knife, it should come out slightly dirty. If there is a lot of batter on the knife, bake them for another 5 minutes.

Allow the brownies to cool completely before removing them from the pan and cutting them into servings.