Need a striking centre piece for Thanksgiving? This delicious seasonal recipe is sure to impress your family and friends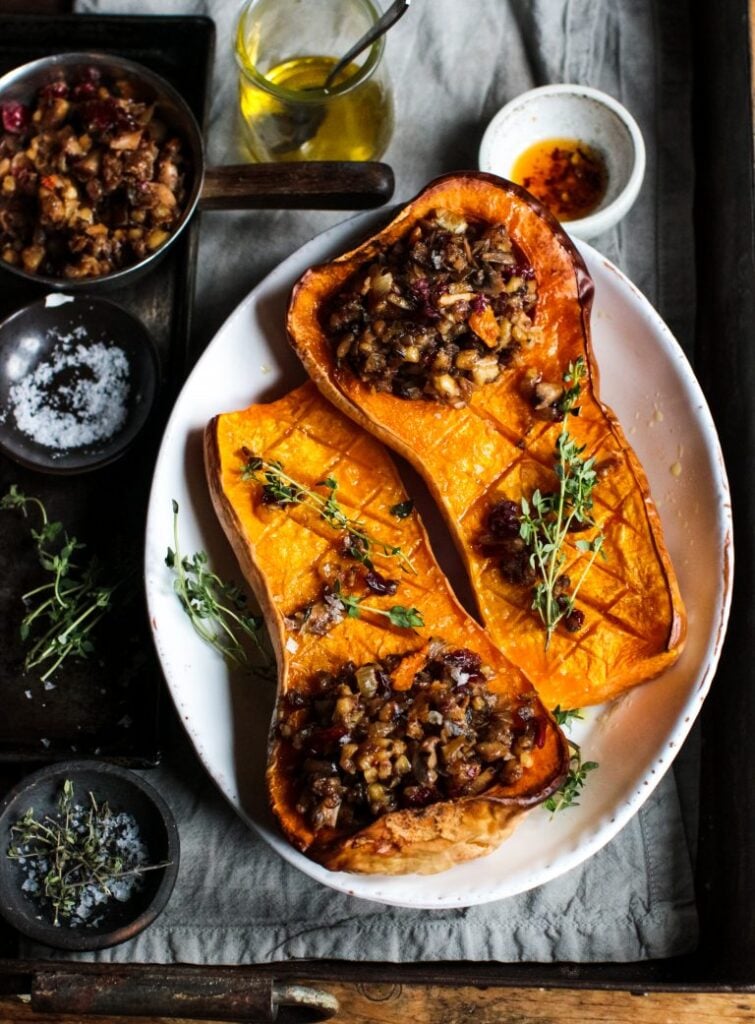 Ingredients
2

medium squash's sliced in half and de

seeded

2

tbsp

olive oil

Sea salt

Black pepper
Nut Roast Filling
1

large onion finely chopped

2

tbsp

olive oil

4

cloves

garlic minced

125

g

mushrooms finely chopped

80

g

cooked chestnuts chopped up

50

g

walnuts toasted and crushed

1

tbsp

tamari

4

tbsp

nutritional yeast

1

tbsp

vegan Worcester sauce

1

tsp

sea salt

Black pepper

1

tbsp

maple syrup

25

g

dried cranberries chopped up

2

tbsp

fresh thyme
Instructions
To cook the squash:
Preheat your oven to 180c

Remove the seeds of the squashes and score the flesh diagonally.

Place the butternut squash on baking trays and rub with the olive oil and sprinkle with salt and pepper. Place in the oven and bake for 60 – 90 minutes, or until tender inside and caramelized on the outside.
To make the filling:
Add the onion and oil to a medium pan and fry gently on a low heat for around 10 minutes until soft and browning.

Add the garlic and fry for a further minute. Next, add the mushrooms and cook-off 5-6 minutes until soft.

Add the walnuts, chestnuts along with the remaining ingredients. Stir to combine and cook for a further minute or so. Set aside.
To serve:
When the squash is cooked spoon the filling into the cavities, top with fresh thyme and sea salt. 
To make the filling:To serve:
This recipe was republished with permission from Rebel Recipes. Find the original recipe here.