In an interview with Robbie Lockie for The Plant Based News Podcast, Vikas Garg shared how he left an impressive career at one of the world's largest hedge funds to launch abillion – an online platform and app that helps people around the world live more sustainably. 
Vegetarian beginnings
"I was born into a vegetarian family. Along the way, I discovered my love and passion for animals, and that became a lifelong learning journey for me. And along that path, I became vegan."

— Vikas Garg on The PBN Podcast
Born in Rajasthan, which is known for being majority-vegetarian, Vikas was raised meat-free from birth.
His family relocated to America when he was four years old. Subsequently, dairy became a much more prominent part of his diet. This vegetarian lifestyle ignited a lifelong love for animals, but Vikas revealed that in 2008 he began to question everything.
A family illness prompted him to start questioning his food choices. Meanwhile, an overwhelming love for his dog further deepened his connection to the suffering of animals.
Eathlings documentary inspires change
Vikas also cites the documentary Earthlings as having an instrumental role in his life-changing decision to go vegan.
"I watched Earthlings for the first time, and it blew me away… Overnight it became really obvious that these ideas I had around dairy and leather were so misplaced."

— Vikas Garg on The PBN Podcast
He describes watching the documentary as a defining moment in his life. Now, he calls his decision to go vegan his "north star."
Spirituality and urbanization in India
During the podcast, Vikas discusses the complex relationship between religion and animal welfare in India.
The cow is a sacred animal for many Hindus, who make up over 80 percent of India's population. But Vikas notes that this doesn't necessarily result in a good life for the animals.
"People in India tend to have a very romantic view of the cow, which doesn't actually show up in the treatment of the animal."

— Vikas Garg on The PBN Podcast
He goes on to tell us how the vegan movement has ramped up in India in recent years. But, that increasing urbanization is driving the demand for processed foods.
Much of the traditional Indian food eaten in the countryside is meat-free, so Vikas says focussing on increasing plant-based options in these urban areas is critical.
He now works with Humane Society International and other organizations to promote animal welfare in India.
Quits everything to focus on sustainability
In 2015 Vikas moved from the US to Singapore to pursue the next steps in his successful career in finance. However, he began to rethink his corporate path in the aftermath of the 2016 US presidential elections.
Vikas was blown away by the election of Donald Trump. Primarily, the role social media played. The communication platforms we navigate every day can be used in unethical ways, Vikas notes. But he was also excited about their potential to change the world for good.
As such, he started to feel like his professional life as an investment banker wasn't reflecting his values.
Mindful scrolling
He wanted to put his skills and expertise towards a pursuit that aligned better with his personal beliefs – a project that would do good and inspire social change.
"I wanted to create something that inspires people, I really felt that social media could be rebuilt into creating mindful scrolling. I really felt that the planet, positivity, and the animals deserved a voice."

— Vikas Garg on The PBN Podcast
He started to dream up ways of re-inventing social media, and the idea of "mindful scrolling" took hold of him. That's how the idea for abillion was born. And at the start of 2017, he resigned from his job to embark on this new journey.
Setting up abillionveg
Knowing nothing whatsoever about tech, Vikas rolled up his sleeves and joined a three-month coding boot camp. This is where he met his first collaborator Jonathan Ng, who later became the technical product manager at the company.
First operating under the name abillionveg (soon to become simply abillion), the start-up was officially launched in May 2018.
Vikas' overarching ambition is to inspire a billion people (hence the name abillion) to join the plant-based movement by 2030, as well as donate $1 billion to support animal welfare causes.
With his concept of "social media for a better planet," his mission is to change the world one vegan dish or product at a time.
"We want to make it really easy for people around the world to discover vegan options and more sustainable options."

— Vikas Garg on The PBN Podcast
The first post on the platform came from Singapore. From there, word of mouth played an important role in spreading the word about abillion and its mission.
How abillion works
Abillion aims to make it easier for people around the world to live sustainably with user-generated content in the form of reviews.
One of the problems that Vikas sought to address is that in the restaurant industry, most online reviews often fail to mention vegan or vegetarian dishes. This is because the majority of menu items typically cater to omnivores.
So, abillion is designed to review dishes and products rather than restaurants, opening up a lot more options for the consumer.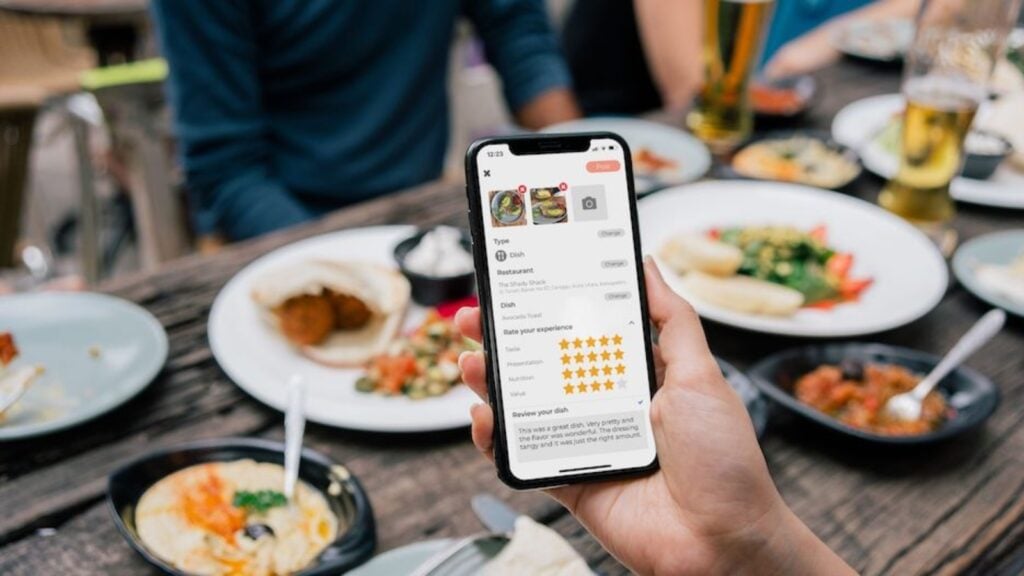 Abillion serves as the voice of the consumer
Users can post reviews of vegan options at their favorite restaurants, or of vegan products they use. This creates a direct feedback loop with those businesses and manufacturers.
This can influence the way businesses interact with their customers, ultimately leading to social change on a global scale.
"We need to be really focused on the people. How can we shift from that mindless scrolling to mindfulness? How do we make that experience valuable to them so they feel inspired by these choices they're making."

— Vikas Garg on The PBN Podcast
Vikas also shares that the majority of people using the platform are neither vegan nor vegetarian:
"Sixty percent of the users of the platform are actually not vegan or vegetarian. They are meat-eaters who want to experience the lifestyle."

— Vikas Garg on The PBN Podcast
Now, the platform has an ever-growing catalog of reviews from over 90 countries around the world. Its user base is rapidly growing too, particularly in places like Singapore, the US, and the UK.
"We crossed a million downloads recently. We crossed a million US dollars donated last week, which is super exciting."

— Vikas Garg on The PBN Podcast
True to its underlying philosophy, the company uses the data gathered in a responsible manner to illustrate the market trends influenced directly by consumers. It also shares industry insights and advocates for sustainable choices that protect the planet.
Abillion launched a dedicated space to share these insights in an effort to help other companies, entrepreneurs, and policymakers discover the impact of the plant-based movement. And, to recognize the opportunities for social impact on a global scale.
Creating meaningful impact
Launching the app was only the beginning. Vikas continued to seek ways in which abillion could have an even more tangible and positive impact on the world.
In 2018, the team at abillion came up with an ingenious way to redirect the company's marketing dollars.
They began contacting farm animal sanctuaries around the world and developed a donation mechanism on the platform. That way, every time users choose to eat something vegan, they are rewarded with a donation credit they can send to one of the partner animal sanctuaries.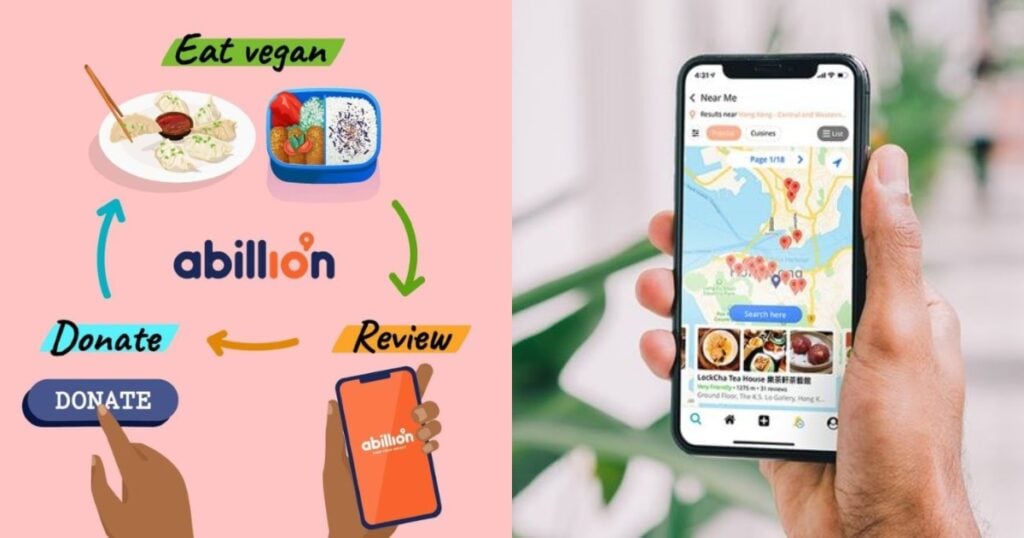 As Vikas shares, this feature is one of the things that is unique to the abillion platform.
"We felt very strongly that we didn't want to spend money marketing on social media. And we wanted to really create a group and a tribe of people… That was just our way of connecting folks back with the impact."

— Vikas Garg on The PBN Podcast
What's next for abillion?
Another way in which abillion has been able to create impact is by branching out from restaurant and dish reviews into featuring consumer products and packaged food.
For example, users can discover more about the over 15,000 options of plant-based meat alternatives from all over the world. Since its inception, abillion has grown to include reviews of all kinds of vegan products, including sustainable fashion, cosmetics, and more.
Vikas hopes to inspire and empower other entrepreneurs who want to create businesses, launch products, and help the movement. With a focus on vegan products and sustainability, in the first half of 2022, abillion will pilot the idea in a single market before working on expanding globally.
"What I really want to do is build a platform that helps the next 1,000 or 10,000 entrepreneurs get their foot in this space. We're creating the first ever consumer-to-consumer marketplace."

— Vikas Garg on The PBN Podcast
"There are all of these people coming up with creative solutions… I'm a die-hard optimist and a realist, and it's exciting how more and more people around the world are taking action."
You can listen to the conversation in full on The PBN Podcast here.