This is a sponsored post * [what is this?]
Vegan meat and other plant-based alternatives have come a long way since their humble beginnings. Not too long ago, shoppers would be hard-pressed to find vegan versions of many classic meals. And once they stumbled upon them, vegan food often wasn't affordable.
Now, supermarket chains are catching up, and as a result, more people are trying out vegan and vegetarian foods. The switch has also prompted conversation, leading a growing number of people to ditch animal products altogether for ethical, environmental and health reasons.
And the fast food sector is no exception. Major chains like McDonald's, KFC, Burger King, and Subway, to name a few, are keen to profit from consumers' shifting habits and have launched plant-based products of their own.
And while many diners would prefer to avoid such conglomerates (more on this in a minute), the likes of McDonald's are best known for accessible and affordable fast food, leaving smaller plant-based brands struggling to compete.
Ready Burger
Enter Ready Burger. The vegan fast food chain opened its doors last year with a view to rival the meat industry. And, to shake up the food system which has long pushed meat and other animal products over vegan alternatives.
It plans to do this by offering convenient, delicious, and budget-friendly versions of the classic fast food options many people grew up with and have come to love.
The 99p Ready Burger is a fine example of this. The burger features diced white onion, pickles, American mustard, and Heinz tomato ketchup. And, importantly, a meat-like yet meat-free patty, crafted with mushrooms, soy, and oats.
Plant Based News' co-founder Robbie Lockie and social media manager Giuseppe Federici went to a Ready Burger eatery in Crouch End, London, to find out how it compares.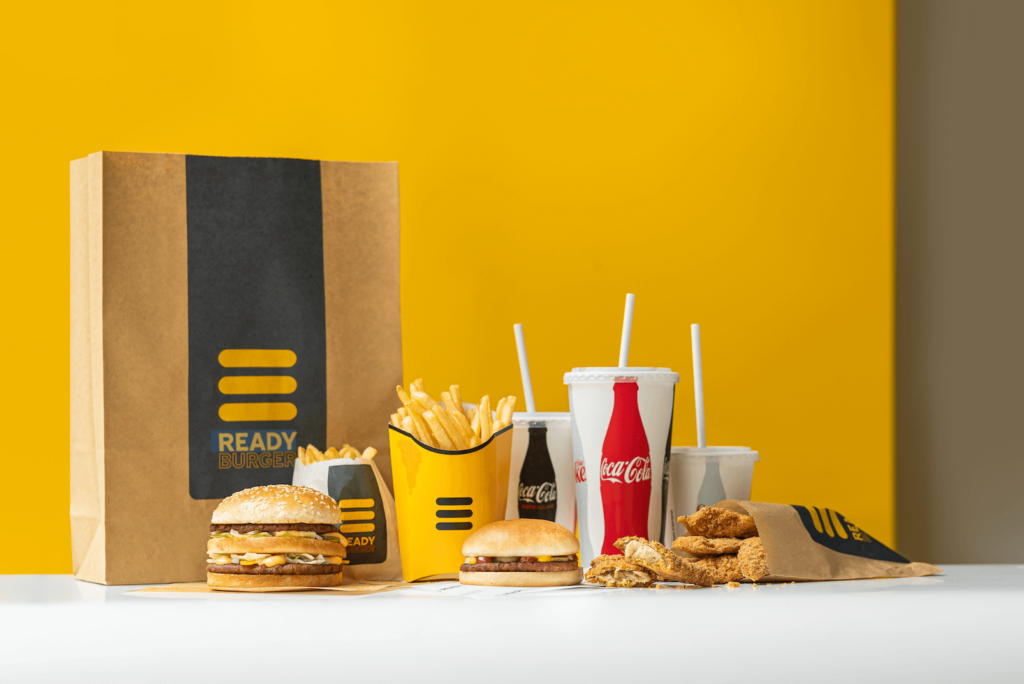 Does vegan fast food actually taste good?
The verdict? It's a yes from us.
"I really loved the burgers. A huge 10/10 from me," Lockie said. "No animal cruelty, a considerably lower carbon footprint and super tasty to boot. I can say for sure they are a much better product in numerous ways than the global burger giant McDonalds."
"It's just like McDonald's," they continued. "The burgers themselves really taste and feel just like a regular McDonald's burger. And the whole place, and even the packaging, is styled in a very similar way."
The menu is equally tongue-in-cheek. Ready Burger's Big Ready, for example, is an all-vegan take on the well-loved Big Mac.
The plant-based food chain also offers cheeseburgers, chicken burgers, double bacon cheeseburgers, crispy chicken fillets, fries, and its Texas Stacker. The latter comes complete with two grilled vegan patties, dairy-free cheese, lettuce, pickles, crispy onion rings, black pepper mayonnaise, and smokey barbecue sauce.
A variety of dips, classic soft drinks, and vegan soft serve ice creams are also available.
"The food hits that classic 'bliss point,'" Lockie said. "It's incredible. It's the same sensation of McDonald's. This could easily replace conventional fast food."
"There's absolutely no reason why Ready Burger couldn't grow into a huge organization, because the products themselves are so good," they continued.
"It offers the same experience, taste, affordability, and speed that McDonald's does. But of course it doesn't contain any animal products, meaning it strays away from being inherently cruel like the big fast food companies."
Are fast food companies ethical?
Overall, plant-based launches from fast food titans have won approval from consumers. When KFC UK launched its first vegan-friendly burger in 2019, the product sold out across the country. In fact, sales of the plant-based Imposter burger were 500 percent higher than its conventional chicken burger.
The same year, KFC US trialled plant-based chicken nuggets, selling a week's worth of chicken in just five hours.
But not everyone is rushing to try the meatless options. Firstly, many fast food restaurants prepare their plant-based options in the same oil or on the same grill as their meat-based meals, which deters some plant-powered diners completely.
Additionally, Lockie explains that "some vegans don't want to eat food from these huge companies because they've profited off animal cruelty for so long."
McDonald's, for instance, began as a small barbecue stand run by brothers Richard and Maurice McDonald in the '40s.
But by 1952, the company was already plating up one million hamburgers a year. Now, it's estimated that McDonald's is closing in on its 400 billionth burger sale.
There are no public figures surrounding how many animals the chain slaughters to produce this amount of food. But on its website, McDonald's reveals that due to mincing and blending processes, a single batch of its beef can contain meat from more than 100 cows.
The mass production of animal-based foods has environmental drawbacks too. Research points to beef as one of, if not the most environmentally destructive foods on the planet, due to greenhouse gas emissions, pollution, and deforestation.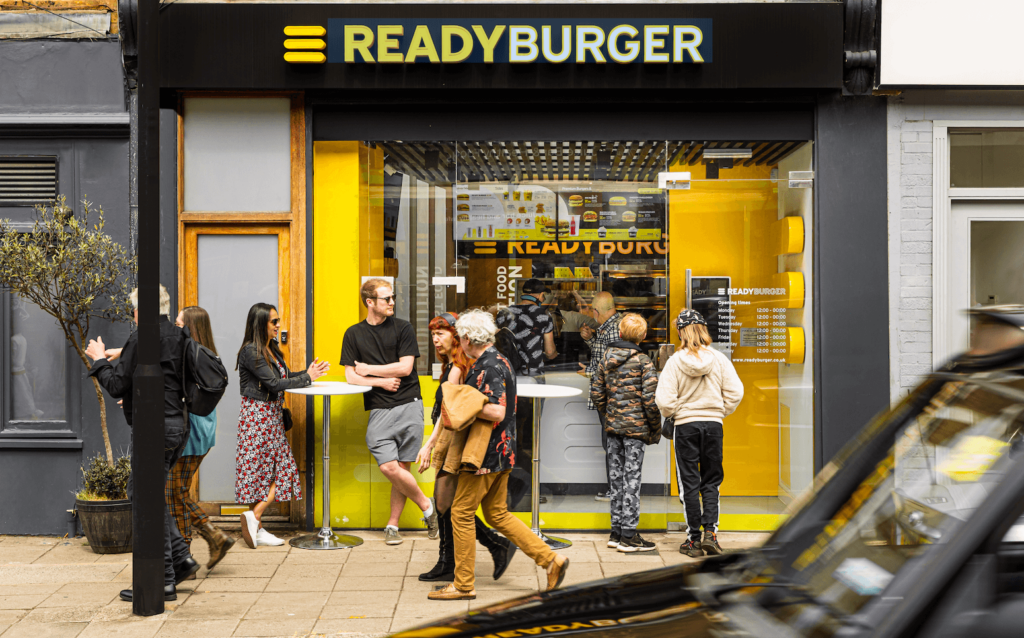 An animal-free solution
Eager to sidestep these concerns, Ready Burger made the commitment early on to prioritize sustainable, cruelty-free products and processes.
As such, Ready Burger's vegan beef requires 70 percent less water and 93 percent less land to produce compared to conventional beef. It's also responsible for 92 percent fewer greenhouse gas emissions.
"Regardless of your personal stance, the reality is that many people consume fast food and are just looking for easy, affordable choices that don't compromise on taste," Lockie said. "Ready Burger is already delivering that, but without many of the ethical implications. And I truly believe that it won't take long for the general public to discover this too."
Ready Burger's Crouch End location opened in May 2021, and the team welcomed their second location on Finchley Road in London less than six months later.
The company's third and fourth sites are slated to open early this year. Ultimately, Ready Burger has its sights set on global expansion.
Those interested can visit Ready Burger's website for more information.
* This is paid-for content; funds from this article help Plant Based News continue to provide millions of people around the world with free content they know and love. We only work with brands we support and use ourselves.