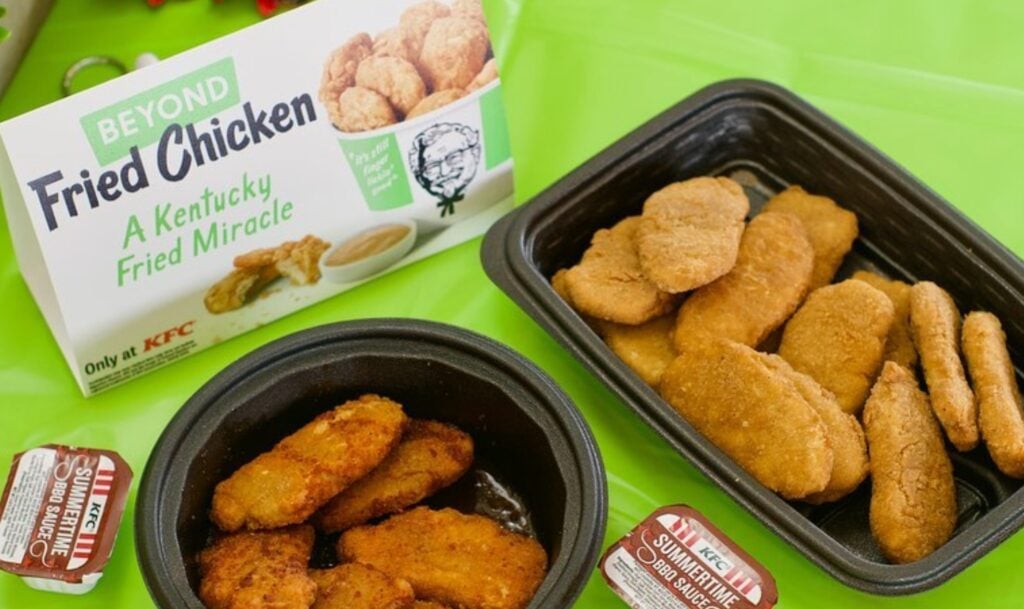 KFC sold out of vegan chicken in just five hours on Tuesday, with the company describing it as a 'Kentucky Fried Miracle'.
The fast-food giant trialed vegan nuggets and boneless wings made by plant-based company Beyond Meat at its Cobb Parkway outlet in Smyrna, Atlanta, (USA) on August 27.
KFC said that customer feedback from the Atlanta test 'will be considered as KFC evaluates a broader test or potential national rollout'.
'Kentucky Fried Miracle'
Customers were spotted queuing around the building – which was painted green during the trial – waiting for up to an hour to be served.
Reports claim the outlet sold the same amount of vegan chicken in the five hours, as it usually sells of animal-based popcorn chicken in a week.
Tweeting about the sales, KFC said: "All of the Colonel's Beyond Meat Kentucky Fried Chicken has sold out. Yes, it is truly a Kentucky Fried Miracle."
'Worth the hype'
According to animal welfare organization The Humane League, the trial chicken was 'worth the hype'.
The group posted a photo of the vegan fried chicken to Instagram, captioning it: "We're at KFC in Atlanta, GA where they are testing Beyond Meat. The lines are out the door, and the verdict is that the vegan fried chicken is worth the hype! Thank you KFC for showing that the future of fast food is plant-based."
Vegan KFC in the UK
The test follows the recent UK trial of KFC's 'Imposter Burger' – which features a bespoke Quorn fillet, coated in the chain's Original Recipe herbs and spices, lettuce, and vegan mayo.
The burger, which was sold in a limited number of stores across the UK, racked up staggering sales figures, around 500 percent higher than an average new KFC sandwich.
"We knew there were plenty of people who would want to get a taste of the Imposter, but we didn't anticipate this phenomenal response," Victoria Robertson, Senior Innovation Leader at KFC, said days after the launch.
Controversy
Many vegans have pledged not to eat vegan products from KFC, due to the large number of chickens it slaughters every year, and the chain's poor track record when it comes to animal welfare.
In October 2018, more than 500,000 people signed a petition by World Animal Protection(WAP) calling on KFC to 'give its chickens a life worth living'.
'Lives of chronic pain and suffering'
"KFC sources chickens from factory farms all around the world – in many countries chickens live in cramped, barren sheds, often devoid of natural light,' said WAP.
"Most chickens are grown unnaturally fast, slaughtered at just 40 days when they are still effectively babies.
"This industrial, unnatural approach to farming places huge pressure on chickens' organs and legs. Many chickens live their entire lives in chronic pain, suffering from skin lesions, lameness, and heart failure."