This is a sponsored post * [what is this?]
July 2021 was a heady month for the new space race. As some of the world's leading global entrepreneurs each separately soared to the very edge of Earth's atmosphere, the founders of Latin American plant-based food company Future Farm have their own ideas about where our priorities should be and have issued a devastatingly simple response:
"F**k Mars: the future is Earth, the future is plant-based."
Dedicated to planting seeds of change and cultivating joy in bellies across the world, this call to commit to the future of our world encompasses their new range of products: Future Burger 2030, Future Mince 2030, and Future Meatball 2030.
Firm believers in the power of plants to make sure people can enjoy Earth for a very long time, the new range from Rio de Janeiro's plant-based food-producing powerhouse is their healthiest, tastiest, most environmentally focused yet.
Founding the farm of the future
No strangers to the application of cutting-edge technology in service of advancing humanity and reducing our impact on the (currently) one planet we all share, pioneering entrepreneurs Marcos Leta and Alfredo Strechinsky founded Future Farm in 2019 with an ambitious and beautifully singular purpose: to completely change the way our world eats meat.
Horrified by the accelerating rate of meat consumption worldwide—and particularly in Brazil where a staggering 21 million metric tons of meat were consumed in 2019, up from 20.6 million a year earlier—Leta and Strechinsky conceived and built Future Farm to directly address this issue and be a leading force in the burgeoning plant-based food industry, creating incredible products that supported a better future for people, animals, and the planet.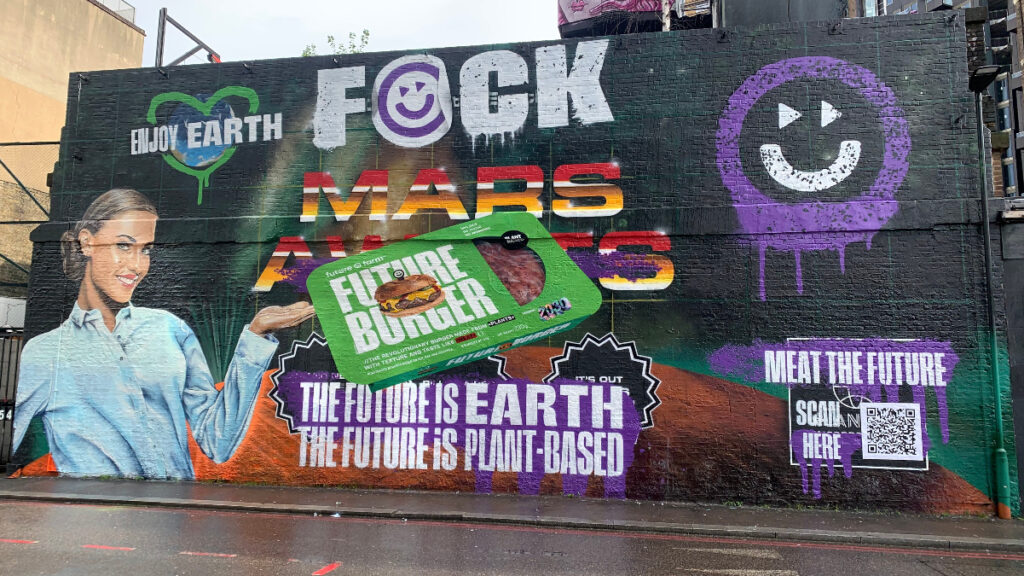 Recognizing that the insatiable global appetite for meat is fuelling climate change while a plant-based diet can help save it, Future Farm sits atop a vision conjured by the two founders, one of a future where healthy, high quality, delicious, and affordable plant-based meat alternatives are accessible and available to everyone.
Winner of the Latin America regional category in Fast Company's 2020 World-Changing Ideas Awards, since its launch Future Farm has had two rounds of investments totaling 22 million pounds. Fuelling innovation and accelerating the development of new products, this injection of funding expanded the company's profile, enabling them to increase their exports abroad and boost the company's market value to an incredible 100 million pounds.
When Future Farm products landed on Brazilian supermarket shelves, they were a sensational success. The company became a leading force in the Brazilian food market within months, going on to sell over 9 million burgers and counting across the country. Since then, Future Farm has launched its products in several countries, including Holland, Germany, the United Kingdom, the United Arab Emirates, and most recently the United States.
While the plant-based sales boom continues apace, the growing range of Future Farm products has an inherent appeal in flavor and texture that extends far beyond the ready market of vegans and vegetarians.
A mission to change the way the world eats meat
Leta and Strechinsky work on the assumption that for every portion of plant-based meat consumed, a piece of animal meat was not. They want Future Farm food to be available worldwide in supermarkets, snack bars, and restaurants everywhere, especially those specializing in meat.
No strangers to grand visions, the founders want nothing less than to set humanity on a new path with food that isn't the problem but the solution.
Welcoming people into their vision and inviting them to 'meat the future', Leta and Strechinsky want to create products for every heritage, family, and taste, recognizing that many people want to make their diets better without eliminating the foods they love or settling for sub-par flavors.
Setting out to create products that grab the attention of vegans, planet-conscious meat lovers, and flexitarians alike, Future Farm produces foods that are immediately palatable with nothing to 'get used to', a source of pure hedonistic deliciousness made of plants.
Heeding the Intergovernmental Panel on Climate Change's call for significant reduction of meat consumption to tackle climate change, Future Farm developed each product in their new range to align with the United Nations 2030 Sustainable Development Goals.
The brand demands high environmental standards from its suppliers too, and everyone involved in the Future Farms supply chain needs to state that their products are GMO and deforestation-free. In addition, all Future Farm packaging is recyclable and easy to separate, and the company is planning to transition from plastic packaging in the future.
Creating the burger of tomorrow
Committed to investing a third of their gross revenue straight back into research and development, every Future Farm product is continually tested, tweaked, and iteratively improved to move the range ever-closer to the flavor, texture, and juiciness of meat still craved by consumers, even as new generations of consumers are shifting food and brand behaviors.
Putting the best practices of the tech and engineering industry at the heart of Future Farms, Leta and Strechinsky have come a long way from their days' hacking' refrigeration machines in an old Domino's Pizza warehouse.
Using artificial intelligence to study meat at the molecular level alongside sensory tests that calibrate the optimal amount of each ingredient to use, their innovative approach to upgrades and product evolution has come to fruition in the new range.
Led by the revolution Future Burger 2030, this new range includes Future Mince 2030 and Future Meatball 2030, all three boasting the taste and texture of meat, indistinguishable from that of animal origin.
Founder and CEO Marcos Leta is excited to be at the bleeding edge of the revolution in science and technology-driven plant-based food production.
"The 2030 Future Farm range comes at the start of a new era in the company and the plant-based market with new technology that will allow us to continually update all our products, making them better for people and our planet."
Delicious, nutritionally sound, and animal-testing free
A recent study showed that perceptions of vegetarian diets not tasting good or not being healthy were the main obstacles to meat-eaters giving up animal products. Future Farm is set up to break down these barriers by making positive change simple, easy, and delicious.
Free as ever from gluten, hydrogenated fats, GMO ingredients, and artificial ingredients of any kind, the Future Farm burger is composed of soybeans, beetroot, and chickpeas with unique natural extracts to ensure a lighter flavor. Alongside this, the innovative application of technology reduces fat and calorie content while delivering one of the lowest sodium servings in the global plant-based category.
The addition of coconut fat gives a juicier, meatier taste than ever before, making it the very first product in their range to perfectly emulate one of the holy grails of alternative meats: completely convincing rare, medium, and well-done 'doneness'.
Leta knows very well that many people choose to stop eating meat not because they don't like the taste but because they love animals and the planet, deciding to make a change for ethical reasons, empathy, or a desire for a better world.
Offering this growing range of alternatives boasting the same taste, texture, and juiciness as meat without containing anything from animals, Leta said, "as a food company which uses technology, we are continually reinventing and looking to improve in terms of taste, sustainability, and healthiness. We know how indispensable these pillars are to consumers, as well as for ourselves."
With no need or legal requirement in their area to carry out any tests on animals for any purpose to produce their products, Future Farm has demanded non-testing certificates from all their suppliers. Proudly assuring their rapidly-growing customer base that neither their ingredients nor final products are tested on animals, the company vows not only to never sell products in any other countries that require such testing but also never to sponsor any events that exploit or abuse animals.
Though their plant-based foods are made on an industrial scale, all ingredients are of the highest quality, with their soy, in particular, the freshest on the market. In addition, a short harvesting to production timescale ensures that Future Farm products can always match great flavor with high nutritional value.
Packing an incredible amount of passion and innovation into the few years since founding, the new 2030 range represents a significant upgrade to the company's products, making them the brand's most nourishing, healthiest, and environmentally friendly yet.
Future Farm 2030 products are available now
With the future farm meat range already available in Sainsbury's stores since January—capitalizing on the stellar rise of Veganuary and the supermarket giant recording a staggering 65 percent increase in sales of plant-based products in 2019—the 2030 Future Farm burger, mince, and meatballs are available now via the Sainsbury's website and at over 400 stores nationwide, wrapped in eye-popping new "planet earth" green packaging.
The taste of a better tomorrow
Leta's passion for Future Farms to truly make an impact is clear. Effusive and optimistic, his embrace of the grand mission to drive positive global change and deliver a future worth fighting for is genuinely contagious.
"If we all meet the UN Sustainable 2030 Development Goals," he states, "we will be the first generation to eradicate extreme poverty and save future generations from climate changes' worst adverse effects."
Ultimately, Future Farm creates products to make our planet a place we no longer want to escape. The visionary founders believe in a better future for all, right here on Earth.
"We don't need another planet, so let's save Mars for vacations and heal our utopia on planet Earth."
* This is paid-for content; funds from this article help Plant Based News continue to provide millions of people around the world with free content they know and love. We only work with brands we support and use ourselves.