On World Plant Milk Day (August 22, 2021), Plant-Based Health Professionals UK calls for the UK Government to add fortified plant milks, alongside cow's milk, within the Healthy Start Scheme (England/Wales/Ireland), Best Start Foods (Scotland) and School Holiday Food Parcels.
Discriminatory policy
Only allowing the purchase of cow's milk is a discriminatory policy that excludes children with lactose malabsorption or intolerance, a natural state that is most prevalent amongst people of colour and present in 70 percent of the world's population.
Children who are lactose intolerant but continue to consume dairy for its purported health benefits, may experience abdominal pain, diarrhoea and fatigue, and other negative impacts of dairy intolerance. This policy also excludes and discriminates against children with cow's milk protein allergy, which is now the commonest cause of food-related anaphylactic death in children in the UK.
The current schemes also discriminate and exclude vegans, who have adopted an ethical lifestyle choice, which is considered a protected belief as defined by the Equality Act of 2010. In fact, a third of UK household now buy plant-based milks.
Health risks of dairy
Not only is cow's milk unnecessary within a healthy balanced diet, its consumption has been associated with an increased risk of a number of chronic health conditions in children, including acne, eczema, asthma, type I diabetes, which negatively affects their quality of life. In adults, milk consumption has been associated with an increased risk of certain cancers, the strongest link being with prostate cancer, the commonest cancer in men.
Despite decades of industry marketing suggesting that dairy consumption is necessary and beneficial for bone health, scientific studies do not support this narrative. In fact, some large population based studies have reported the opposite; those consuming the most dairy have an increased risk of bone fractures.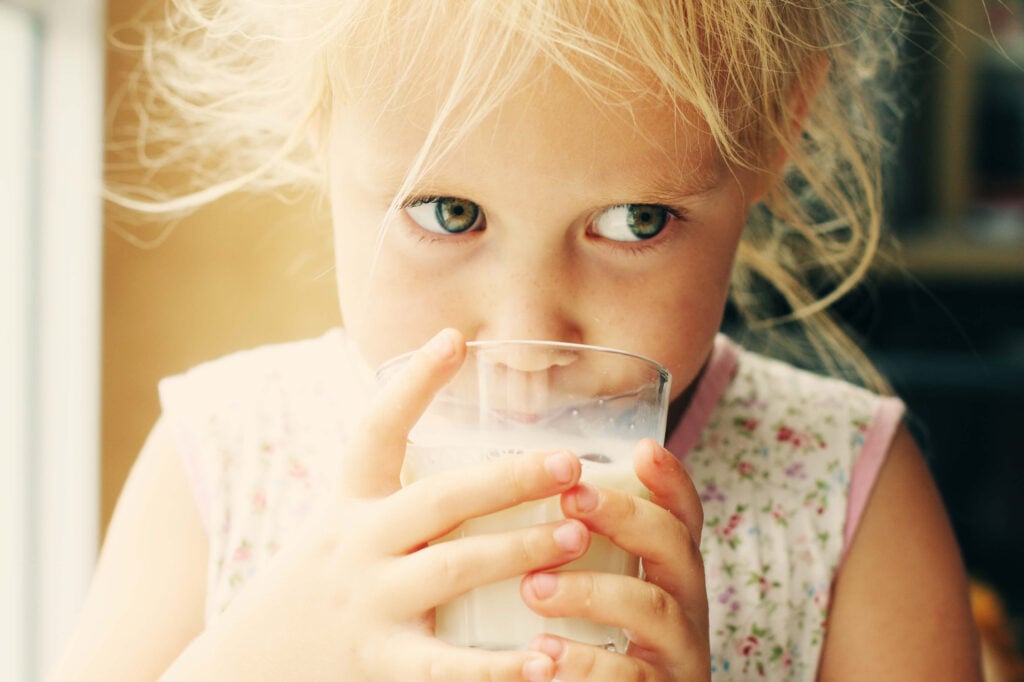 In contrast, swapping cow's milk for fortified soya milk has several potential health benefits. Consuming soya as a child reduces the future risk of breast cancer in women. Women who consume soya milk in place of cow's milk may significantly reduce their risk of breast cancer, with one large study reporting a 32 percent reduced risk. Fortified soya milks provide similar quantities of protein and calcium to cow's milk but in a healthier package without exposing children to saturated fat, mammalian oestrogen and growth hormones.
The 2019 revision of the Canadian dietary guidelines has stayed true to the science and removed dairy as a food group. We also applaud the Scottish government for adding soya milk to their Milk and Healthy Snack Scheme.
Environmental impact of dairy
The UN's Intergovernmental Panel on Climate Change (IPCC) has just released its Sixth Assessment Report (AR6) titled Climate Change 2021: The Physical Science Basis. António Guterres, the UN secretary general, called this 'a code red for humanity'. The report clearly finds that human activity has warmed the atmosphere, the ocean and the land on a scale that is 'unprecedented' over thousands of years.
Animal agriculture is a major driver of the climate and ecological crises, with recent analysis suggesting it contributes at least 16.5 percent of total greenhouse gas emissions. Ruminant animals, mainly cows, contribute to more than half of these emissions and therefore we need to drastically reduce and eventually eliminate our consumption and reliance on cow's milk.
Government food and health policies now needs to align with those required to avert the pending climate disaster. This can be done immediately by providing families in need with healthy and sustainable choices. All plant milks have a significantly lower environmental footprint than cow's milk, with soya being one of the most sustainable options.
Plant-Based Health Professionals UK calls upon the Government of all four nations to promote and provide access to fortified plant-milks as well as cow's milk for the sake of our health and that of the planet.
The World Plant Milk Day Challenge
Now in its fifth year, World Plant Milk Day founded by Plant Based News' co-founder Robbie Lockie, hosts a website that offers a 7-day dairy-free challenge. Participants enter their name and email and for 7 days receive emails, with tips and tricks on how to live dairy-free. The campaign is supported by non-profits such as Veganuary, and Switch4Good.