The moment I decided to devote my life to standing up for animals I remember well.
I had been rehearsing late at The Central School of Speech and Drama, and when I finally arrived home, my father, the late actor Derek Royle, was sitting in his chair watching the credits of the iconic TV series I Claudius.  
This was the must-watch TV drama of the time and had gripped the nation. I sat down expecting to hear my father's thoughts on the production.
But instead, what captivated my attention was the high drama unfolding in the following TV program – the late-night news. Scenes of butter and meat mountains filled the screen. Then, it cut to a farmer shooting calves between the eyes and throwing them onto a high pile of dead, twitching animals; Western Europe was suffering a glut of staples because of EU intervention to stabilize food prices.
I looked at my father and firmly stated: "I am never going to eat meat again." That was in 1973. I stopped eating fish not long after. And eight years ago I swapped to a vegan diet and have not looked back.
Knowledge is power
That chance watching of the news 50 years ago opened a pandora's box of horrors of which I had been hitherto unaware. Those harrowing scenes of animal abuse and waste spurred me to learn all I could about intense factory farming, the brutal fur trade, and animal experimentation.
Holding such beliefs and vocalizing them during those times risked making you a social pariah. When I discussed my stance, I found some people to be overly defensive, tossing extraordinary and illogical arguments my way. Some verbally attacked me.
Reading became your armor so you could step onto the animal rights and cultural battlefield with confidence and knowledge. I learned how testing cosmetics and drugs on animals in laboratories is either inconclusive or downright dangerous for humans as well as the animals.
And I understood why because of our different genetic make-up many things – food, chemicals, plants, drugs et al. – which may benefit us are toxic for animals and vice versa, often lethally so.
Writing as activism
Appalled, I began writing letters to companies, magazines, and newspapers. I spoke about the immorality and unscientific exploitation of animals used as mere sacrificial testing apparatus for humans.
To my delight, some were printed – though it was more common for an editor to reply thanking me for my thoughts though politely refusing to publish.
One editor replied to my protest over an article about car safety, replete with a wretched photograph of a blindfolded brown bear strapped into the driver's seat of a car. This magnificent but confused animal was about to be catapulted into a brick wall to test the car for its passenger safety.
"Thank you for your letter…" began the editor's reply, "but we are sure the powers that be know what they are doing."
Thank goodness we've come a long way from those unenlightened and patronizing days. And I am thankful I have lived long enough to see this zeitgeist movement for animal welfare become a mainstay of any manifesto, be it political or corporate.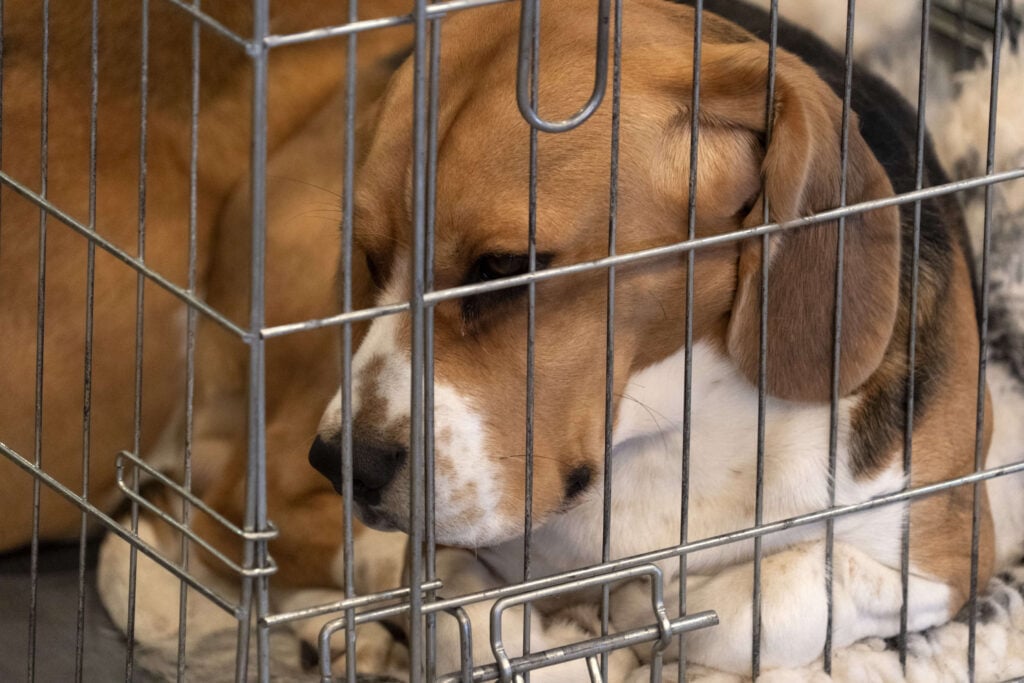 A long way to go
According to the latest – 2020 – Home Office records, nearly three million animals are used in experiments in Great Britain annually.
Yet greater than 92 percent of new medicines tested on animals – including dogs and monkeys – that show promise in animal tests fail in human clinical trials. This is mostly due to reasons of poor efficacy and safety that were not predicted by animal testing.
That's why when you read about some new miracle lab breakthrough against one of the many human diseases, you then hear nothing more and potential treatments or cures fail to appear.
It is also common to hear – more so since COVID-19 shined a light on medical science – from those who say they care for animals, they accept that they would rather choose a loved one over a genetically modified rodent when it came to researching new medicines for humans.
But this is a myth. Time has moved on. The advances in modern medical research are the good news stories that fail to make the headlines.
In laboratories across the UK and the world, there are scientists – many funded by our charity – using cutting-edge technologies such as 3D organ-on-a-chip, human cell, stem-cell culture, and AI to research a slew of diseases and illnesses from cancer to dementia.
These new methods give far more accurate conclusions compatible with humans.
What's more, they deliver results and data faster and cheaper than outdated animal-based experiments.
March on Downing Street
So earlier this week, half a century since I first started to stand up for animals, I walked up Downing Street to hand Number 10 a petition signed by over 100,000 people.
They all signed the #TargetZero petition, which was launched by Animal Free Research UK in collaboration with Cruelty Free International and OneKind. The petition calls on the government to take concrete action to phase out animal experiments once and for all.
I hope you can join me in supporting this cause by spreading the word and writing to your MPs, urging them to enable Britain to lead the way towards a kinder science for people and animals.
Carol Royle, Patron, Animal Free Research UK, www.carolroyle.co.uk