A vegan cheese brand has taken home four awards across multiple categories at the prestigious International Cheese and Dairy Awards (ICDAs).
GreenVie Foods is a Cyprus-based brand that stocks a range of coconut oil-based cheese alternatives. These include Greek Style, Cheddar, Gouda, Mozzarella, and more. 
One of the awards it won was for "Best Cheese in Processed Cheese Section." For this, the brand was nominated alongside dairy and vegan products.
The creators also took home three further awards in vegan categories, including: Best Vegan Feta (Greek Style), Best Vegan Cheese Slices (Cheddar Flavor Slices), and Best Vegan Cheese for Pizza (Mozzarella Style Block).
GreenVie Foods
The brand is available in 20 countries, and is available to buy from Marks and Spencer in the UK. Its products are free from dairy, lactose, soy, nuts, gluten, and palm oil. Vegan cheese often has a negative reputation among the general public, but there are a growing number of brands proving themselves to be more than competitive with dairy when it comes to consumer satisfaction. 
"We are thrilled to receive these honors," Maria Palme, the managing director and founder of the company, said in a statement. "As they validate our unwavering dedication to producing high-quality vegan cheese through meticulous craftsmanship. They also serve as a testament to our team's hard work in enabling consumers worldwide to embrace a more sustainable way of life without compromising on taste."
The rise of vegan cheese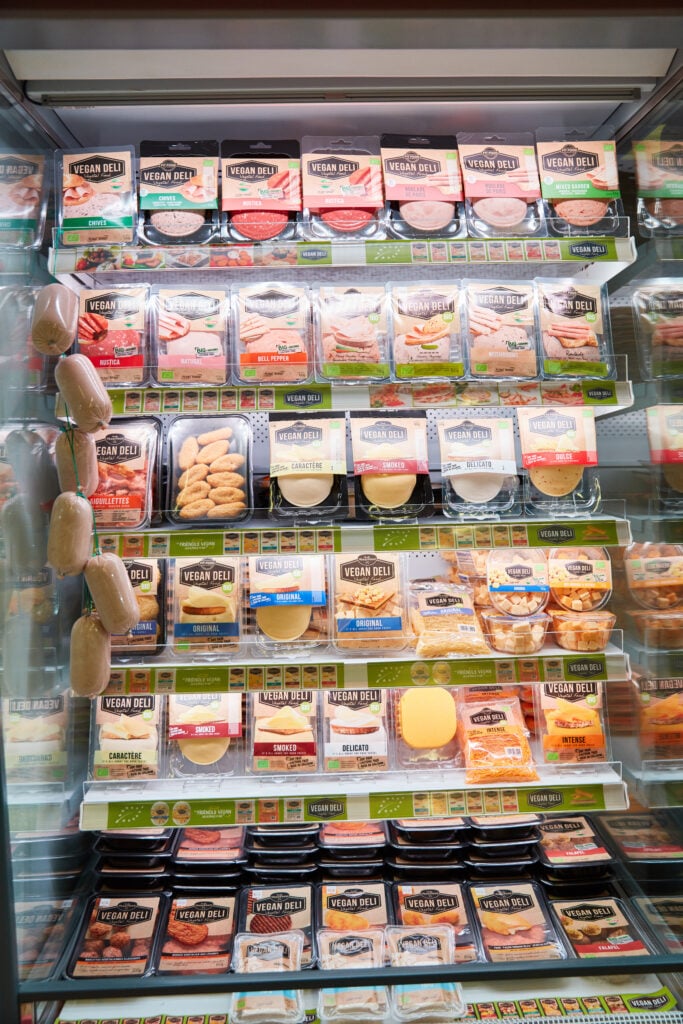 A few years ago, vegan cheese was a hugely niche product confined to the backshelves of a few health food shops. Now, it's plentifully available in mainstream supermarkets all over the world.
The vegan cheese market was valued at USD $2.24 billion in 2022, and it's been projected to reach $5.63 billion by 2030. The rising popularity of dairy alternatives has come hand in hand with the growth of veganism, as well as greater understanding of the ethical and environmental costs of the dairy industry.
Cows raised for dairy suffer hugely on farms. In order to produce milk, they must first give birth to a baby. In order for humans to drink her milk, however, her baby cannot drink it. This means that calves are often taken from cows hours after birth. They are either raised for dairy themselves, shot, or sold to the veal industry. Once a cow is considered "spent" (she stops producing enough milk), she will be sent to the slaughterhouse. 
The dairy industry is also environmentally destructive, contributing to greenhouse gas emissions, deforestation, biodiversity loss, and water pollution. Dairy has been found to be significantly worse for the planet than plant-based alternatives. 
More like this: