Beyond Meat's roster of celebrity ambassadors has grown once again. This time, socialite Kim Kardashian is joining the ranks, announcing that she is becoming "more plant-based" with the help of the brand's vegan meat range.
Kardashian, who has a sizeable 313 million followers on Instagram alone, joined Beyond Meat as the company's first Chief Taste Consultant.
The partnership will see the A-lister promoting "her favorite Beyond Meat products" with recipes and creative content, according to a press release.
She will also feature in the Beyond Meat newsletter.
"I've been focusing on going more plant-based and can tell you that Beyond Meat is my absolute favorite – I love how all their products not only taste amazing but are also good for me and my family," Kardashian said in a statement. She added that her four children are "obsessed" with her Beyond Beef taco recipe, the Beyond Burger, and Beyond Chicken Tenders.
"As my fans know, my fridge and freezer are fully stocked with Beyond Meat's products."
Celebrity influence
Kardashian added that she's "thrilled" by the collaboration, and "really inspired" by Beyond Meat's mission.
"[I] love that they are not only making plant-based eating delicious and accessible, but are doing so in a way that benefits both people and the planet," the media personality said.
"It's empowering to know that the small changes I'm making for my family, like incorporating more Beyond Meat into our meals, can add up to make a big impact."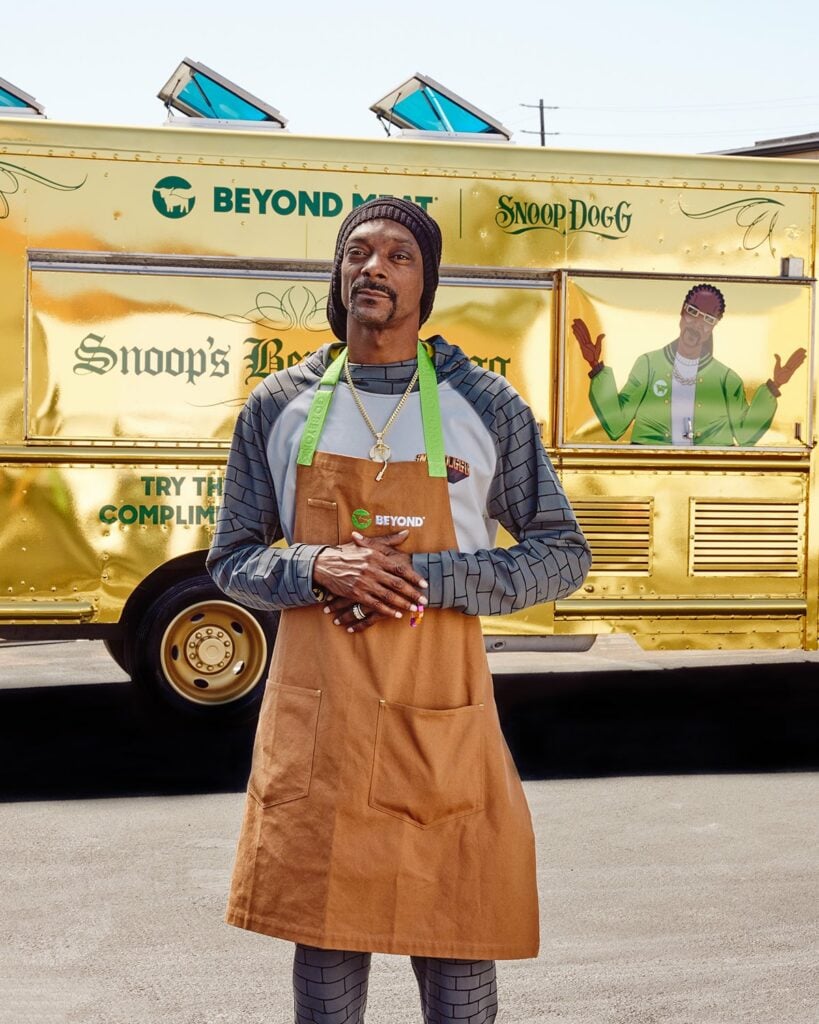 Kardashian joins Shay Mitchell, Kevin Hart, Snoop Dogg, and Liza Koshy as an ambassador of Beyond Meat. The brand, founded in 2009, is now available at roughly 135,000 retail and foodservice outlets in more than 90 countries.
Beyond Meat's star-studded lineup of celebrity backers is no accident. Besides the additional attention the company undoubtedly receives, research indicates that celebrities and social media can influence what people eat.
A survey conducted earlier this year, commissioned by dairy conglomerate Arla, found that one in three adults make dietary choices based on what they see on social media.
Additionally, a Harvard review published in 2015 looked at the role celebrities play in spotlighting the climate crisis, especially its ties to animal agriculture.
It asserted that "celebrities can help draw attention to an issue and galvanize youth engagement."
And, that "food is one such area where celebrities can help link the impacts of climate change to our consumption habits."
The article concluded: "Celebrities can help by relating the causes and impacts of climate change to existing socio-cultural practices, facilitating not only a questioning of cultural values (such as meat and dairy consumption) but simultaneously making the necessary changes to our habits appear more positive, achievable and accessible."