In a bid to improve transparency surrounding sustainable consumption, VFC has released an independent assessment of its vegan meat products.
Matthew Glover, who co-founded VFC in the UK in 2020, commissioned Mondra to conduct the research. Mondra assesses supply chain data to determine the environmental impact of food industry players.
In its analysis, Mondra compared VFC's vegan fried chick*n fillets to animal-based southern fried chicken fillets. Both products are produced and sold in supermarkets in the UK.
The organization discovered that, gram-by-gram, the animal-based products had twice the climate impact compared to the plant-based options. Further, conventional meat used 24 times more freshwater and had 20 times the negative impact on biodiversity.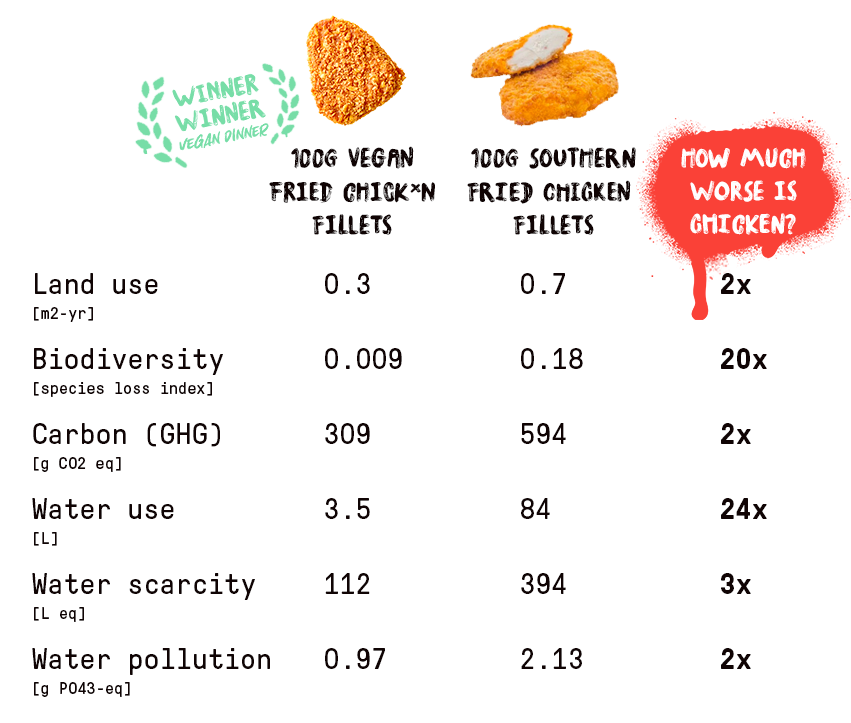 Mondra asserted that if the UK's meat-eating population opted for VFC Fillets over southern fried chicken – for just one meal a week for one year – various environmental benefits would ensue.
The equivalent to 99.8 million showers' worth of water would be saved, Mondra stated. Additionally, 9.3 tons of methane would not be expelled, and the emissions generated from driving 73.2 million miles in a car would be spared.
Finally, 3.8 million chickens' lives could be saved, the analysis concluded.
Meat production data
In a statement, VFC's Glover called on companies in the meat industry to follow suit by releasing their own environmental data.
"We know that the meat industry is causing significant and widespread damage to our climate, waterways, wild spaces, and wild animal populations. Their commitments so far amount to little more than tinkering with the existing system, and that's not good enough.
"We need these companies to be honest about their impacts, and then to expand their investment in, and their production and promotion of, meat-free foods," Glover said.
He added: "We created VFC specifically to spare the lives of animals, but, as an ethical company, we also wanted to understand how our products impact the planet.
"So, to achieve an A grade across the entire range of VFC is fantastic news, and shows once again the powerful impact we can have when we choose vegan foods over animal-based foods."
VFC is available in Tesco stores across the United Kingdom and via their website here.