New data published in a report by The Good Food Institute (GFI), the Plant-Based Foods Association (PBFA), and SPINS, shows that plant-based food retail sales have grown three times faster than total food sales.
Despite the turbulent economic conditions seen as a result of the pandemic, sales of plant-based products like milk, meat, and eggs surpassed sales of the non-vegan versions they were designed to replace.
Looking at the plant-based sector, the highest growth recorded was the egg category. The report found that plant-based eggs ranked as the fastest-growing vegan category, increasing by 42 percent. This was followed by dairy-free creamers, which rose by 33 percent, and ready-to-drink beverages at 22 percent.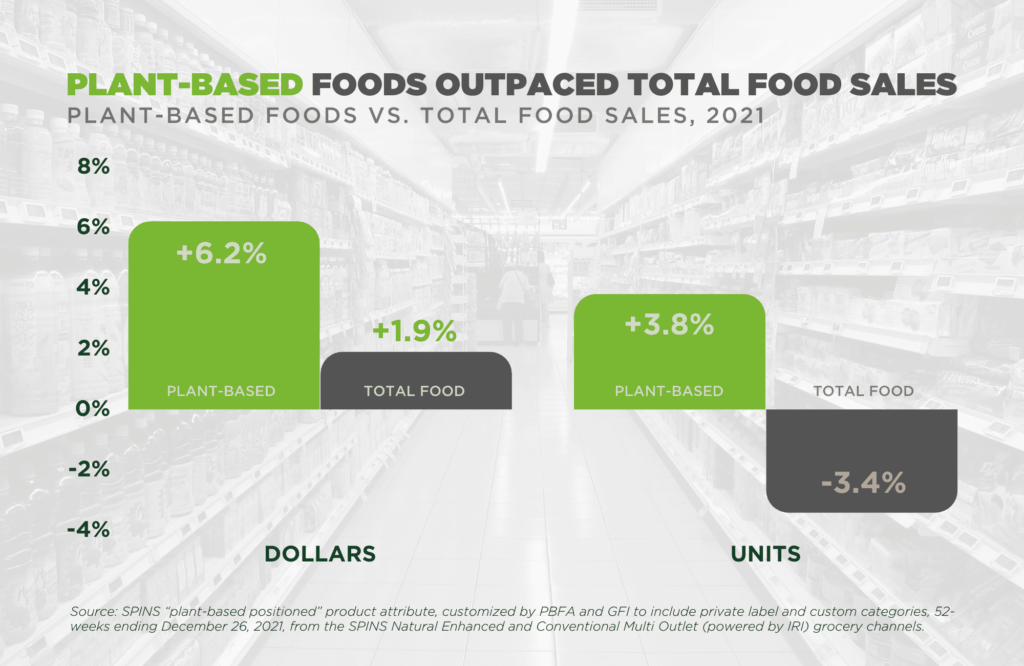 Vegan milk takes on dairy
As the largest category in the plant-based market, non-dairy milk now holds a 16 percent share – up from 12 percent in 2018, contributing to $105 million in growth. Dairy milk on the other hand saw a loss of $264 million.
Almond milk was identified as the category leader, accounting for 59 percent of total plant-based milk sales, followed by oat milk, which made up 17 percent of sales.
No signs of stopping
The second-largest plant-based category was plant-based meats, remaining strong at $1.4 billion. Sales grew by 74 percent over the past three years – outpacing animal-based meat by almost three times.
Within the plant-based meat category, meat-free burgers continue to lead the way as the top-selling product type. The most popular items were vegan meatballs, chicken nuggets, tenders, and cutlets.
The report also revealed that 62 percent of US households are now buying plant-based products – up from 61 percent in 2020, suggesting that the plant-based market will continue to thrive over the coming years.