Miyoko Schinner, founder of vegan dairy brand Miyoko's Creamery, has been stripped of her role as the company's CEO.
In a new statement, Schinner revealed that "conflict" surrounding the brand's mission led some of her fellow directors to "decide she would not be actively involved with the company."
Miyoko's Creamery
The chef and entrepreneur had been active in the vegan scene decades prior to Miyoko Creamery's debut, teaching plant-based cooking classes in the '90s and launching a number of cookbooks, restaurants, and smaller vegan brands.
She officially launched the business in 2014, originally under the name Miyoko's Kitchen. It specializes in artisan dairy-free cheeses, butters, and spreads, made from organic plant-based ingredients like cashews.
Soon after its launch, the company swiftly closed a $1 million seed round. And by 2016, it had grown 300 percent year over year.
Schinner earned herself the title "Queen of Vegan Cheese," and has since been commended by the likes of Ellen DeGeneres and Portia de Rossi (who both invested in the brand), and Forbes (including an appearance in its inaugural 50 Over 50 list).
Mission-led
Since its inception, Schinner has been vocal about operating Miyoko's Creamery in a manner that protects animals and the planet. The year after the business launched, she founded a non-profit animal sanctuary called Rancho Compasión in Nicasio, California. The sanctuary takes in farmed animals rescued from the meat industry, and is now home to around 80 non-human residents.
"The point isn't just to succeed for ourselves; it's to succeed for the planet, the animals, for all of humanity," she told Forbes in 2018. "We can't continue doing the status quo. This collaboration is key, we need to work together towards a better future."
Miyoko Schinner removed as CEO
Yesterday (February 16), Miyoko's Creamery published a press release. It confirmed that the business and its founder Schinner had "parted ways as the company enters a new stage of growth."
"With this, Miyoko has exited as CEO and is no longer involved in day-to-day operations," it continued. It added that the company is now in search of a "highly qualified, passionate, and mission-driven leader" to "fill the open seat."
"Company CFO, Jon Blair, has stepped into the role of interim President to guide this transition. Blair brings strong CPG [consumer packaged goods] experience and critical plant-based industry know-how to the role, having served as CFO at Rebbl and Head of Finance at Plum Organics," it said.
According to Blair's LinkedIn, he joined Miyoko's as CFO less than a year ago, in March 2022. As well as the aforementioned brands, he worked in finance for Campbell Soup Company for several years.
Miyoko responds
Today, Schinner spoke about her departure from the company. She revealed in both a LinkedIn and Instagram post that despite the just-published statement, she had actually been removed as CEO months prior, in June 2022.
"There is a lot to say about this, but for now, I will share the following," she wrote on LinkedIn. "As we worked to grow the business, conflict grew around the best path forward for future growth while continuing to live our values, founded on the principles of veganism and animal rights, as well as our B Corp status. That we find ourselves here is representative of the extent to which my views and approach have not always prevailed (especially in the past two years)."
"We did not arrive at this point by my choosing," Schinner reiterated, explaining that she had denied the offer to have an ongoing role that would have been "for appearances only."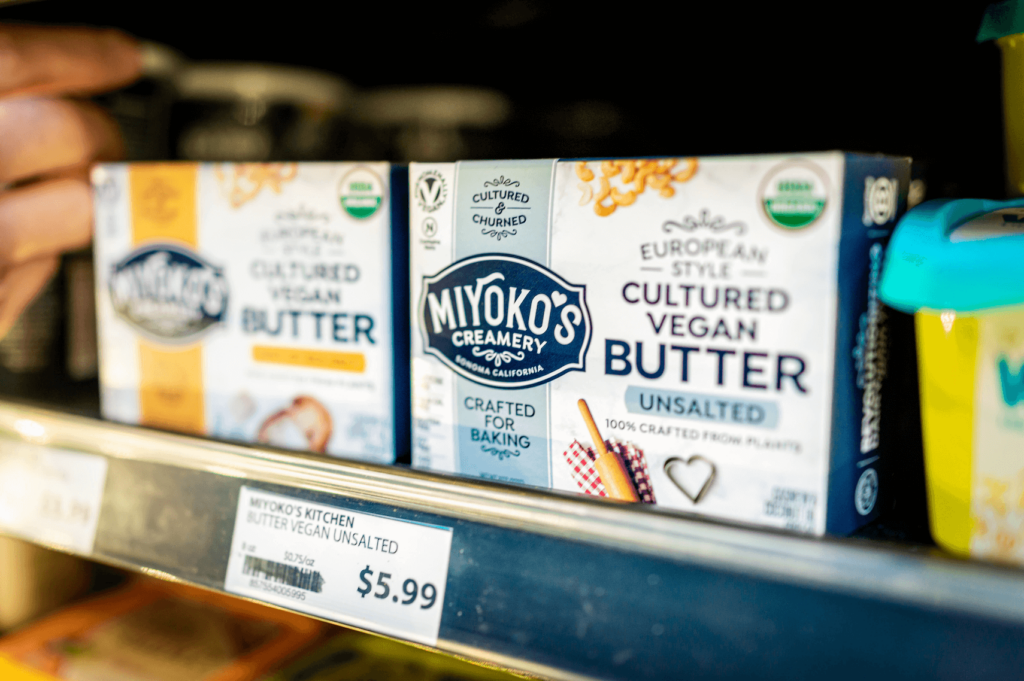 "It is telling that I was patronizingly described as taking the Company from 'zero to one' in contrast to what is needed to take the Company from 'one to 100.' The results that this Company achieved under my leadership speak for themselves," she said. "We achieved these results – while I still had the ability to meaningfully ensure it – in a legitimately values-aligned way.
"I am honesty uncertain about how things will turn out – especially after some (though not all) of my fellow directors decided that I would not be actively involved with the Company.
"While I am hopeful that a new CEO will be able to maintain our values while also driving growth, I also must temper that optimism with an honest consideration of and concern about what brought us to this point."
'Outpouring of love'
Schinner took to Instagram a few hours later to express her gratitude for the support she received following her statement. She noted that she had "devoted her entire life" to the company. (Indeed, her commitment to the brand is hard to deny. In 2018, the chef got the company's then-new tagline "Phenomenally Vegan" tattooed on her upper arm.)
In the newly shared Instagram video, Schinner continued: "I've just received this outpouring of love and support and encouragement and for that, I just want to express my deepest gratitude.
"This has been an ongoing journey. I would say a long dark curvy tunnel through a mountain that I'm trying to navigate in the dark, and trying to figure out what it is I've learned from all of this."
Miyoko Schinner's ongoing work in the vegan movement
Alongside her plant-based food creations and animal rescue endeavours, Schinner has campaigned for vegan companies' rights in the business world. In 2020, Miyoko's Creamery was hit with a temporary injunction by the California Department of Food and Agriculture, which took issue with the company's use of descriptors like "cruelty-free" and "butter" (it claimed such terms were "misleading" to consumers).
Schinner fought back against the "censorship," stressing that "food is ever-evolving, and so too, should language to reflect how people actually use speech to describe the foods they eat." The vegan company ultimately won the legal battle.
Schinner has also used her sizable platform to speak out about discrimination in business, saying gender inequality is "rampant."
She told Plant Based News in 2021: "Even the media highlights men in business, while often overlooking or minimizing the accomplishments of women in the field. Men have more bravado. And, can be fearless in speaking up about what they've done, while women tend to downplay their own accomplishments."
She added that, "We women are at times our own worst enemy. We've come to believe that we're not good enough, that it's the man in the room who knows how to run things. I've learned that it's not true. So many times, I've doubted myself, given away my power. Only, in the end, to discover that I had known all along how to do something.
"I'm learning – as I age – to rely on my instincts and intuition more and more, and take command and lead," she said, adding that in terms of the vegan movement, "women are the natural-born leaders for this industry."