At the age of 64-years-old, Miyoko Schinner has built a vegan empire. To some, she is "the queen of vegan cheese," and others, the caring, inspirational figure that has saved many beings through her broad spectrum of work.
To all, she is an outspoken animal rights advocate, chef, business mastermind, and all-round plant-based powerhouse.
Schinner is such a supporter of veganism she's literally got 'Phenomenally Vegan' permanently etched on her skin. But who is the woman behind the cashew kingdom of Miyoko's Creamery?
Here is where her journey began, how it's continuing to add wind to the vegan movement, and why she isn't stopping any time soon.
Where it all began
Her journey began on a camping trip at just 12 years old. Here, she was ordered to follow a vegetarian diet and was initially "appalled" having not enjoyed the food.
Miyoko outlined the beginnings in a recent video with We Animals Media, a photojournalism organization which tells the stories of animals in "the human environment." This is part of the Unbound Project, which celebrates women in animal advocacy.
And yet, when she returned home and was faced with pork chops at the dinner table, she made a connection she'd never forget. She remembers the moment, an "instantaneous connection" vividly, and has not eaten meat since.
A good few years later, Miyoko began making artisan vegan cheese. At the start seven years ago, there were a mere four employees at her home kitchen in Sonoma, California. That soon grew with the acquisition of a 30,000 square ft facility as demand soared.
Miyoko's Creamery has slowly built a portfolio of products, from Cultured Vegan Butter to Vegan Farmhouse Cheddar, Vegan Mozzarella, and more.
"The demand for vegan cheese just keeps climbing and it's super super exciting," she tells Unbound Project.
Along the way, Miyoko has become a decorated businesswoman. She's the holder of Animal Equality's 2019 Compassionate Company award, amid top leadership accolades too. And, just last year she scooped a spot on the Forbes 50 Over 50 list alongside the likes of Kamala Harris.
Helping all beings escape the dairy industry
Alongside her busy vegan cheese business, Miyoko has set up a scheme to further propel the plant-based movement.
It comes following a long documented battle between vegans and farmers which never seems to end. Emotions are heightened as workers become defensive of their livelihoods – the other side of the coin agonizing over the torment of millions of animals imprisoned in suffering.
Environmental issues are intertwined now more than ever, but lots of vegans insist we need a unified front to transform the food system and mitigate the climate crisis. And that's largely why in recent years, prominent vegans such as Miyoko have started sticking up for farmers.
As Miyoko explains: "There is one thing we keep coming back to: dairy farmers and their families are having a tough time." Many farmers stick to dairy farming because it's all they know, they're part of a co-op and it's passed down through generations.
"As vegans, we often only think about the animals and trying to save them from an unsavory fate. But we also have to realize there are people that caught up in this system that are also victims."
This is especially true for US farmers, where small-scale farmers face stiff competition from big corporations.
In order to change the narrative, Miyoko stresses that the industrial machine of farming harms the farmers themselves, as well as the animals. "They are not evil people," she pleads – and can move away from animal agriculture with the right support.
"They think they're doing the good work. So, let's help them do that."
This is what led her to launch Miyoko's Dairy Farm Transition Program (DFT) two years ago. By aiding their departure in light of growing plant-based crops instead, Miyoko proves what good you can do with this kind of approach.
Without a fair wage and consistent income, many farmers feel that they are trapped in the system. DFT's goal is to give farmers the financial support they need to escape.
You can find out more about DFT here
Miyoko Schinner speaks on The PBN Podcast
Legal battle
Part of Miyoko's efforts to actively help farmers leave the dairy industry is spawned from a drive to overcome its clutches. This especially close to home after Miyoko's Kitchen became intertwined in legal problems.
In 2020, it was served a temporary injunction preventing the use of certain terms. Under the instruction of the California Department of Food and Agriculture (CDFA), labels such as "hormone-free" and "cruelty-free" were banned from vegan cheese products. The organization had penned a letter to Miyoko's and accused it of "misbranding" items.
"It was such an absurd letter, I had a great laugh. And then I contacted Animal Legal Defence Fund (ALDF). They represented us in suing the CDFA for violating our rights to free speech.
"We're so happy to say that recently we won that lawsuit."
Miyoko's filed the first amendment lawsuit in August last year. At the time, ALDF director Stephen Wells dubbed it a "blatant example of agency capture."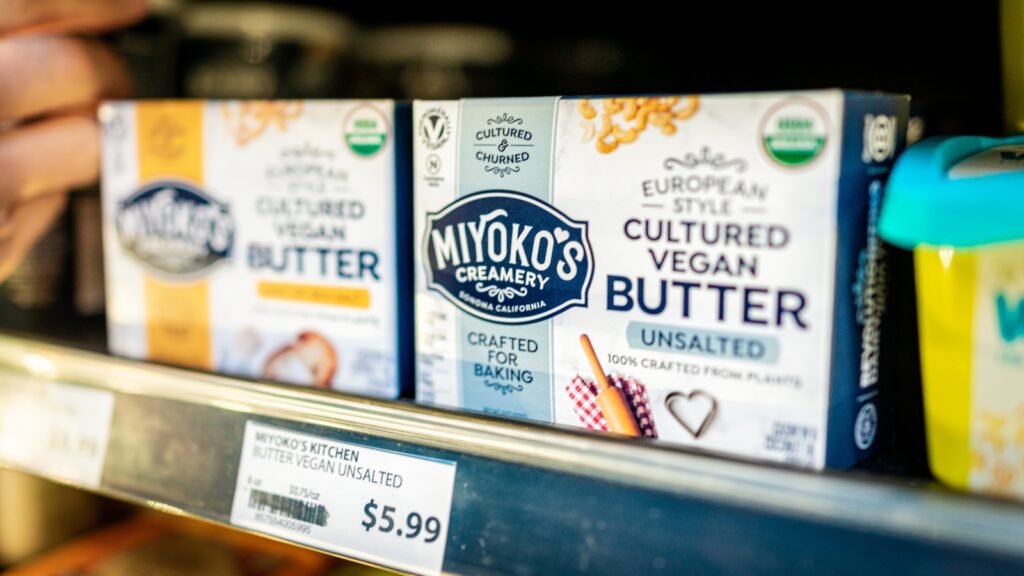 Future vegans
As passionately as always, Schinner stresses: "Veganism is the way to change the world, it really is. So whether you're a full time vegan or part time vegan, or a pre-vegan, as far as I'm concerned everyone is a pre-vegan.
"And that's how we're going to change the world. Yeah, we've come a long way but there's just so much more to do."
With doing as much for animals as she can at the core of Miyoko's endeavours, she created Rancho Compasión, a sanctuary for farmed animals rescued from the meat industry.
It happened "by accident," she explains as slowly but surely they picked up more animals to create a home for, from pigs to goats, cows, and chickens.
Here, Miyoko offers tours for the purpose of educating people about factory farming. It is no "petting zoo," but attendees are welcome to interact with the animals if approached.
"The thing that I'm most grateful for is that I have this opportunity.
"I have an opportunity to make a difference. And I feel that it is my responsibility to work as hard as I can for as long as I can to have as much impact as I can."