Last month, it was confirmed that one of the first dolphins to be housed at the Las Vegas Mirage resort had died aged 48 from an undisclosed condition.
Duchess became the fourth dolphin to pass away at the hotel in less than 12 months.
A matriarch (meaning she bore calves) bottlenose dolphin, Duchess was one of five marine mammals that were brought to the Mirage in 1990 to open its Secret Garden and Dolphin Habitat exhibit. 
The tourist attraction was closed last year. Some of the dolphins, including Duchess, remained on the property, and three have since been relocated to Seaworld.
Mirage president, Joe Lupo, paid tribute to Duchess, who he said "brought an immeasurable amount of joy and happiness to the countless visitors and the Mirage family." However, he did not disclose her cause of death.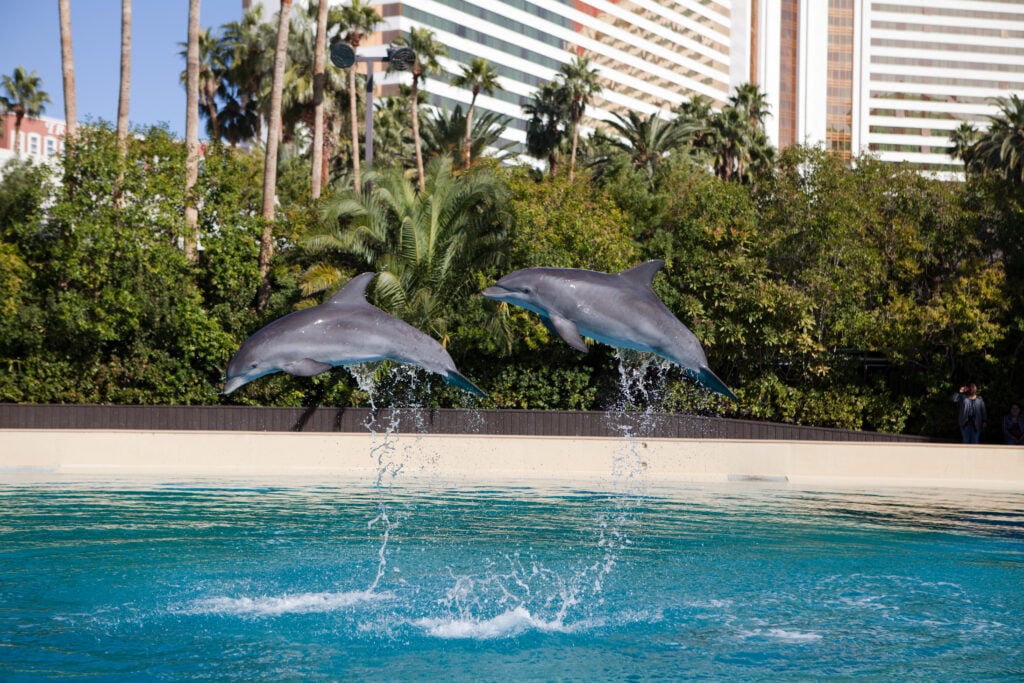 Las Vegas dolphin deaths stack up
In 2022, three dolphins passed away within six months of each other.
All were kept in concrete tanks, housed behind the Mirage hotel on the busy Las Vegas Strip.
The facilities have come under fierce scrutiny from animal welfare advocates, who claim that the lack of shade left the animals at risk of severe sun damage. In addition, the shallow depths of the tanks prevented them from finding underwater relief from the Nevada sun.
Unlike Duchess, the causes of death were released for the three dolphin deaths in 2022, though not their health records. Two were attributed to respiratory complications and the third was chalked up to gastroenteritis. However, the living conditions that the animals were subjected to could have played a major role too.
"The stress and boredom suffered by dolphins in captivity appears to weaken their immune system, causing stomach problems and infections that often lead to premature deaths," the International Marine Mammal Project claims.
"In the wild, bottlenose dolphins can live to age 65."
One of the animals that suffered from respiratory problems died aged 11.
Following Duchess' death, 17 dolphins have now passed away at the Mirage. This equates to more than two per year, since the dolphin habitat opened.
It is unknown if there are plans to reopen the attraction in the future. However, public opinion appears to be shifting, with less interest in captive dolphin shows being demonstrated worldwide.