For many people, if asked to list animal-loving and vegetarian celebrities, Pamela Anderson would likely be one of the first to spring to mind.
The actor and model has long been campaigning for animal welfare causes, and advocated for such issues long before they entered mainstream public consciousness.
Earlier this year, Anderson released a documentary named Pamela, A Love Story on Netflix. The film looks back at notable moments in her life, told on her terms and featuring her own words. 
The film briefly touches on her animal activism, which she said has been a hugely important part of her life. The documentary saw her discuss appearing in PETA campaigns, and also agreeing to take part in a "comedy roast" in exchange for a £250,000 donation to the organization.
"I was sick of talking about my boyfriends and my boobs all the time. But I thought if I can attach it to animal activism or activism for the environment, then it meant something. So I joined forces with PETA," she said in the film.
Here's everything you need to know about Anderson's animal advocacy.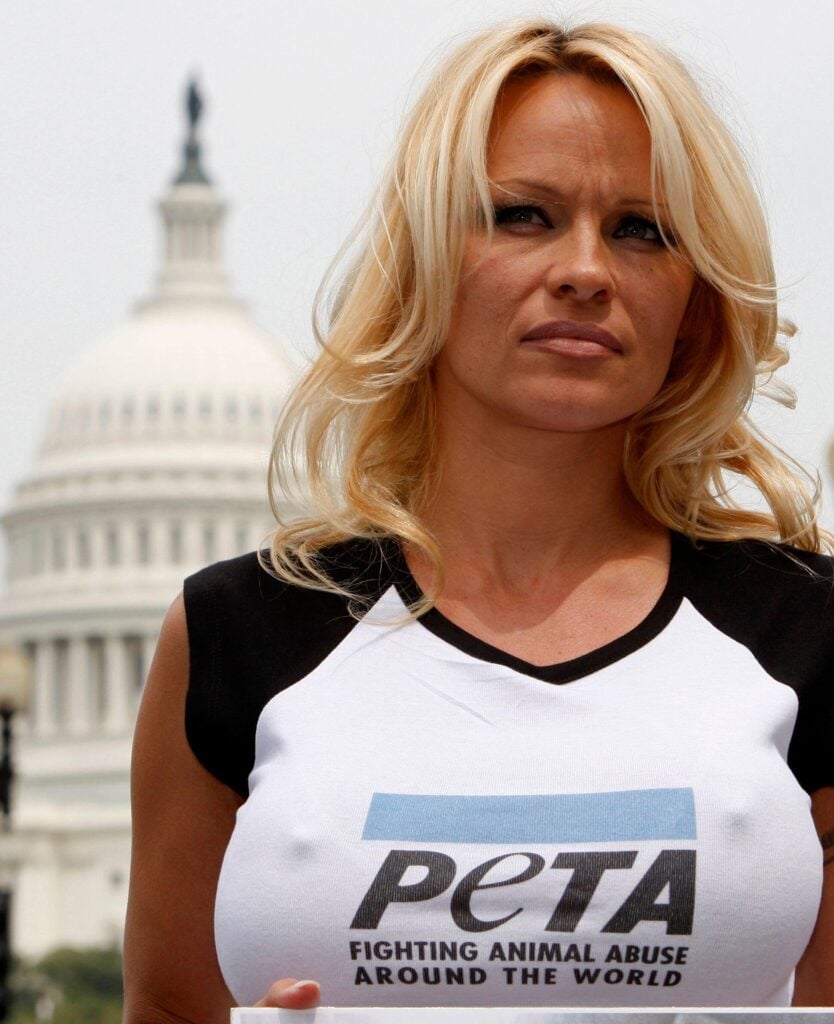 Pamela Anderson and PETA
PETA often collaborates with celebrities for animal rights campaigns, and Anderson is one of the most well-known of these partnerships.
Anderson has starred in a number of campaigns for the organization, the first of which was 26 years ago. In a billboard on Times Square, Anderson posed alongside the words: "Give Fur the Cold Shoulder."
Since then, she has appeared in PETA adverts against meat, SeaWorld, cosmetics animal testing, and more.
"Pamela Anderson is beautiful inside and out, with a heart of gold, and animals have a wonderful friend in her," PETA founder Ingrid Newkirk told Plant Based News. "She has made an art out of channeling the media's interest in her in order to call attention to important issues affecting animals."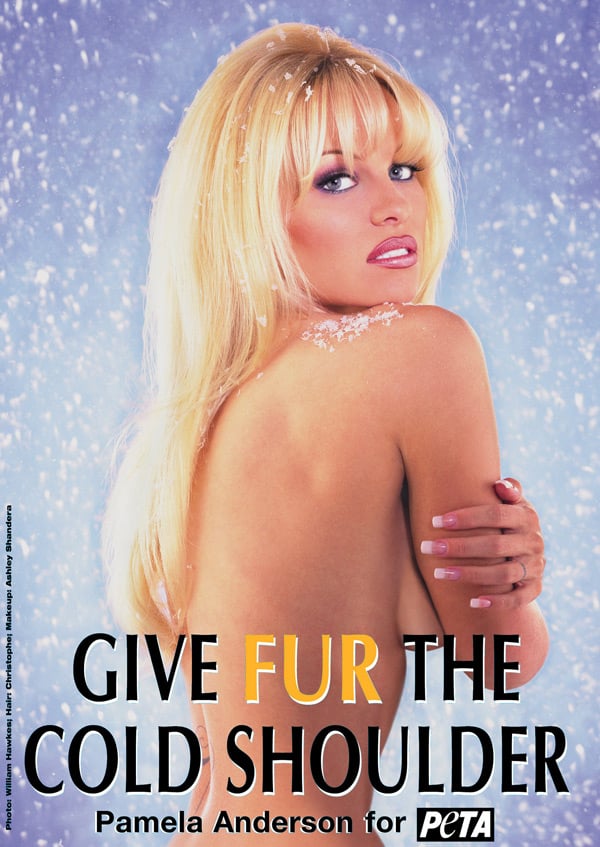 Pamela Anderson's animal activism
As well as modeling in campaigns, Anderson has undertaken a great deal of activism, which has often led to real change for animals.
In 2010, following the oil spill in the Gulf of Mexico, she aided PETA in rescuing dozens of dogs who were displaced. The dogs were transported from overcrowded shelters in Louisiana to PETA's headquarters in Virginia. Anderson even adopted two of the dogs herself.
In 2013, Anderson visited St. John's, Newfoundland and Labrador in Canada to offer the Canadian Sealers Association a $1 million check to facilitate a government buyout of the country's seal trade.
In 2018, she revealed she had previously sent faux fur coats to Kim Kardashian and Melania Trump, who both subsequently stopped wearing real animal fur.
Then in 2019, she wrote to Prada on behalf of PETA urging the company to remove fur from its collection. In May of that year, the fashion house confirmed that it would follow through with the request.
In 2021, she called on the UK government to stop using real bear fur in the Queen's Guard Caps. She described the killing of black bears to make the hats as "outrageous."
In 2022, she urged the president of Texas A&M University to stop conducting muscular dystrophy experiments on Golden Retrievers. Since then, the lab has been closed, and the dogs are now in homes.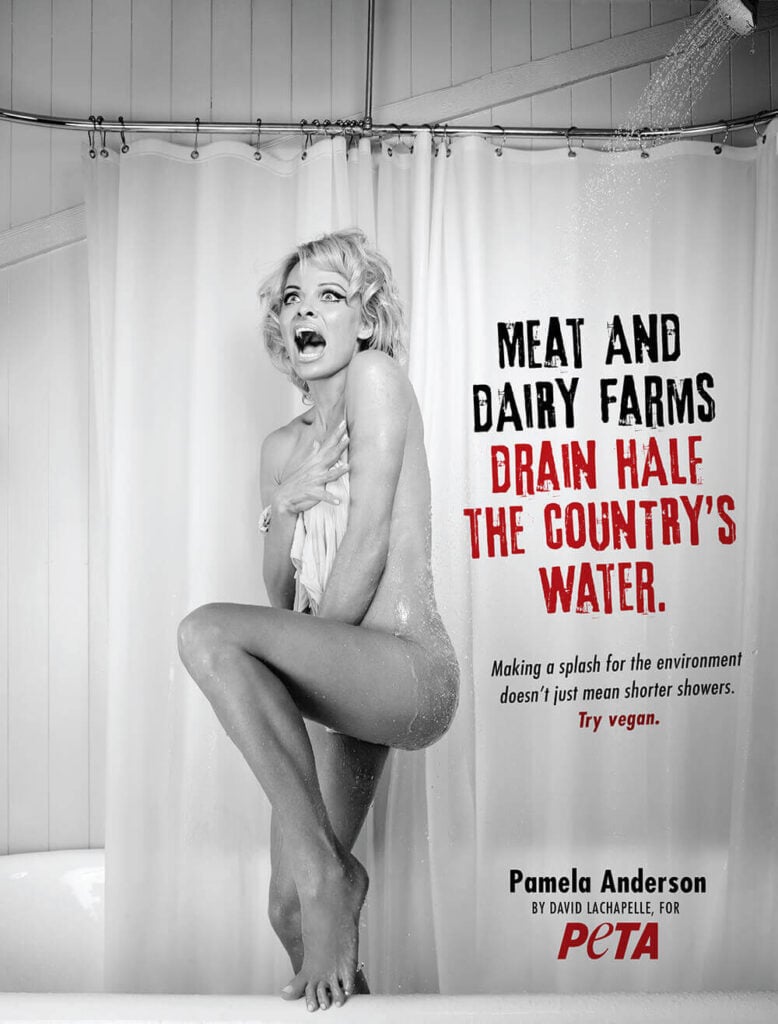 What happened with Pamela Anderson and Putin?
The Netflix documentary briefly showed a clip of Anderson's 2018 appearance on Piers Morgan Life Stories, where she discussed the letter she wrote to Russian president Vladimir Putin in 2009. In it, she asked him to stop importing seal products from Canada.
"I wrote to him and asked him to stop the importation of seal products, because this was 95 percent of the market. And that could potentially shut down the Canadian seal hunt, which is one of my big goals," she told Morgan.
She went on to explain that Putin agreed to her request, and "made it actually illegal to import seal products even into the country."
Is Pamela Anderson vegan?
While Anderson doesn't eat meat, and does follow a mostly plant-based diet, it isn't thought that she is fully vegan.
Veganism is a philosophy that seeks to end all forms of animal exploitation. Those following a vegan lifestyle should therefore not eat, wear, or use products derived from animals in any way (where possible and practicable).
In an interview with the Guardian in 2018, Anderson revealed that she calls herself a "naughty vegan," as she doesn't adhere entirely to the lifestyle.
She added: "I live in France, I eat croissants. I do the best I can, but I'm not a dictator. It's a radical choice to be vegan, so I'm not so strict."