Dame Joanna Lumley is demanding that the UK government fulfil its pledge to ban cages for egg-laying hens after seeing distressing footage from a large egg production facility.
The actor and activist is using her platform to highlight the plight of colony chickens. Moreover, she is issuing a direct challenge to Prime Minister Rishi Sunak.
"How many times must the British public voice its horror at the way laying hens are treated before the Government acts?" she asked. "I dare the Prime Minister to watch this footage and claim his Government takes animal welfare seriously."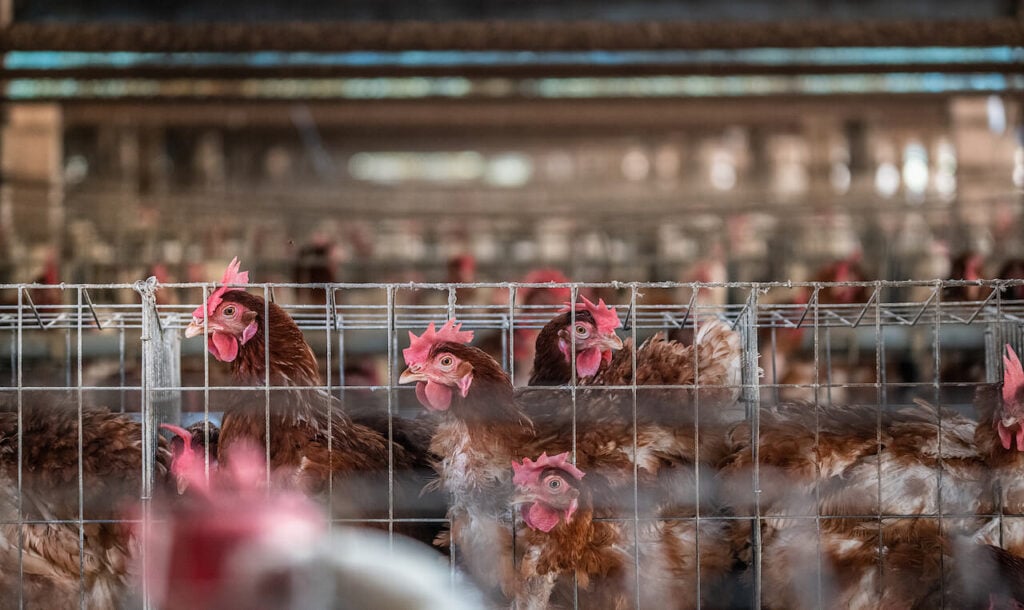 Capturing hen cruelty on camera
Shot by activist-led charity Open Cages, the video seen by Lumley shows unhealthy, wounded, and visibly distressed caged hens. The animals are located at Carr Farm in East Yorkshire in the UK. Hens are clearly seen in overcrowded "colony cages" with the corpses of dead birds scattered at their feet.
Visiting Carr Farm three times between November 2022 and February 2023, activists installed hidden cameras to capture "excessive animal cruelty." The charity claims that birds are routinely denied natural light, fresh air, and space to move freely.
According to the Daily Mail the footage has been described as "worryingly normal" by veterinary expert Andrew Knight. He went on to state that egg production methods are vastly different from what the British public assumes.
Carr Farm was audited on behalf of the British Egg Industry Council soon after the undercover footage was released. The report stated that there is no food safety risk and that the majority of birds were "fit and healthy."
The owners of Carr Farm claim that they are operating within the law and keeping their hens within an "enriched colony system." This differs from battery farming only in the sense that birds have slightly more space to move about. However, cages are still stacked on top of each other to maximize profitability and birds are just as unable to participate in natural behaviors as they are in battery cages, leading to extreme distress and death.
As a result of the marginal differences between battery and colony egg production, many consider them to be equally guilty of inflicting harm and distress on non-human animals. Subsequently, activists are calling for both to be banned.
The government's failure to protect caged hens
Open Cages' chief executive Connor Jackson has been quick to express his disgust at the government's lack of meaningful action in terms of cage bans.
"I'm furious at the Government for breaking yet another promise for animals," he said. "Our footage proves that there are no happy hens in cages. These poor birds are forced to endure horrendous, unnatural conditions and that's why all major supermarkets are phasing them out."
The UK banned traditional battery cages in 2012, but did not prohibit the use of "enriched cages." The term applies to slightly larger wire spaces that can include perches and other items deemed essential for a hen's wellbeing, though these are not always installed.
Despite other European countries – including Austria, Germany, and Switzerland – banning cages for hens, the UK has yet to follow suit. This, despite ongoing public support for such a move.