Alicia Silverstone has been photographed naked for a New York City billboard to promote vegan leather alternatives with animal rights organization PETA.
The 46-year-old vegan actor is shown wearing nothing but cruelty-free cowboy boots while standing in a cactus field. The accompanying text says: "Don't be a prick. Wear vegan." A secondary line encourages people to try cactus, mushroom, and apple leather alternatives.
Despite a 30-year career in the spotlight, Silverstone has never agreed to any nude scenes on TV or film. She states that her ethics pushed her to take the plunge for PETA's campaign against animal leather. She previously appeared in a similar campaign against wool.
"I never, ever get naked in TV, in film, nothing, but I've done it for PETA because that's how much it matters to me," she said in a video interview.
"If it takes me getting naked for you to care about animals then that is what I'm after."
She also highlights the enormous environmental impact of traditional leather manufacturing, stating that "the Earth cannot handle it."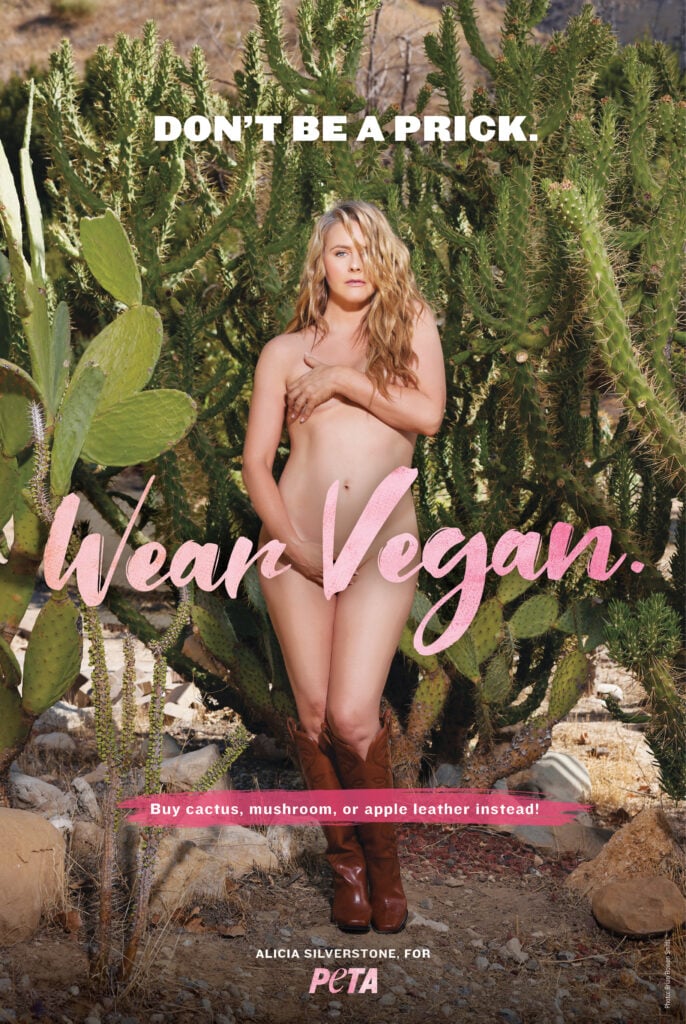 The huge cost of leather
PETA states that animal hides have almost 10 times the environmental impact of plant-based alternatives. This is due to higher emissions, energy and resource consumption, and water pollution.
The image of Silverstone was turned into a New York Times Square billboard, as well as smaller adverts for PETA.
PETA naked campaigns
As an organization, PETA is no stranger to securing the support of celebrities. In the past, many have been willing to shirk their clothes for a higher cause. Other famous faces who have appeared in similar campaigns include Pamela Anderson, Eva Mendes, and Olivia Munn.
Its infamous "I'd rather go naked than wear fur campaign" ran for three decades after being launched in 1990. It has been phased out amidst rapidly declining fur sales and the rising unpopularity of the fabric. As a result, designers dropped it from their lines en masse.
At its peak, the campaign featured high-profile stars including Pamela Anderson, Kim Basinger, Steve-O, and Gillian Anderson, amongst others.
PETA states that it is now focussed on raising similar levels of awareness about the cruelty that underpins leather and wool production.
"With fur in a downward spiral, PETA will expand its efforts to expose the violent leather and wool trades," Mimi Bekhechi, vice president for PETA UK, Europe and Australia, said in a previous statement.