Animal rights organization PETA has acquired stock in Budweiser's parent company, Anheuser-Busch InBev, to bring the issue of Clydesdale horse abuse to the boardroom. 
The beer brand has used the horses for promotion and commercials since the early 20th century. According to PETA, the company amputates the tailbones of the horses when they're still foals. This is supposedly done for aesthetic reasons, with the horses having to look a certain way when hitched up to wagons.
PETA claims that Budweiser "misled" the public by claiming the horses have their hair trimmed. An undercover investigation, however, found that two members of staff from Budweiser's breeding and training facilities admitted that the tails are severed permanently at the tailbone. 
"Budweiser has been cutting the tailbones off Clydesdales for 90 years just to create a look for its brand image, and that must stop," PETA's senior vice president, Kathy Guillermo, said in a statement.
"PETA is chomping at the bit to get inside the boardroom to end Budweiser's mutilation of horses."
Budweiser exploits horses in the name of 'tradition'
For almost 100 years, Budweiser has used Clydesdale horses as a representation of "traditional American values."
Hitched to heavy wooden beer wagons, the horses are used to pull the vehicles at celebratory events and in adverts. Budweiser Clydesdales are frequently seen on television and at national parades. They have also featured at major events such as the Super Bowl, with thousands of spectators jeering.
Despite horses not being needed to deliver goods, they are still routinely brought out to help Budweiser promote itself. Sadly, their welfare appears to be an afterthought or ignored altogether.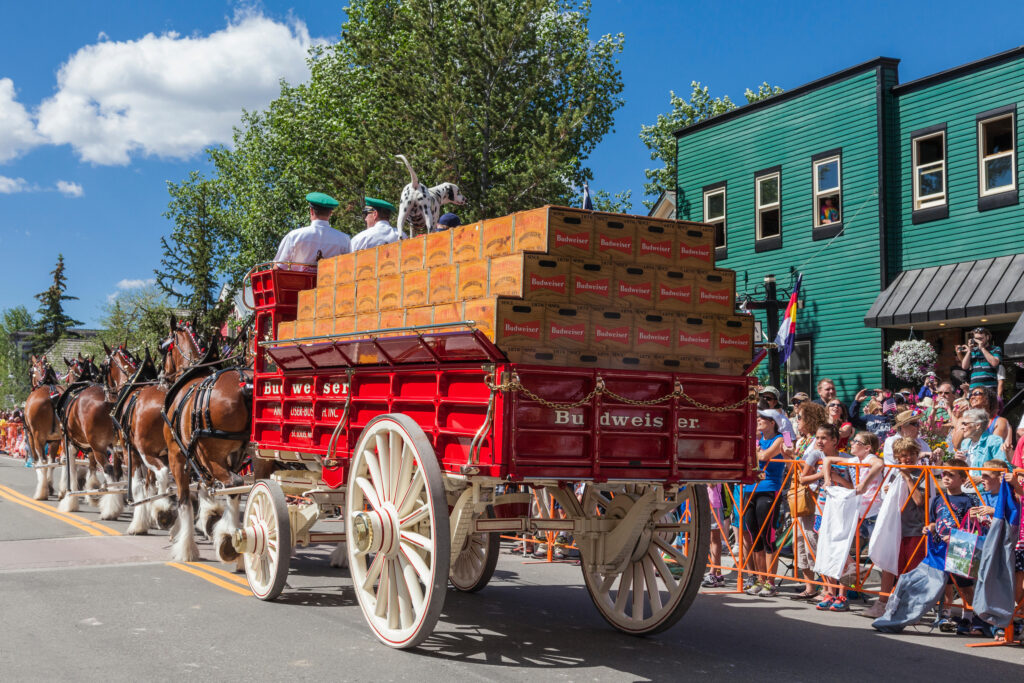 PETA exposes Budweiser's Clydesdale cruelty
In a recent video, PETA revealed that Budweiser has been routinely disfiguring its horses through tailbone amputations.
Young fillies and colts are either subjected to having their sensitive tailbones physically cut off, with scalpels, or tied to stop circulation. The latter allows the tails to die and fall off.
The practice has garnered criticism from activists, who liken the activity to that of declawing cats or docking dogs' tails. Both of these, when carried out for aesthetic purposes, are cruel, unnecessary, and can leave animals with mental trauma. Physical impairments are also commonplace.
Horses with their tails removed can lose their balance, due to them being part if the animals' spine. They can also be limited in how they communicate, and be prone to disease. Tails are a defence against biting insects and without them, horses are easy prey.
The American Veterinary Medical Association condemns cosmetic tailbone severing. Moreover, the practice is illegal in 10 US states and various countries around the world, including the UK, Germany, and Sweden.