Joey Carbstrong has released what's thought to be the first undercover footage of pigs being gassed with carbon dioxide (CO2) in a UK slaughterhouse.
The animal activist claims it was filmed in Pilgrim's Pride abattoir in north west England in February 2021. It shows pigs being herded into metal gondolas in groups of five or six. They are then lowered into a chamber and subjected to a high concentration of carbon dioxide gas. Pigs are seen shrieking, gasping, and writhing in apparent pain and distress. 
CO2 gas stuns pigs before slaughter. Around 88 percent of pigs in the UK are killed with this method, which is widely believed to be inhumane and cruel. The gas is highly aversive, and forms an acid on wet surfaces it touches, including eyes, lungs, and throats. It supposedly takes around 60 seconds to render them unconscious, but Carbstrong's footage showed a pig kicking after more than three minutes.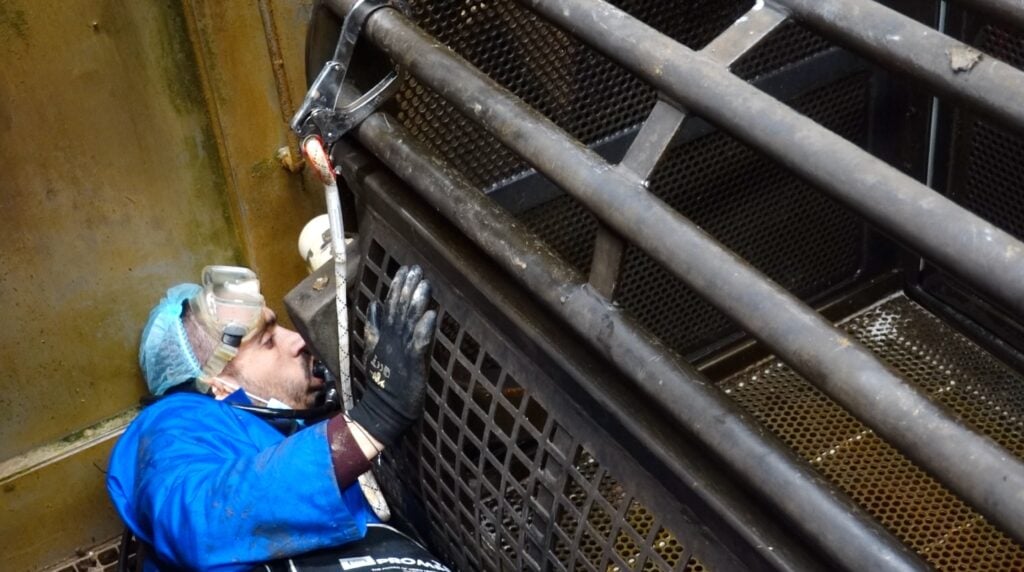 "Being asphyxiated to death with CO2 is one of the worst ways to die imaginable," Rory Cockshaw, campaigner at Viva!, told Plant Based News (PBN). "That feeling of burning from the inside out, lungs rasping for air that isn't there, is appalling to even consider.
"But this is how an overwhelming majority of pigs in the UK die – suffocated to death in a dark, grimy pit filled with a heavy gas that suffocates them to death over the course of multiple minutes."
The 'humane' myth
Despite this, the farming industry often portrays CO2 gassing as a "humane" option. The chairman of the National Pig Association (NPA) reiterated this claim to the Guardian after Carbstrong released the footage.
In response to this, Carbstrong told PBN: "The industry's motivation for Gassing has everything to do with the fact they can kill as many pigs as possible, for a lower cost. CO2 has been proven in study after study to be fear-inducing, painful and distressing. The NPA of course will downplay the horrors of CO2, but now the footage can speak for itself."
Experts have long put forward sasses including argon and helium as non-aversive and more "humane" alternatives, but these are more expensive. It's arguable that the industry has no incentive to change. A 2020 study found that 78 percent of the public aren't aware of carbon dioxide gassing, meaning it has so far been able to use the method in secret. "Most of the general public have no idea pigs are gassed, and they certainly don't know how horrific it is," said Carbstrong.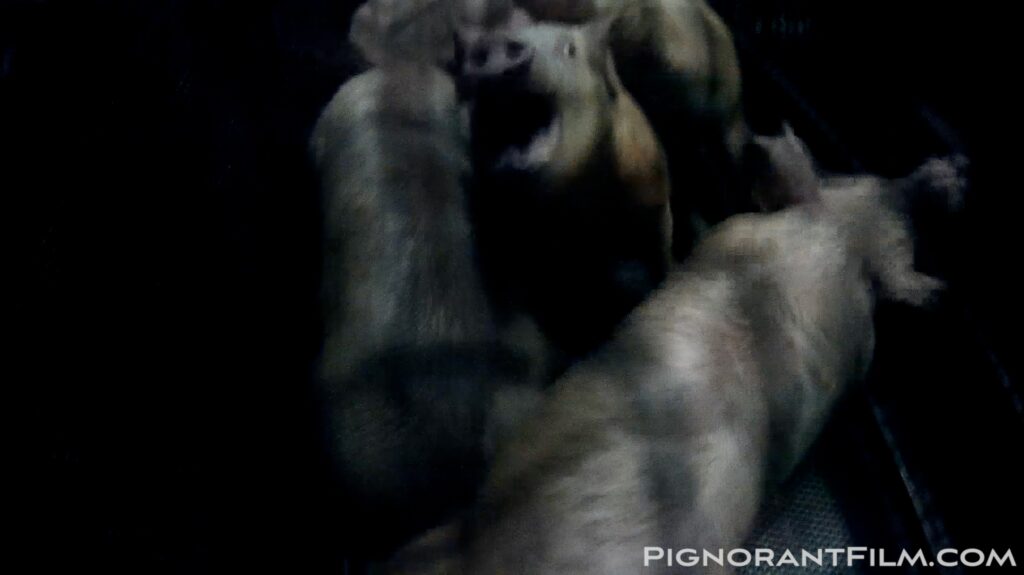 'Stop using animals as resources'
Many are campaigning for more "humane" alternatives in pig slaughter, but activists like Carbstrong argue that they shouldn't be farmed and killed at all.
"The government needs to stop legally allowing the use of animals as resources," he told PBN. "They need to urgently enact legislation that grants non-human animals fundamental rights. The welfare movement has failed to protect animals, the animal rights movement needs to step in. The only thing that will truly protect animals, is the right not to be considered property by those seeking to profit off of their slaughter."
Carbstrong's footage was filmed for the upcoming feature film Pignorant, which is set to be released in the coming months. Find out more here.