Two animal activists have been found not guilty after rescuing two chickens from a transport truck headed to a California slaughterhouse.
Actor Alexandra Paul, known for playing Stephanie Holden in Baywatch between 1992 and 1997, and fellow activist Alicia Santurio were facing theft charges. They are both members of the grassroots animal rights group Direct Action Everywhere (DxE).
The trial began on Tuesday, March 7, in Merced, California. The defendants were represented by attorney and fellow DxE activist Wayne Hsiung. Hsiung stood trial himself last year after rescuing two pigs from a Smithfield-owned Utah factory farm.
On Thursday, March 16, Paul and Santurio were acquitted by a 12-person jury.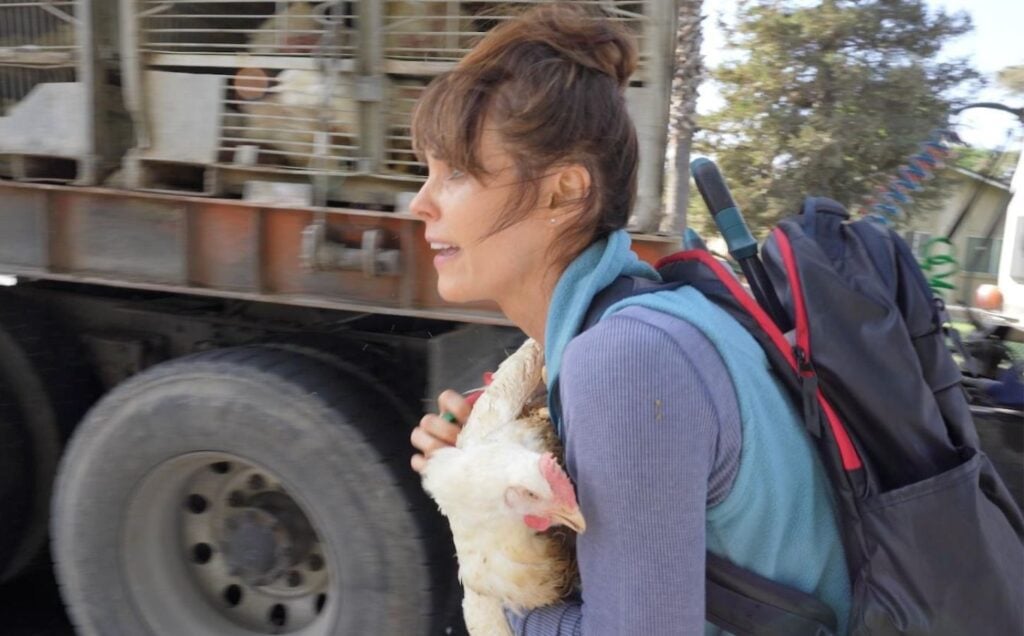 "Today's verdict represents an important, legal affirmation of the right to rescue farmed animals who are suffering, diseased, or otherwise in danger of an inhumane death," said law professor and civil rights attorney Justin Marceau in a statement. "Common sense and basic decency dictate that when another being is suffering, we should provide aid or care for them when we are able to do so."
The rescue
In September 2021, Paul and Santurio took two chickens from the truck – which was headed to Foster Farms' Livingston slaughterhouse – before carrying them to a waiting car. Footage of the "open rescue" (a rescue of which details are made publicly available) was subsequently released by DxE.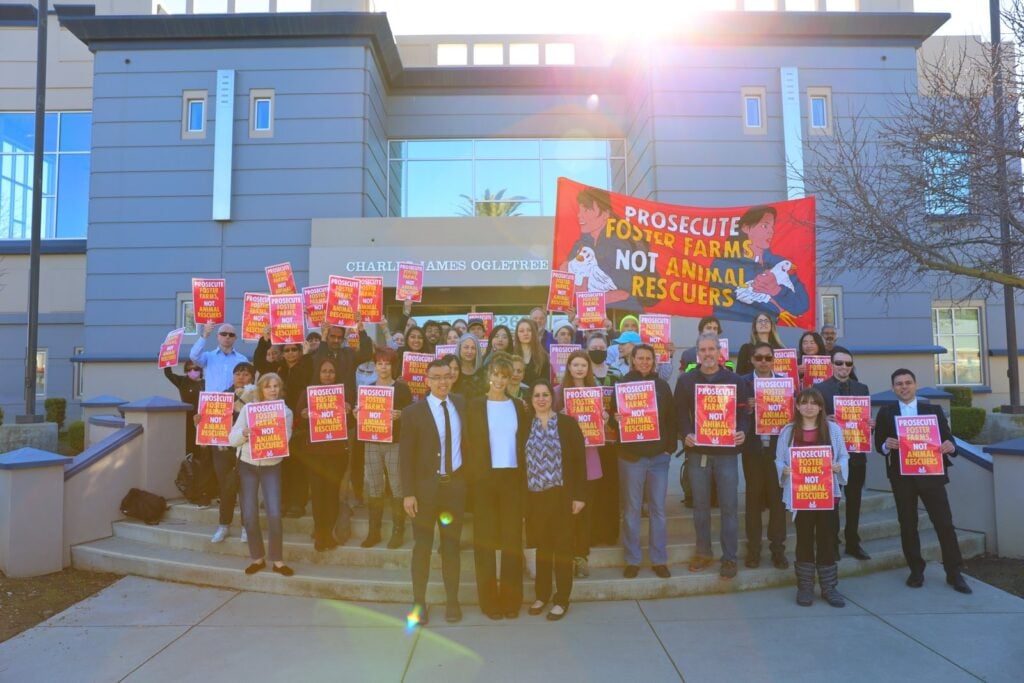 On the same day, the organization released hidden camera footage from inside Livingstone slaughterhouse. It showed chickens missing the stun bath as well as the device designed to cut their necks while being moved along an automated assembly line. Workers were then left to identify conscious birds before their evisceration, at a speed of 140 shackles a minute. According to DxE, this constitutes a violation of company policy, its American Humane animal welfare certification, and California animal cruelty laws.
The activists named the chickens Ethan and Jax. Ethan passed away a few days after being rescued due to sickness. Jax is still alive and well at a sanctuary.
"I consider myself a proxy for Jax and Ethan," Paul previously said in a statement. "I am in court because they cannot be. My goal is to bring their names and their stories into the courtroom, since chickens have so few legal protections themselves. In turn, Jax and Ethan are ambassadors for the 825,000 chickens who are scalded to death alive each year."
Find out more about DxE's Right to Rescue campaign in the video below:
This article was originally published on March 10, 2023. It was last updated on Tuesday, March 21, to include information on the not guilty verdict.