Covertly captured video footage has exposed "disturbing" animal abuse at a small-scale Canadian slaughterhouse in British Columbia.
The recordings, taken in summer 2022, were recently made public by Canadian advocacy organization Animal Justice. In the videos, abattoir workers at Meadow Valley Meats can be seen beating cows, goats, and sheep. Employees attacked the animals with various weapons, including canes and electric cattle prods.
This is despite the fact that the company actively markets itself as a "humane" and "ethical" meat supplier.
The shocking footage also appears to show improperly stunned animals still being conscious while having their throats slit. If this were the case, the slaughterhouse would be violating Canadian law, which states that animals must be unconscious and insensible to pain before being cut open.
Other animals in the clips are seen desperately attempting to escape. Separate images showed sheep who were unable to walk being killed, raising concerns that they could have been sick and therefore a contaminated "food" product.
This video contains footage of violent animal cruelty and may disturb viewers.
"The abuse and botched killing of sensitive cows, sheep, and goats at Meadow Valley Meats is shocking and appears to be commonplace – even with provincial meat inspectors on site," commented Camille Labchuk, lawyer and executive director of Animal Justice. "We're calling on authorities to promptly investigate and take appropriate action for violations of provincial animal welfare and slaughter laws."
She went on to call for livestream cameras to be installed in all slaughterhouses.
'Very disturbing'
Animal Justice received the Canadian slaughterhouse footage from a confidential source. The group has since turned it over to the British Columbia Society for the Prevention of Cruelty to Animals (BC SPCA). 
"I can tell you that the videos are very disturbing," BC SPCA's senior protection officer Eileen Drever told CTV News. 
"We received quite a bit of video tape, which was absolutely horrific. These animals are sentient beings, and yes they are suffering physically but also psychologically, and this is something the BC SPCA will be looking into."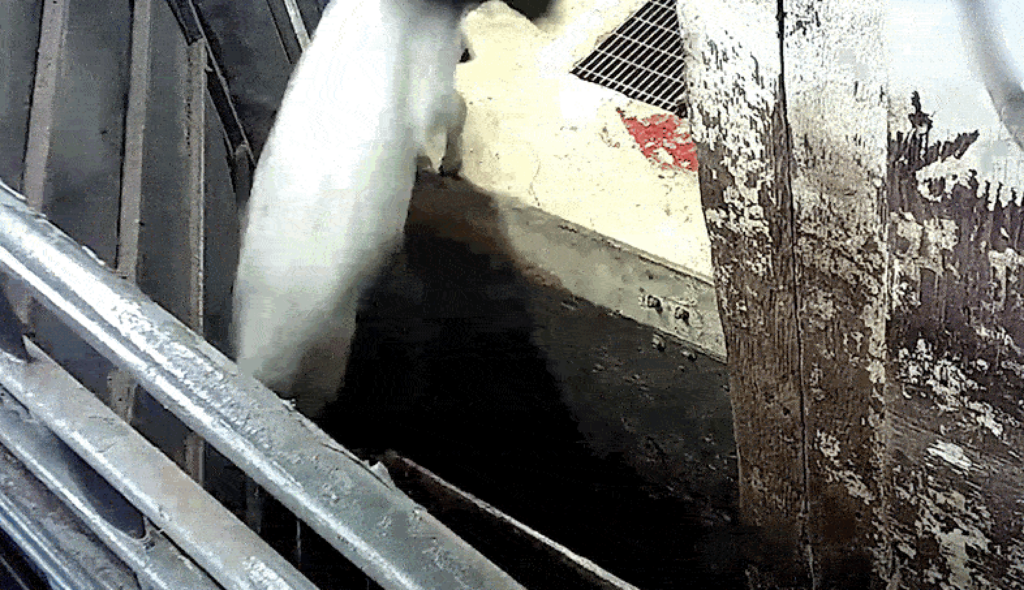 Alongside, Animal Justice also presented copies to the local Meat Inspection Program and the Canadian Food Inspection Agency. Accompanying the latter submission was a lengthy legal complaint about the treatment of animals within the Meadow Valley Meats facility.
Notes from animal welfare experts were included to bolster the complaint.
The complaint is not the first to be leveled at the directors of Meadow Valley Meats, Jeff and Kenneth Kooyman. Both are also listed as directors of Chilliwack Cattle Sales, a dairy operation that was similarly exposed for animal cruelty through the use of secret video footage, back in 2014. At the time, the directors claimed that they would never let such abuse, including animal beatings, happen again.
The Canadian Food Inspection Agency confirmed that it is reviewing the footage. It also pledged to take any appropriate actions necessary against Meadow Valley Meats.
Consumers protest against animal abuse at Canadian abattoir
Since the slaughterhouse footage was released, protestors have posted up outside stores that stock Meadow Valley Meats products. 
Carrying placards that show shocking images from the video and slogans asking consumers to choose ethics over meat, demonstrators have sought to make consumers more aware of the brand they support.
"Slaughterhouses try very hard to make sure the public has no opportunity to get a glimpse of the abuse and suffering that animals routinely endure in these killing factories. When the truth is exposed, people are shocked," Labchuk told Plant Based News. 
"This slaughterhouse and its owners have a terrible legal track record for cruelty and food safety violations. It's shocking that they're still in operation."